This sewing project is easy and fun to make.
You will learn to make a fabric wreath. The sewn wreath is perfect to decorate for Christmas, but not only.
[ This post probably contains affiliate links, our full disclosure policy is really boring, but you can read it HERE ]
Depending on the fabric you use you can create wreaths for any special occasion around the year:
Easter, Thanksgiving, fourth of July, National day…Just choose fabric colors that match the event you want to make a wreath for.
The wreath comes in two sizes, one small of 8in. (20 cm) diameter and one large of 12in. (30 cm) diameter. You can use them separately or together to create a bulky wreath.

The small wreaths are great to decorate inside or to hang on windows.
The large one makes the perfect decoration for a front door.
>>> GET the Fabric wreath sewing tutorial <<<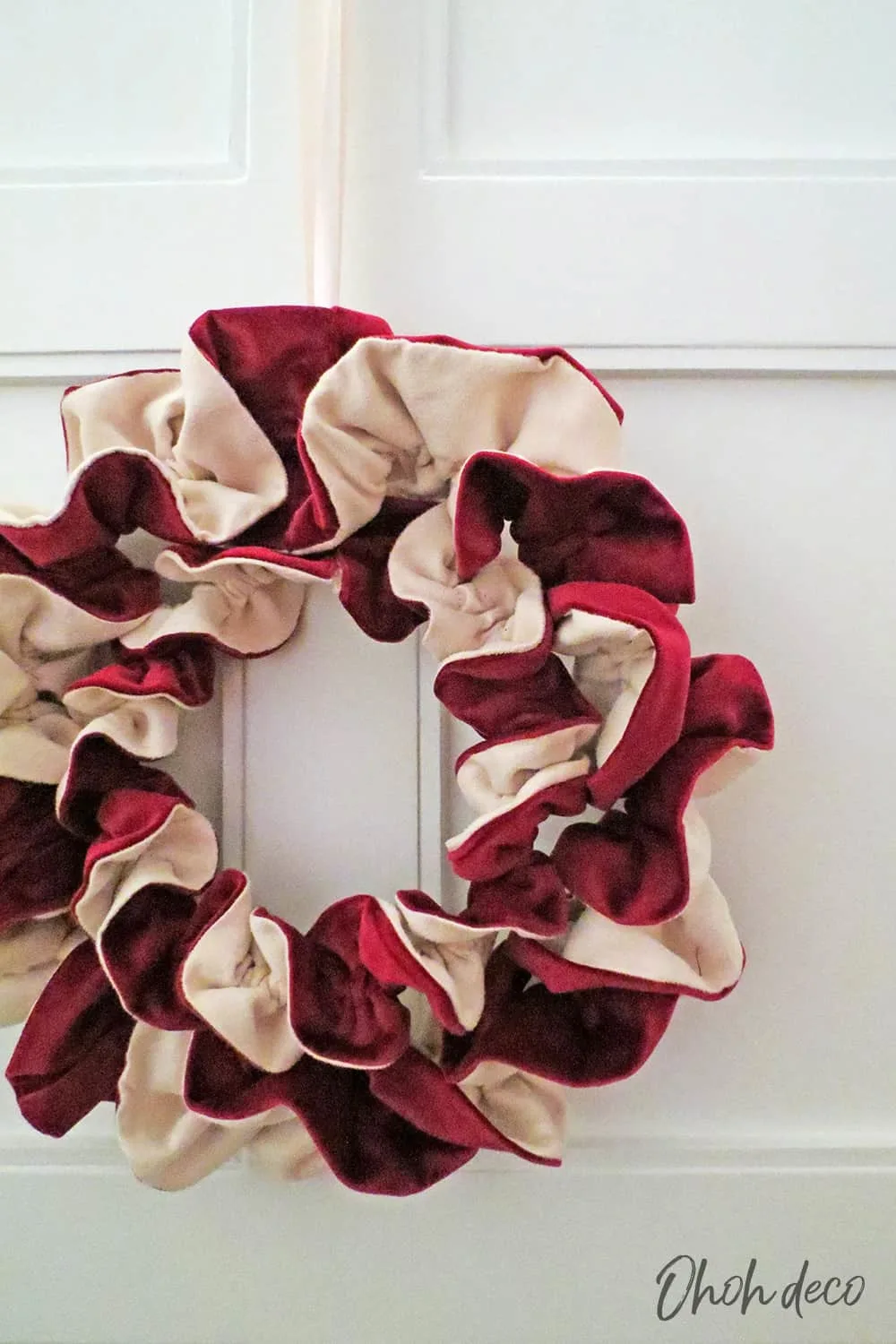 RELATED: Star shaped Christmas tree skirt
RELATED: The best 50 Christmas sewing projects
How to make a wreath with fabric:
The tutorial to sew the fabric wreath is available in my shop. It includes full step-by-step instructions with pictures, and a video tutorial.
The sewing tutorial is available as an instant download, that means that as soon as you complete your purchase, you can download it and start sewing.
Sewing the wreath is a simple project that you will easily complete even if you are a beginner. It will take you 1-2 hours to complete, depending on your sewing skills.
I give you a few more informations about fabric and supplies below, so you can get ready to sew the wreath.
>>> GET the Fabric wreath sewing tutorial <<<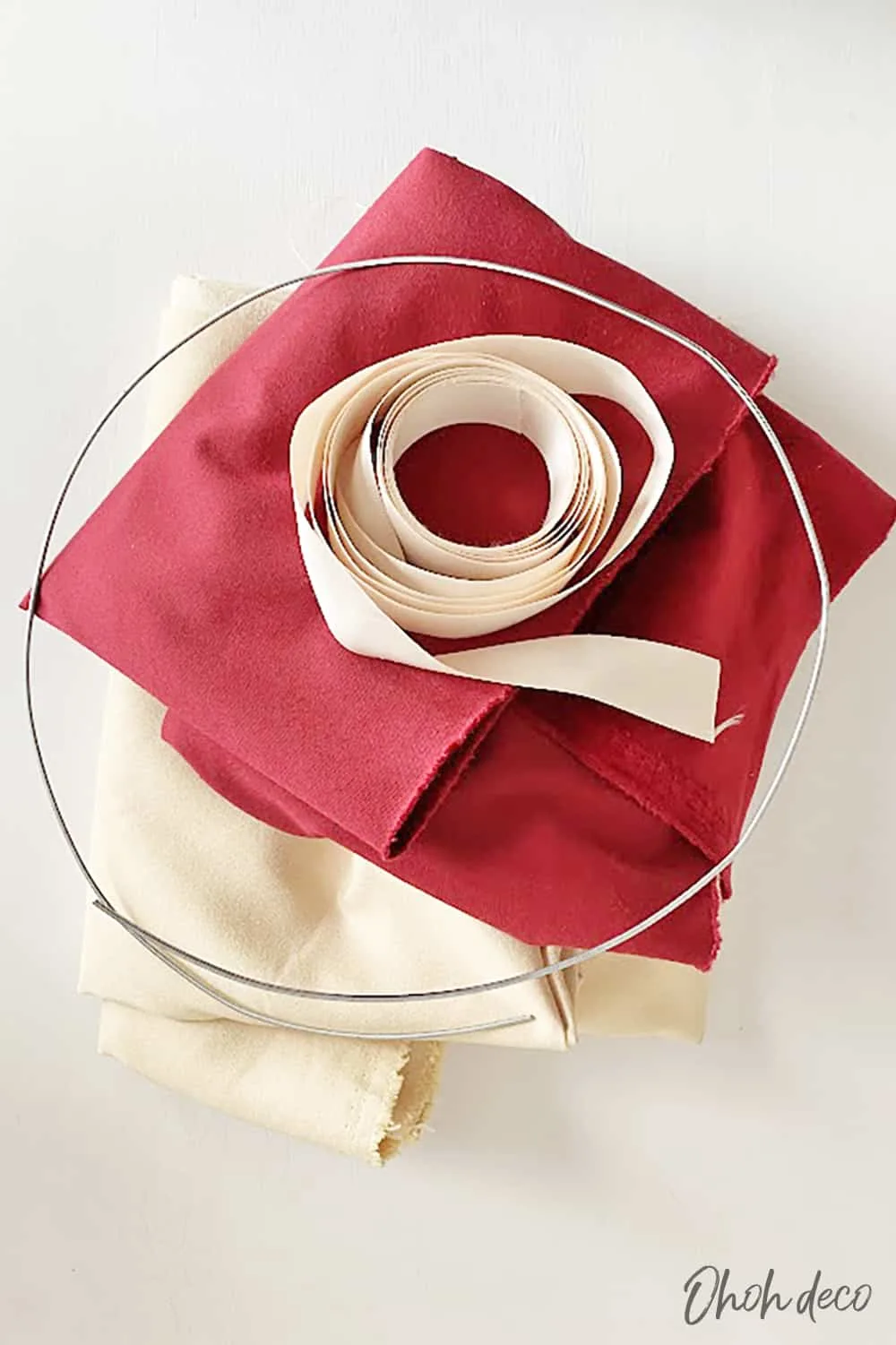 Supplies to make the fabric wreath
A lot of different fabrics will work for this project, so you may want to dig into your fabric stash.
As for the type of fabrics to use to make the wreath, I suggest you use cotton, velvet, and suede. A medium weight fabric is what will work best for this sewing project
Choose two different fabric colors to create a nice contrast that will give the wreath more volume. Don't hesitate to try using patterned fabric.
There are many pretty Christmas fabrics that will work great to make this sewing project, Hobby lobby and Joann fabrics have always great seasonal fabrics.
Supplies you will need:
Two different colors of fabric
Needle
I give you all the measurements and the fabric yardage in the tutorial.
> GET the Fabric wreath sewing tutorial <

I used very classic colors for Christmas: red and white. Feel free to try other fabric combinations. You can easily sew the wreath that matches your Christmas decor.
If you like to make the same wreath as me, here are the references of fabric I used: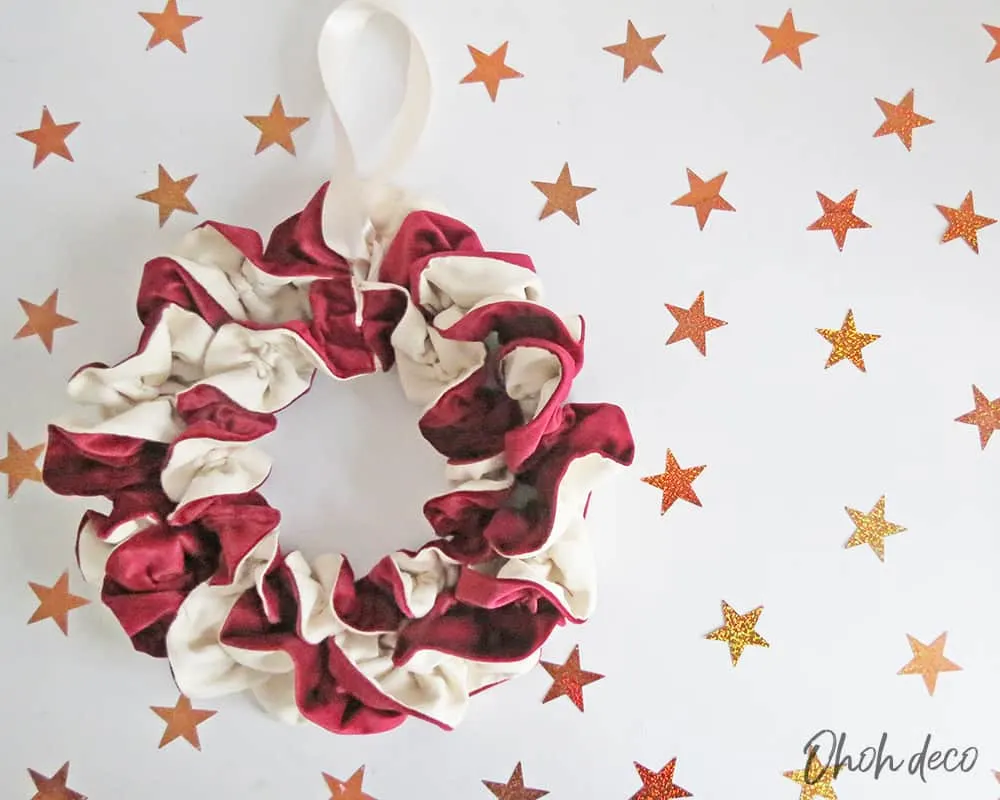 I like making Christmas wreath with fabric, it's durable and you can use it for years. Your can hang it on your front door, It well holds up well to weather changes.
The fabric wreath is bulky and colored, it gives a warm and cozy atmosphere…everything you need for successful holidays decoration.
It will look so nice to hang the large wreath on the front door and small ones on every window. It will make the house looks so festive, in and out.
Get the tutorial and start sewing your wreath!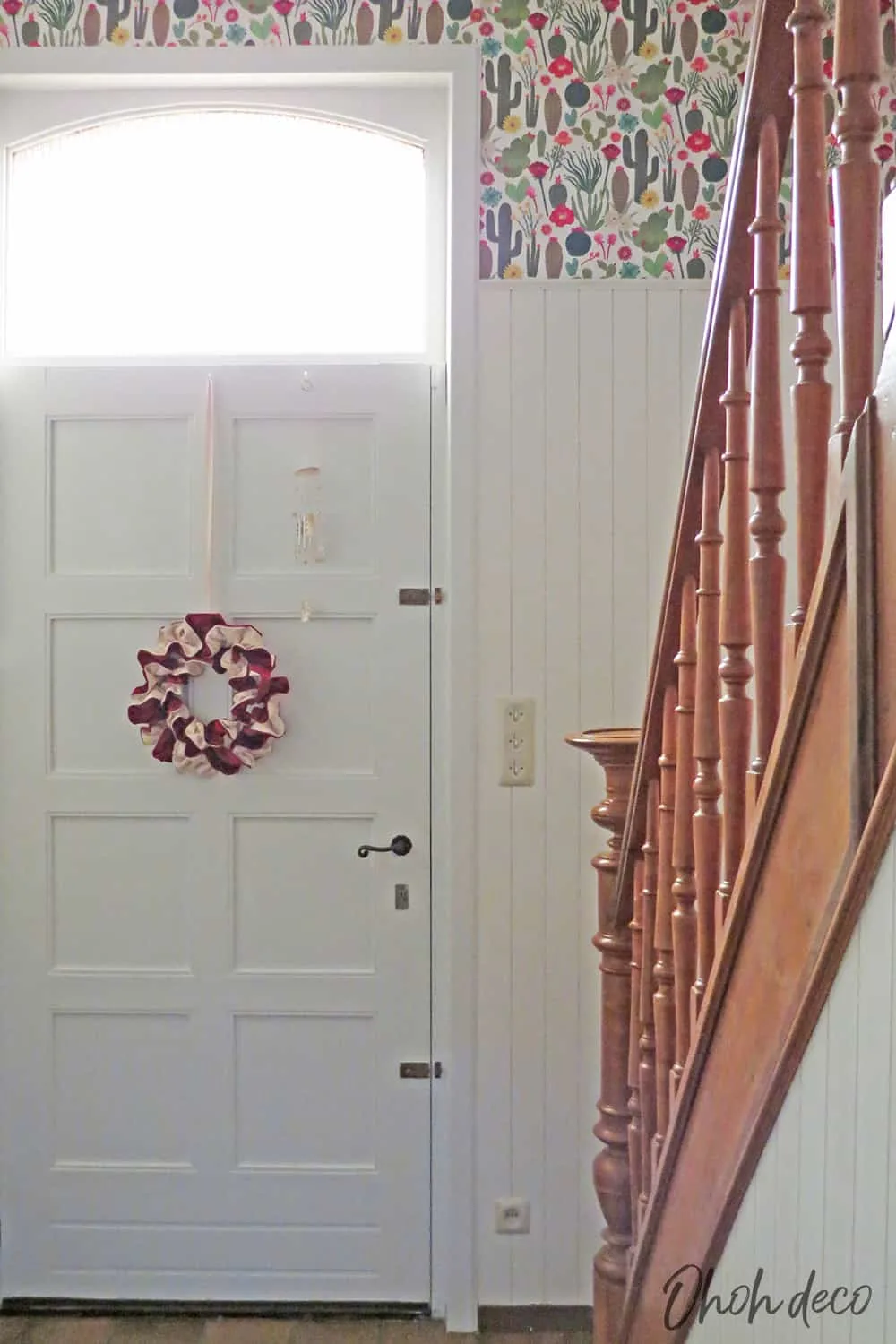 RELATED: Christmas tree pillow pattern
RELATED: DIY wreath to keep all year long
>>> GET the Fabric wreath sewing tutorial <<<
Want to remember it? Save the Fabric Christmas Wreath in your favorite Pinterest board!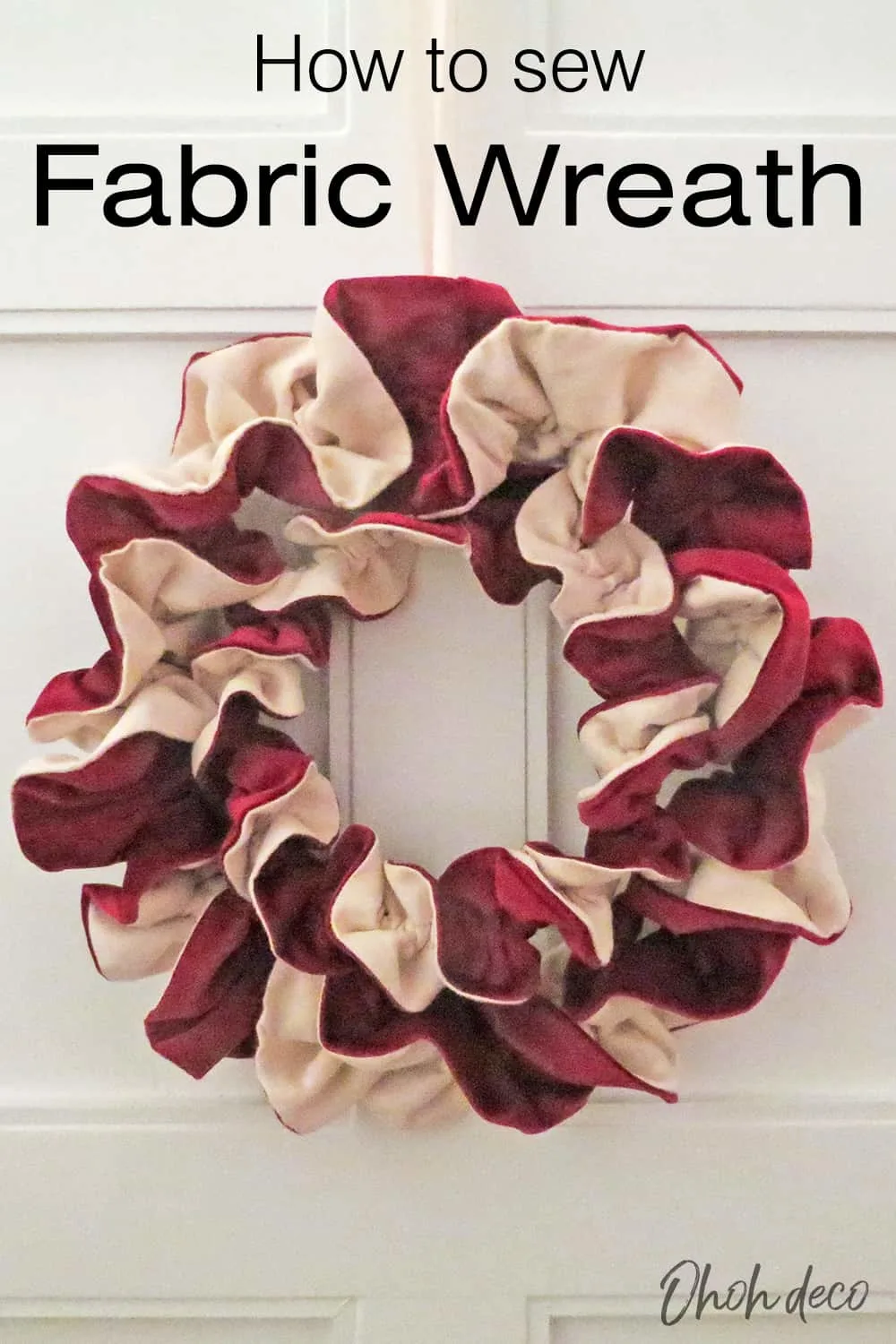 You will find all the tutorials featured in the video on my "Best DIY" page
Amaryllis