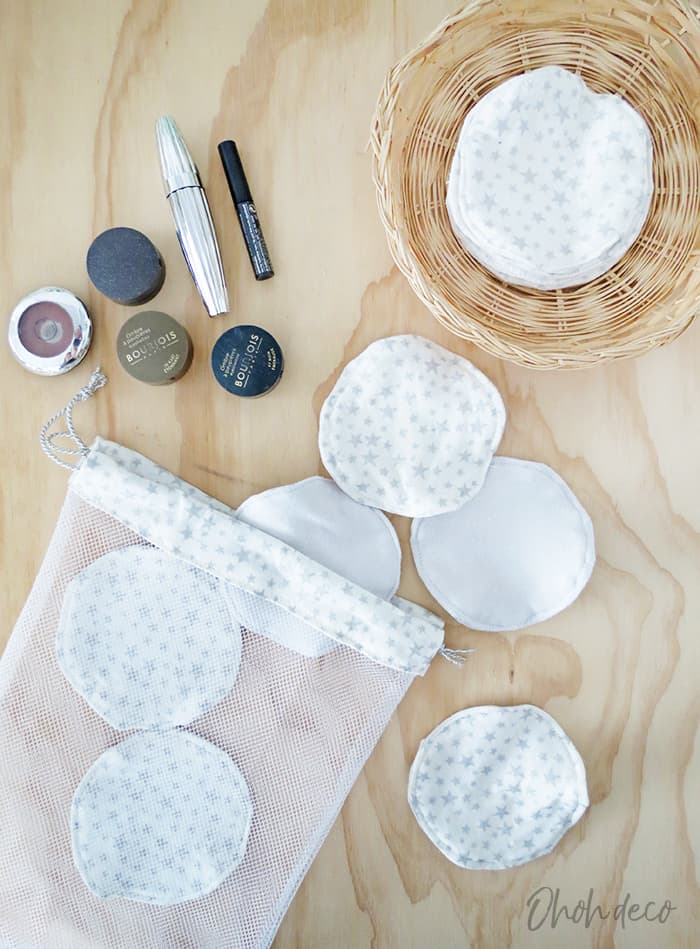 We are all concerned about climate change and changing our consumption habits can definitely make a difference. There is a lot of information on how to live in a more sustainable way … and sometimes it's pretty confusing to find out! I believe that making a small change at a time is easier than completely changing one's lifestyle.
[ This post probably contains affiliates links, our full disclosure policy is really boring, but you can read it HERE ]
Today I propose you to switch using reusable makeup removers, instead of disposable ones. It is a very simple sewing tutorial, perfect even if you are a beginner.

What fabric for reusable makeup wipes?
Before stating sewing, I want to talk about the fabric. As you will use the pads on your face it's important to use a very gentle fabric. I first give a try using baby towel fabric, it looks soft in the store so I made a few pads to test. It turns out that I didn't like it at all…way too harsh.
My second try was using an old t-shirt, the fabric is much softer. I like it and decided to make all my pads using this upcycled jersey fabric. I understand that maybe not everyone wants to make pads with a used t-shirt. I'm ok reusing fabric and I think it's a great way to recycle clothes I didn't use.
If you choose to buy fabric, I suggest you look for jersey fabric made with organic cotton, it's the best fabric for reusable makeup pads.
Also, be careful if you choose a printed fabric, I decided to use some scrap jersey with silver stars, well it turns out that the silver feels a little scratchy. I just don't use that side to remove the makeup, unless I want a peeling…hahaha! I like the silver stars and how my pads look, just keep in mind that detail if you want to use patterned fabric.
RELATED: Replace disposable products with reusable ones
RELATED: How to make a reusable produce bag
* * *
Todos estamos preocupados por el cambio climático y cambiar nuestros hábitos de consumo definitivamente puede hacer la diferencia. Hay mucha información sobre cómo vivir de una manera más sustentable … ¡Y a veces es bastante confuso! Creo que hacer un pequeño cambio a la vez es más fácil que cambiar por completo tu estilo de vida.
Hoy te propongo que cambies las almohadillas de algodón desechables por unas de tela reutilizable.. Es un paso a paso de costura muy simple, perfecto incluso si eres una principiante.
Antes de indicar la costura, quiero hablar te de la tela. Como usarás las almohadillas sobre tu cara, es importante usar una tela muy suave. El primer intento que hice fue con una tela de toalla de bebé, se sentia muy suave en la tienda, así que hice algunas almohadillas para probar. Resulta que no me gustó en absoluto … demasiado aspero. Mi segundo intento fue usar la tela de una playera vieja, la tela es mucho más suave. Me gusto y decidí hacer todas mis almohadillas con este tejido de jersey reciclado. Entiendo que tal vez no todos quieren hacer almohadillas con una camiseta usada, aunque creo que es una excelente manera de reciclar ropa que dejamos de usar.
Si decides comprar tela nueva, te sugiero que busques una tela jersey hecha con algodón orgánico. También ten cuidado si eliges una tela impresa, decidi usar un jersey que tenia de sobra con estrellas plateadas, y resulta que el color plata se siente un poco áspero. Simplemente no uso ese lado para quitarme el maquillaje, a menos que quiera un peeling … jajaja! Me gustan las estrellas plateadas y cómo se ven mis almohadillas, solo ten en cuenta ese detalle si quieres usar telas estampadas.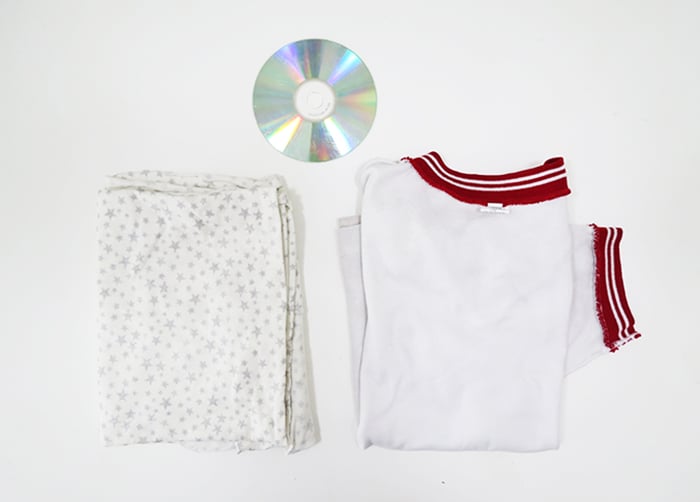 DIY makeup remover pads
Materials you will need:
I used two different fabric: a silver star printed fabric for the pads top and a used t-shirt fabric one for the makeup remover side. Prepare your fabric by cutting squares of 6 inches side. Cut as many pieces as you want pads, remember you need two fabric pieces to make each pad.
* * *
Material que necesitarás:
Tela de jersey (una camiseta usada funciona muy bien)




Hilo a juego con el color de tu tejido.




Un Disco




Una pluma para tela




Algunos alfileres




Un par de tijeras




Una maquina de coser
Utilicé dos telas diferentes: una tela con estampado de estrella plateada para la parte superior de las almohadillas y una tela de camiseta usada para el lado del producto. Prepares tu tela cortando cuadrados de 15 cm de lado. Corta tantas piezas como necesitas, recuerdas que ocupas dos piezas de tela para hacer cada almohadilla.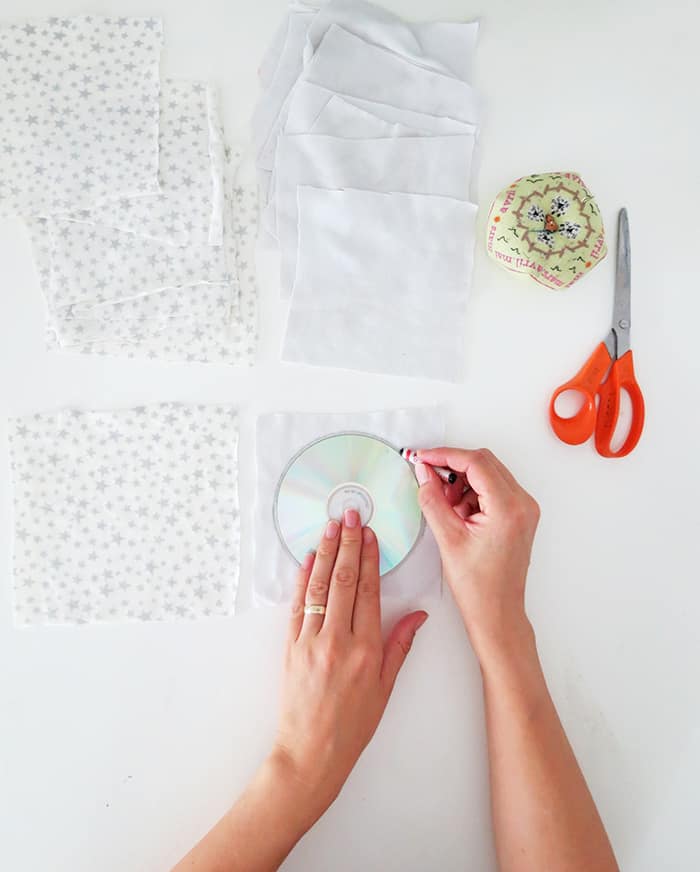 Take the CD and report the shape on the back of one square.
* * *
Tomas el disco e dibuja la forma en la parte posterior de un cuadrado.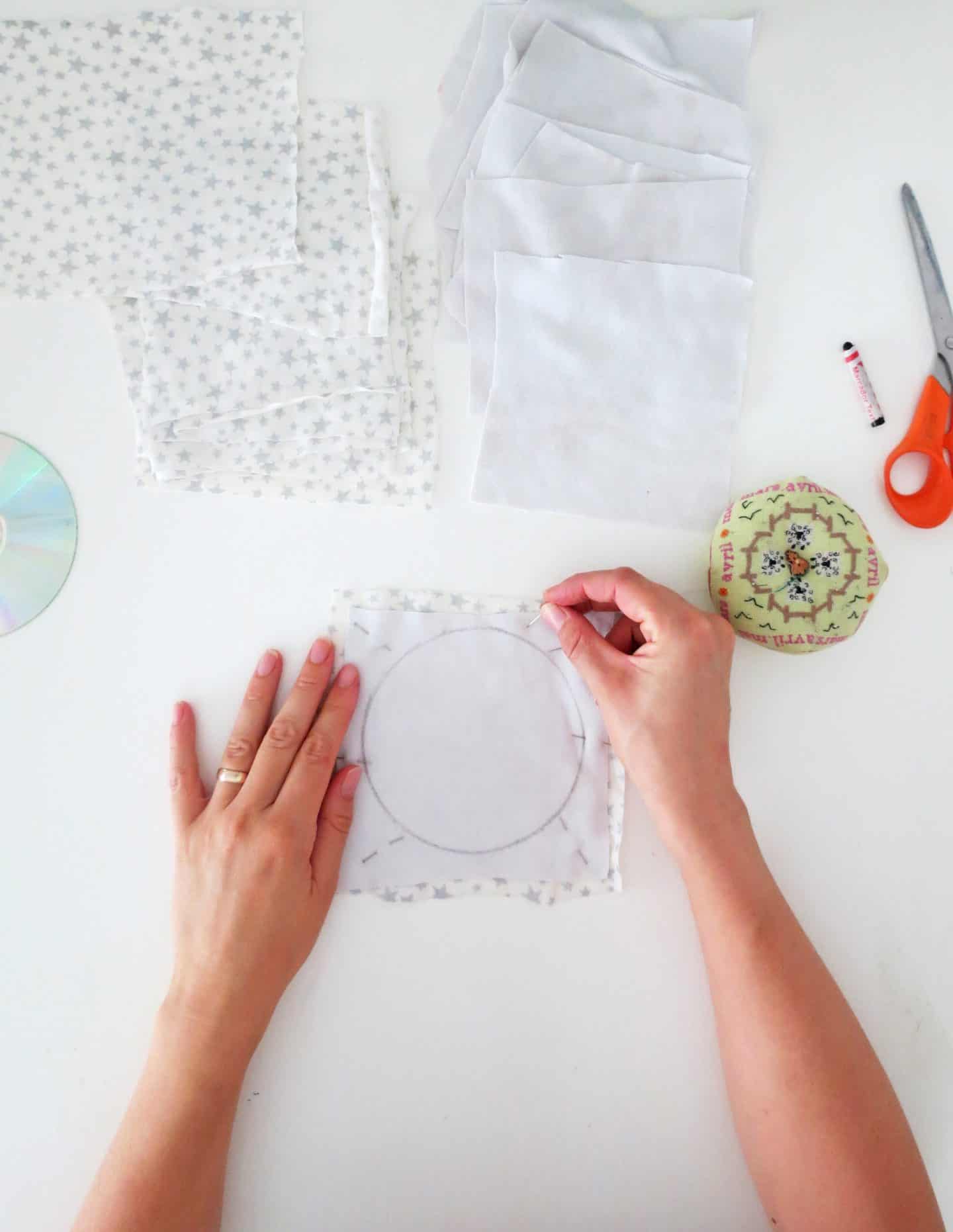 Place two square on top of each other, wrong side facing and pin them together. Sew with small zig-zag stitches following the circle line. Leave an unsewn gap of 2 inches.
* * *
Coloques dos cuadrados uno encima del otro, con el lado equivocado hacia afuera y fíjelos con unos alfileres. Cosa con pequeños puntos en zig zag siguiendo la línea circular. Deja un espacio sin cocer de 4-5 cm.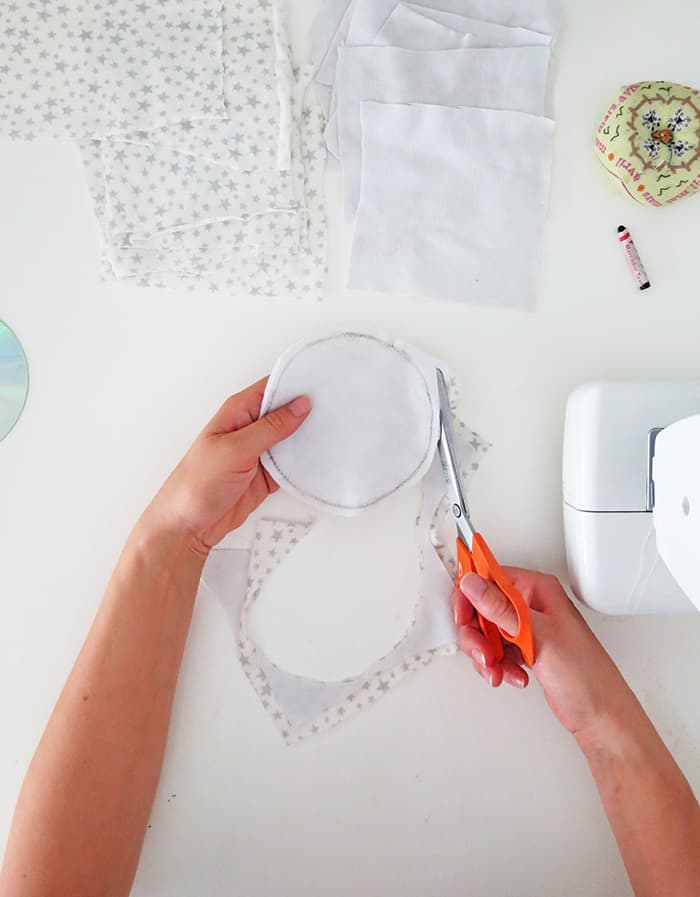 Cut the circle leaving an allowance of 1/4 inch from the seam. Flip the pad to have the right side out.
* * *
Cortas el círculo dejando un margen de 0.5cm desde la costura. Volteas la almohadilla para tener el lado recto hacia afuera.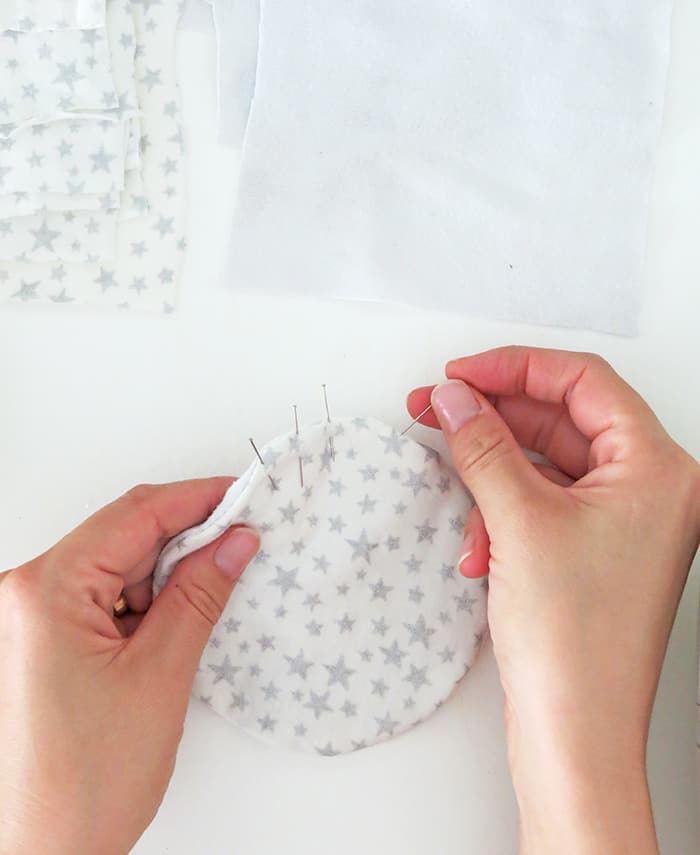 Fold the sides along the opening through inside and pin. Make a top seam all around the pad and 1/4 inches from the edge. And done, repeat as many times as you need.
* * *
Doblas los lados a lo largo de la abertura hacia del interior y pones unos alfileres. Haz una costura alrededor de la almohadilla a mas o menos 0.5 cm del borde. Y listo, repite tantas veces como necesites.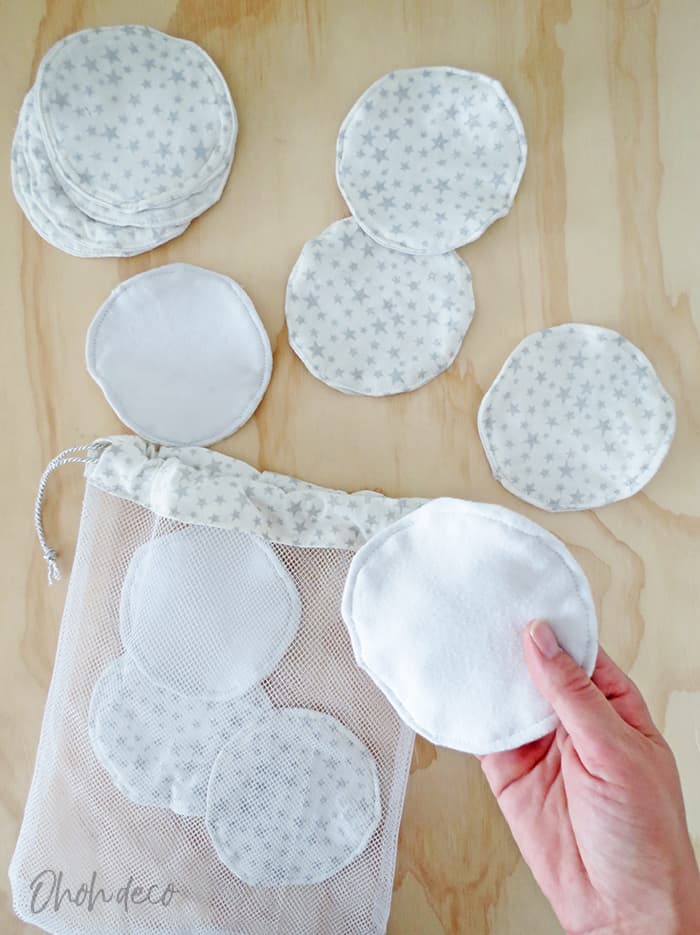 Washing reusable makeup pads
I also sew a mesh laundry bag, where I throw the pads after using them. I put the bag in the washing machine with light-colored clothes and wash them on a warm wash.
If some makeup stain remains I let them soak overnight in water and soap. It's better to not use bleach or fabric softener.
Using a mesh bag makes things easier, I don't have to dig into the laundry pile to find the clean pads. If you want to sew a netting bag, you can follow my tutorial to Sew a reusable fabric bag.
Watch the video tutorial to make DIY Reusable make-up remover pads
* * *
También hice una bolsa de malla para dejar las almohadillas después de usarlas y lavarlas. Asi no tengo que cavar en la pila de ropa para encontrarlos. Para hacer una bolsa de red, seguí mi paso a paso para coser una bolsa de tela reutilizable.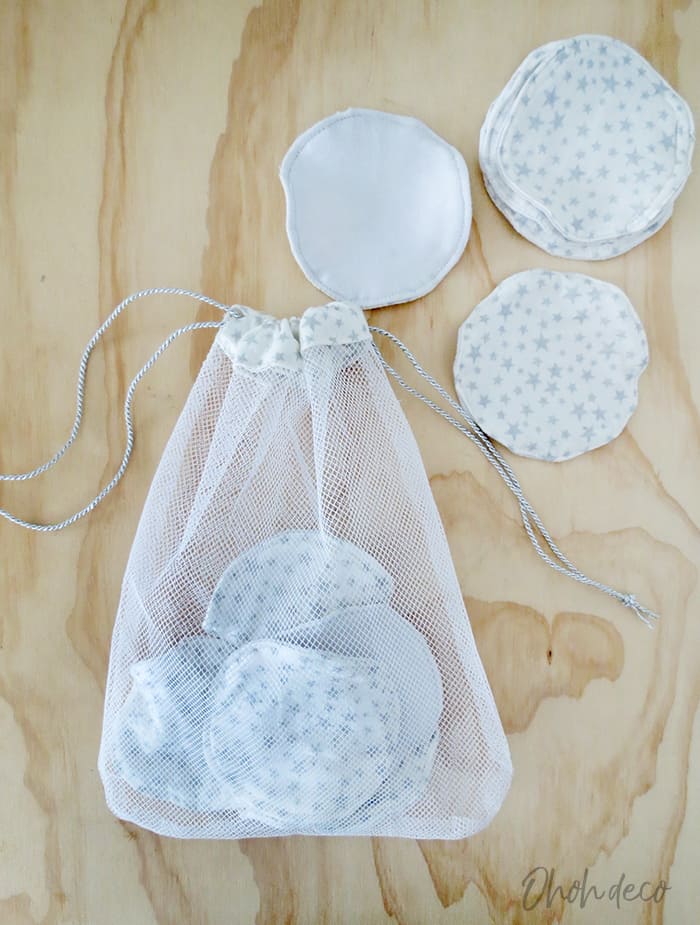 How to use reusable makeup wipes
Reusable cotton pads absorb more makeup remover than disposable ones. So, to avoid wasting the product, I first pass the pad under the water and wring it out. Then put the product on the wet pad.
It works great and helps to prevent the fabric from absorbing all your makeup remover. You then pass the pad on your face to remove your makeup.
Making pads is very easy. It's also a great gift, especially if you give them in a nice DIY fabric basket.
I love to see what you make with my tutorials, so don't hesitate to share your make in comments. Would you give a try to use reusable remover pads? How many will you make?
If you want to make a change and live in a more sustainable way, you can have a look at my post Replace disposable products for reusable ones.
* * *
Un consejo: las almohadillas de tela reutilizables absorben más producto que las desechables. Entonces, para evitar gastar mucha loción, primero paso la almohadilla debajo del agua y la escurro. Luego pongo la loción sobre la almohadilla húmeda. Funciona muy bien y ayuda a evitar que la tela absorba todo el removedor de maquillaje.
Hacer almohadillas es muy fácil. También es un gran regalo, especialmente si los das en una bonita cesta de tela DIY. Me encanta ver lo que haces con mis pasos a pasos, así que no dudes en compartir con un comentario. ¿Interntaras usar almohadillas reusables reutilizables? ¿Cuántas harás?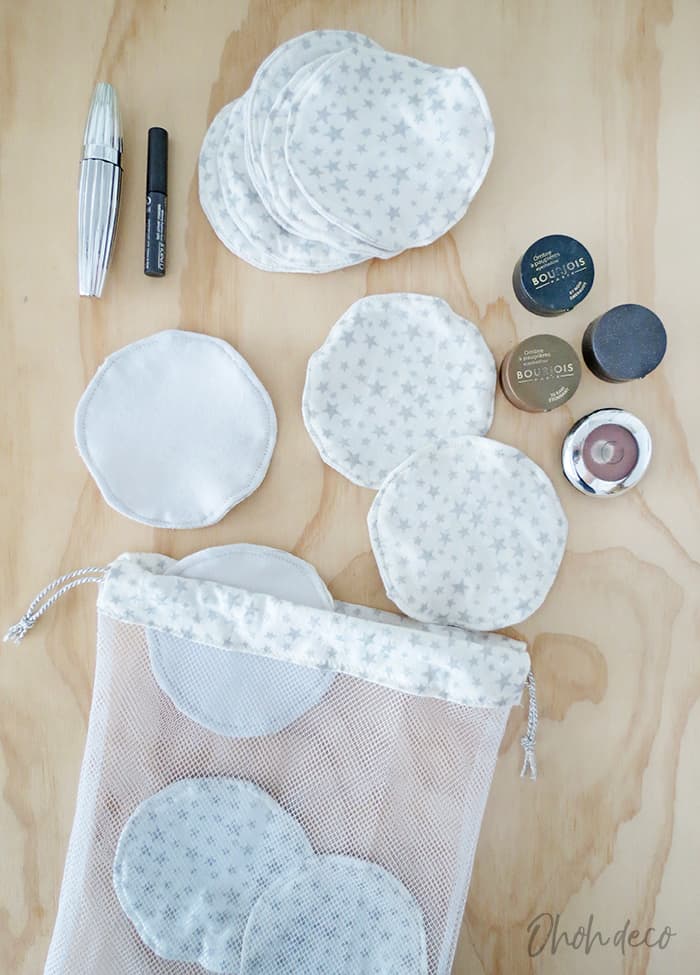 Looking for more sewing ideas?
You will find all the tutorials featured in this video on my Best off-page.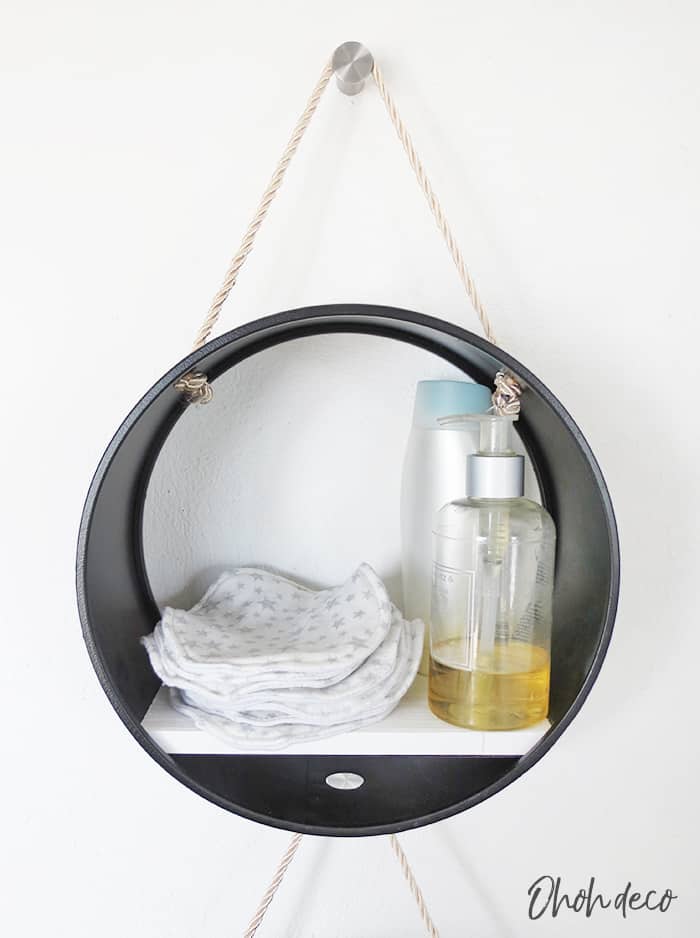 Want to remember this? Save these Reusable makeup remover pads in your favorite Pinterest board!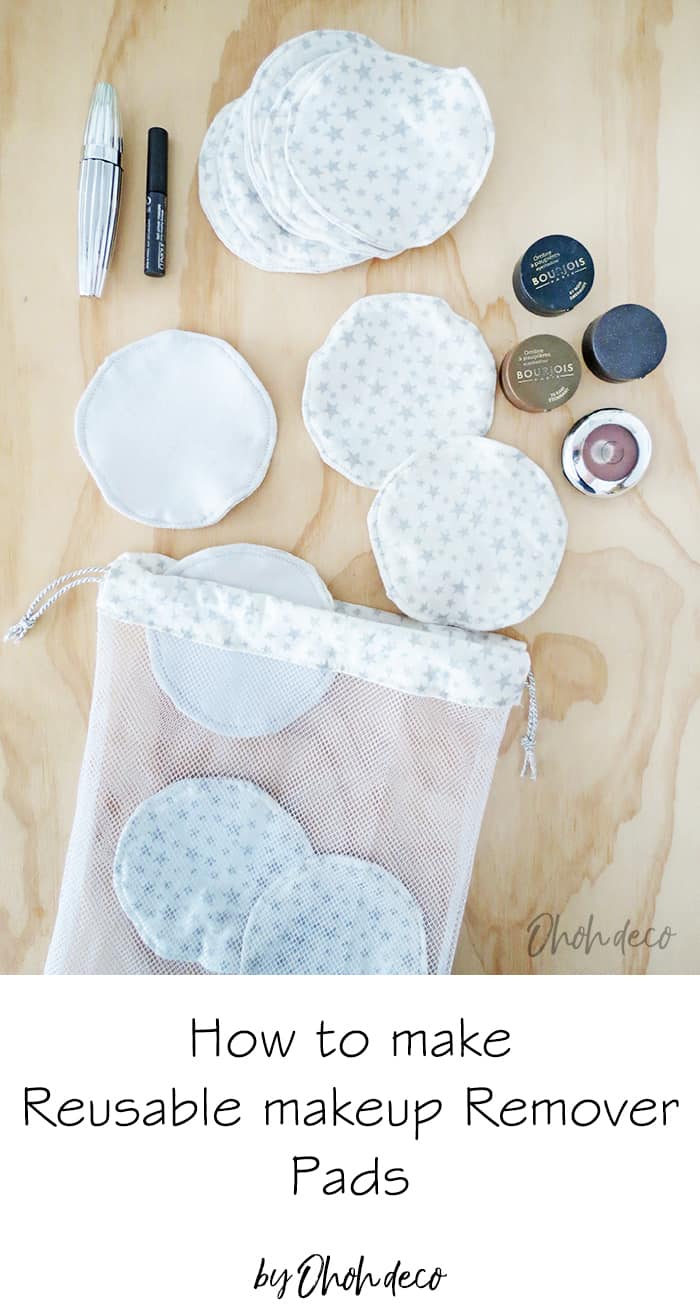 Amaryllis