Are you tired of the same old fall leaf garland? Looking for something fresh and exciting to spruce up your seasonal decor? Well, look no further! In this article, we're about to embark on a journey that will take your fall leaf garland to new heights of creativity. Forget the traditional decor – we're about to explore five extraordinary and unexpected ways to use this seasonal decor.
Brace yourself as we dive into a world of table centerpieces, wreaths, wall hangings, and more, all crafted from the humble fall leaf garland.
[ This post probably contains affiliate links, our full disclosure policy is boring, but you can read it HERE ]
How do you make Fall leaf garland?
To create your own fall leaf garland, you don't need to be a crafting expert – just a little bit of creativity and a few simple materials will do the trick. In the following section, we'll find easy DIY tutorials to make your own stunning leaf garland using paper, fake leaves or naturals ones.
Supplies you may need to make a leaf garland:
So grab some rope, paper, scissors, and a cup of warm apple cider as we embark on this DIY journey to create a one-of-a-kind fall decoration.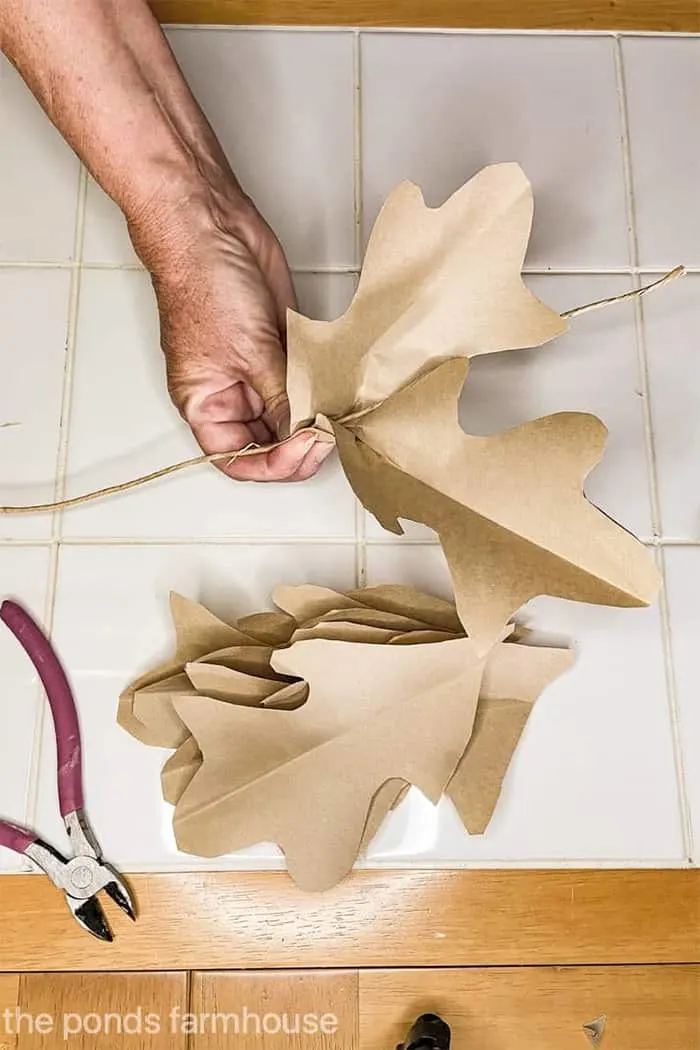 How to make a fall paper leaf garland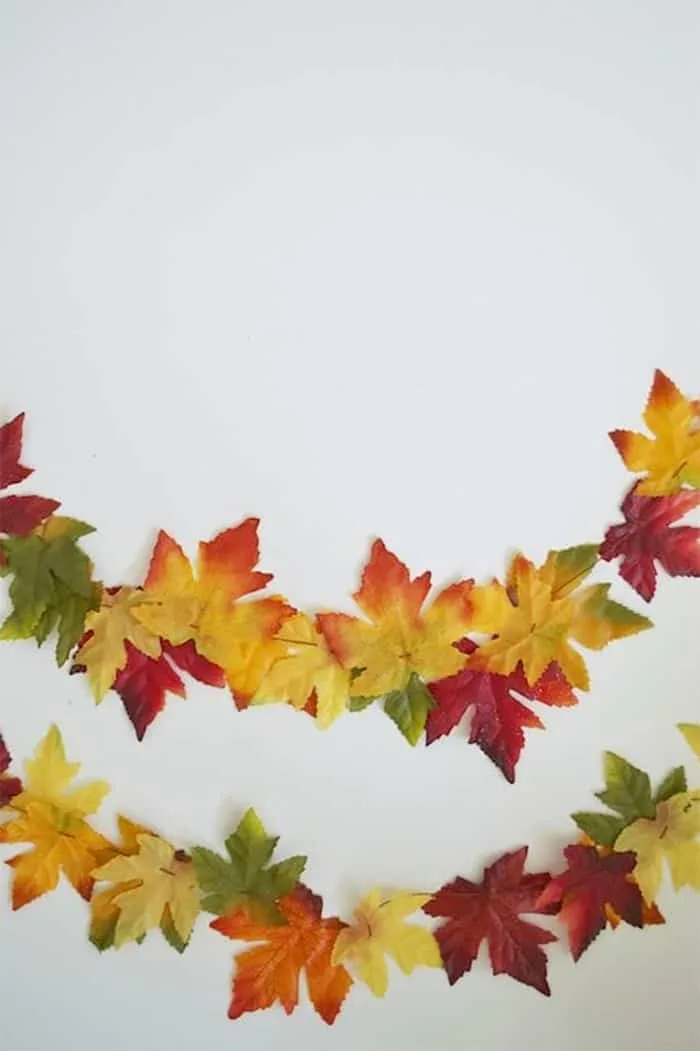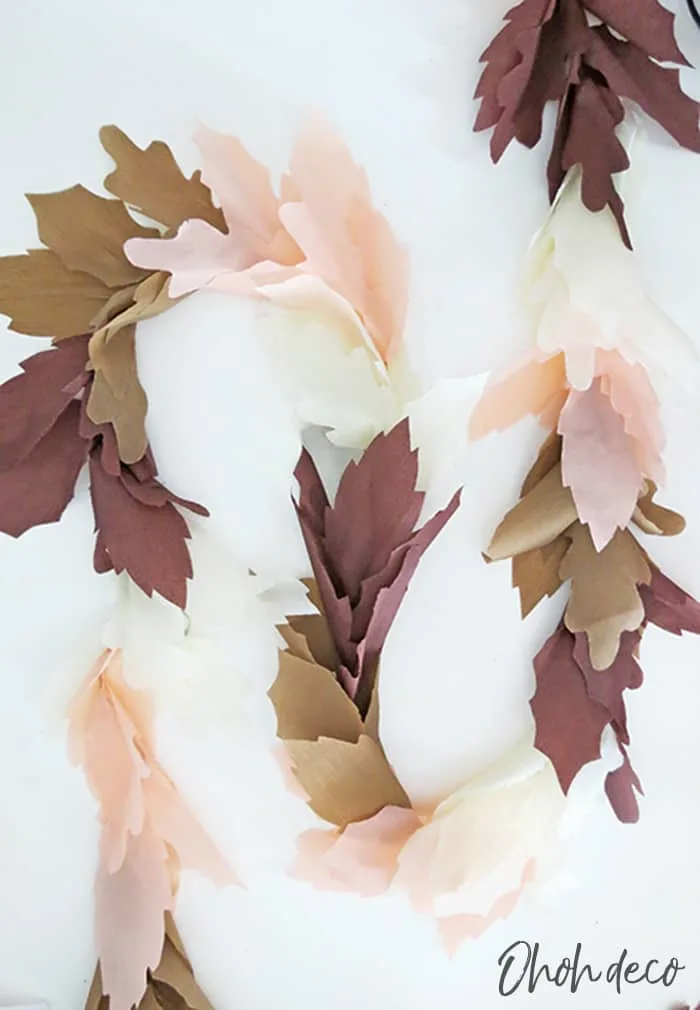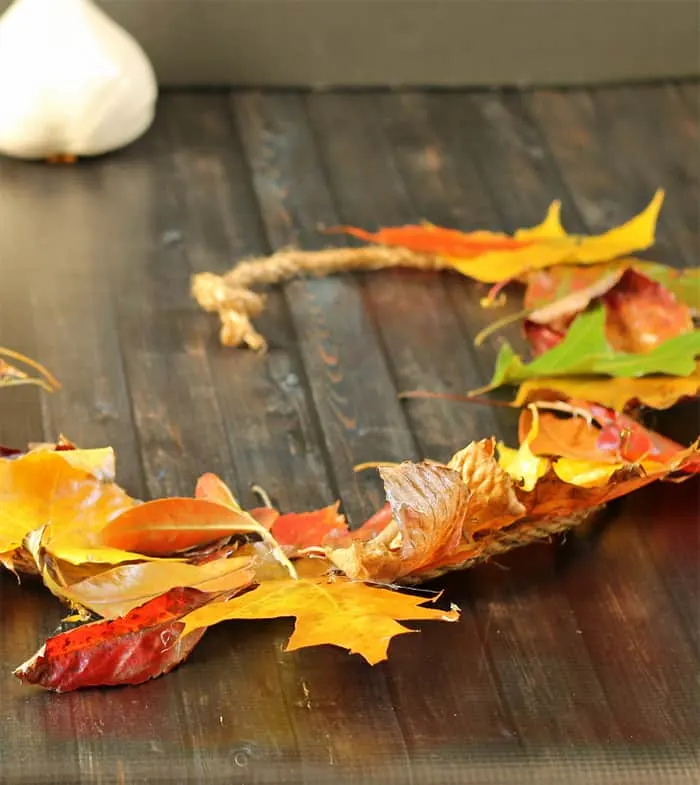 And voila! Now, your own a beautiful leaf garland! Keep reading to explore innovative ideas to use your fall garland in unique and unexpected ways.
RELATED: Make a paper leaves garland in 30 minutes
RELATED: How to use Leaves as decoration
1. Enhance Your Table Centerpieces
It's time to bring the beauty of fall to your table centerpieces. Incorporating the garland into your table decor is a creative and eye-catching way to add a touch of autumnal charm to your dining experience.
One idea is to use the leaf garland as a table runner. Simply arrange the garland down the center of your table, allowing it to cascade gracefully over the edges. This instantly brings a vibrant burst of fall colors to your dining area and sets the stage for a cozy and inviting atmosphere.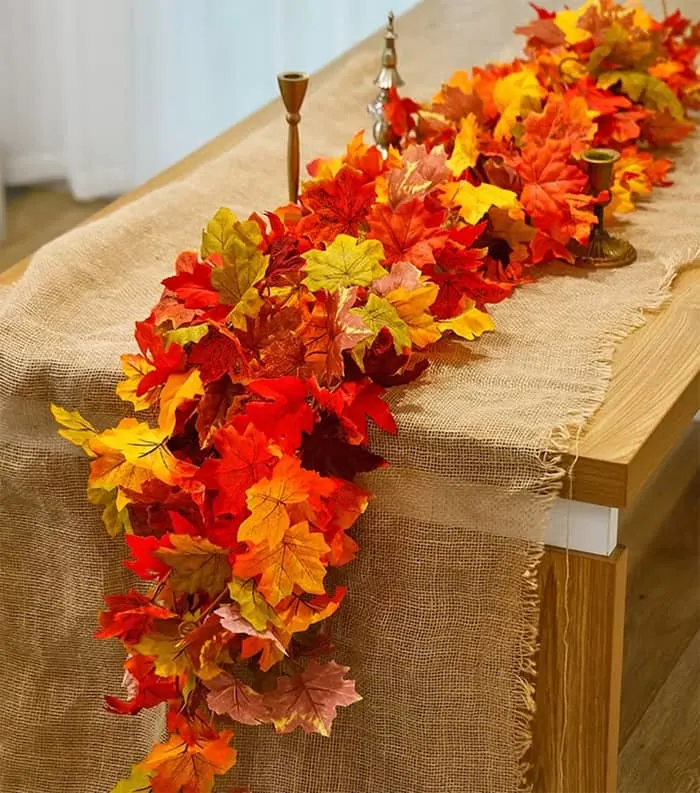 Fall leaf garland table runner
To take it a step further, you can intersperse the leaf garland with other elements of nature. Consider incorporating small pumpkins or gourds, pinecones, or even petite floral arrangements into the garland. This combination of natural elements will create a visually stunning centerpiece that captures the essence of the season.
You can also use the leaf garland as a hanged centerpiece. Hang it on the chandelier or to the ceiling above your table centerpiece arrangement, allowing the colorful leaves to accentuate the focal point of your table. This creates a layered and dimensional look that adds depth and visual interest to your overall table design.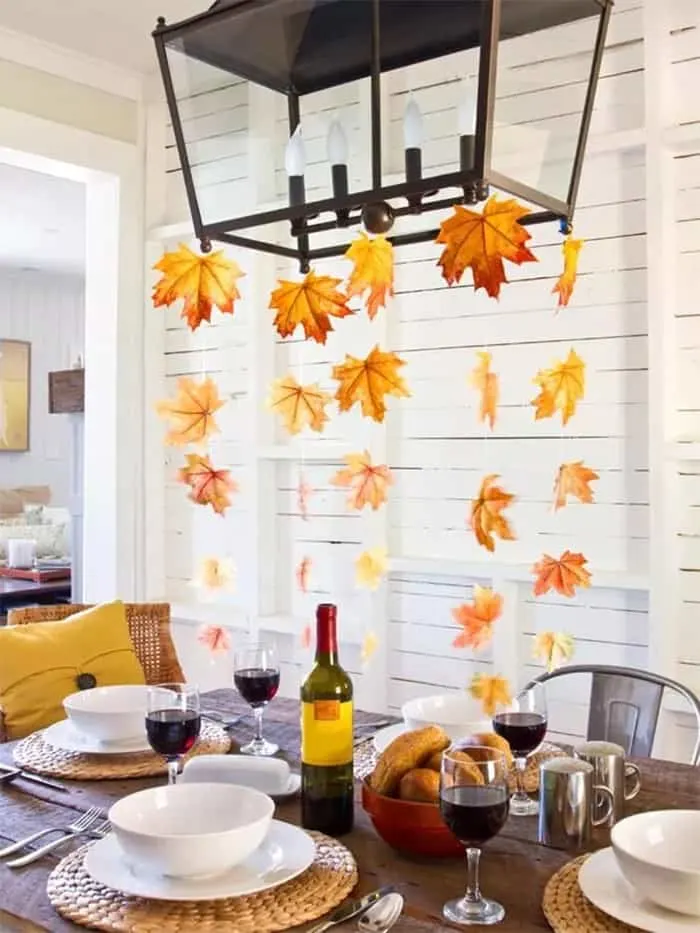 Fall leaf garland hanging centerpiece
With your stunning leaf garland, the possibilities for enhancing your table centerpieces are truly endless. Next, let's explore how to create stunning napkin rings to complete your fall table setting.
RELATED: 15 DIY you will love to do this Fall
RELATED: How to make a fabric garland
2. Craft Unique Napkin Rings
Another option is to create individual place settings using the leaf garland. Cut shorter sections of the garland and loop them around napkins, securing them with a decorative ribbon or twine. This adds a unique and personal touch to each place setting, tying your fall theme together while also providing a beautiful keepsake for your guests.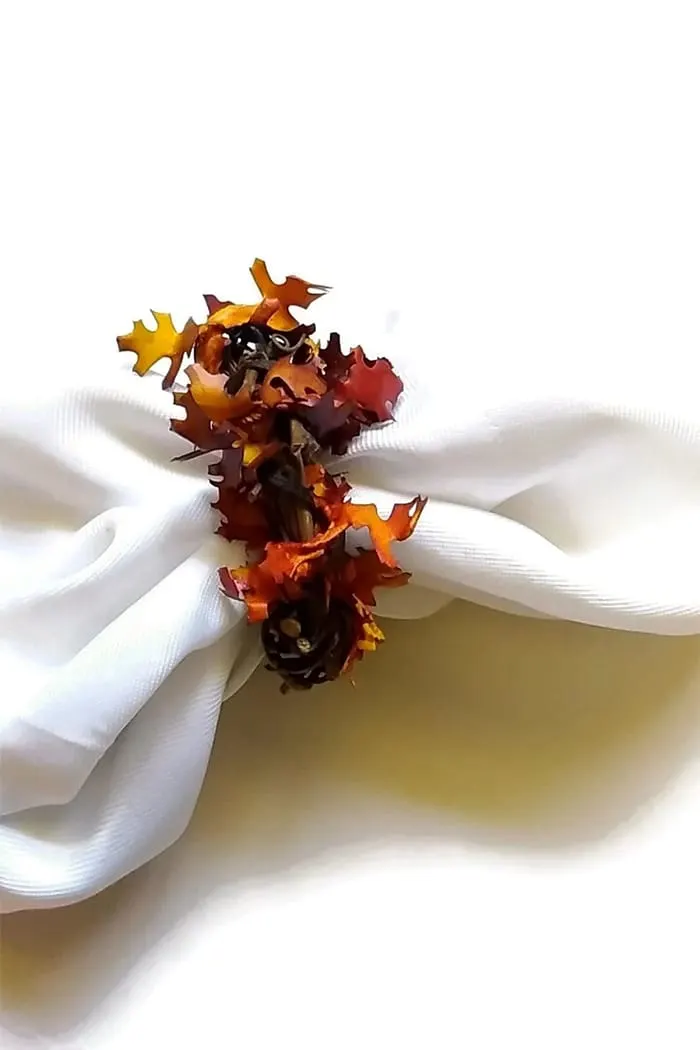 3. Create a Stunning Garland Wreath
To further enhance your fall decor, let's explore another creative way to use your leaf garland: by creating a stunning garland wreath. This will add an extra touch of seasonal charm to your front door.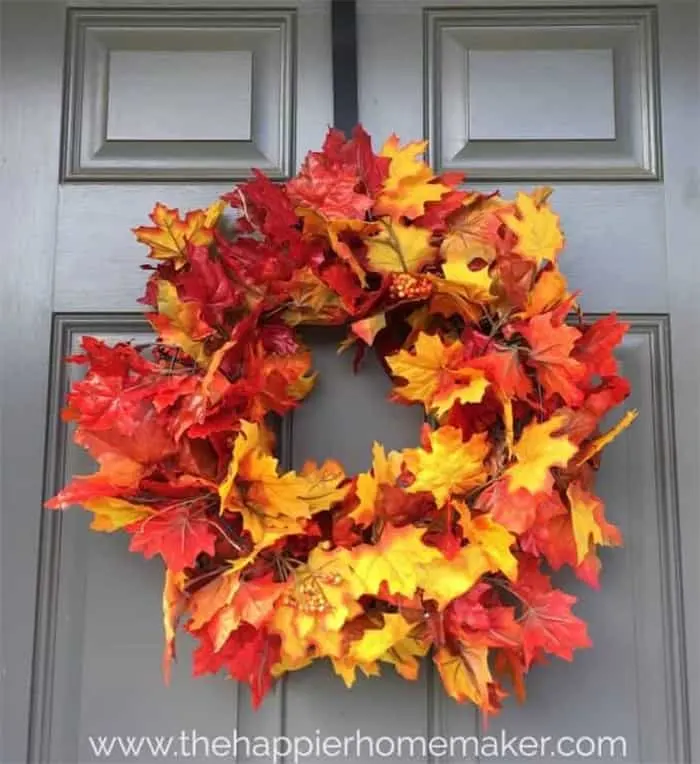 4. Add a Touch of Nature to Your Walls
One of the most captivating ways to infuse the beauty of fall into your home is by incorporating natural elements onto your walls. With your leaf garland already in hand, it's time to take this seasonal decoration to new heights.
Grab several garlands and attach one end on a branch and you will create a cute autumn wall hanging decor in no-time.
As you arrange the leaf garland, feel free to experiment with different color combinations and patterns to match your personal style and the overall aesthetic of your fall decor. Don't be afraid to mix in some metallic or glitter leaves for a touch of glamour.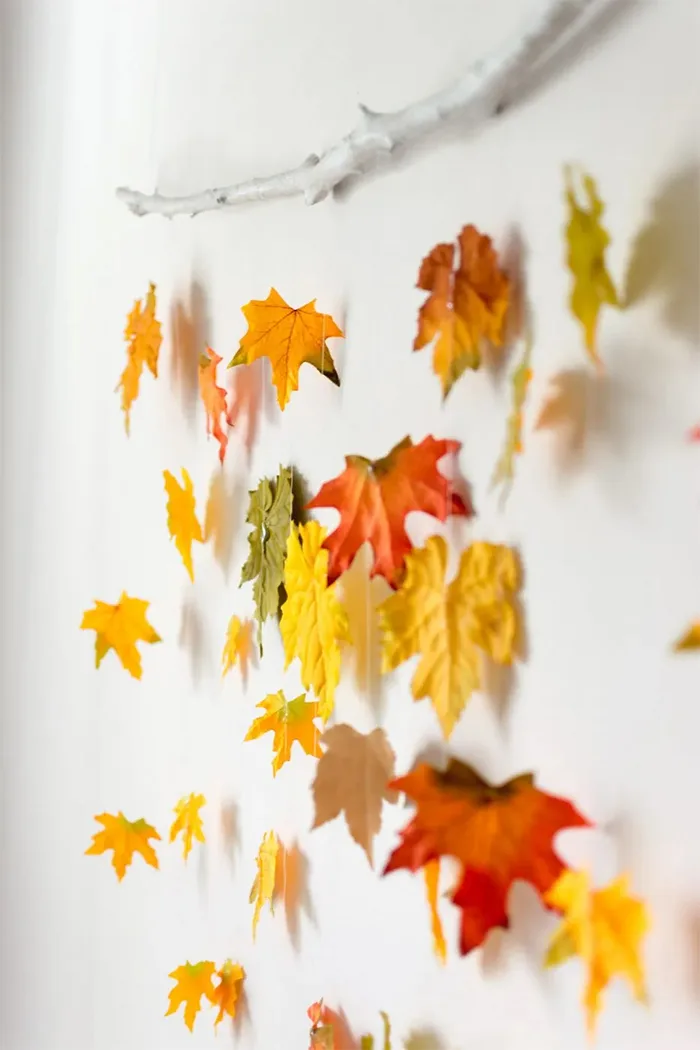 Time to move on to the next creative endeavor: designing a festive fall chandelier.
5. Design a Festive Fall Chandelier
A customized chandelier will be the perfect finishing touch to elevate the autumn ambiance in your home.
To create your fall-inspired chandelier, you'll need a sturdy wire wreath form or a metal hanger to serve as the base for your chandelier. Shape the form into a circular or oval shape.
Using floral wire, attach the leaves to the wreath form, layering them to create a full and cascading effect. As you attach the leaves, be sure to secure them tightly so they don't come loose when you hang the chandelier.
Once all the leaves are securely fastened, you can add additional elements to enhance the fall theme. Consider incorporating small pine cones, acorns, or even some faux berries for an extra pop of color.
To hang your festive fall chandelier, simply find a sturdy hook or nail in the ceiling and attach it securely.
RELATED: The Secret to Creating a Cozy Atmosphere with Indoor Fall Decorations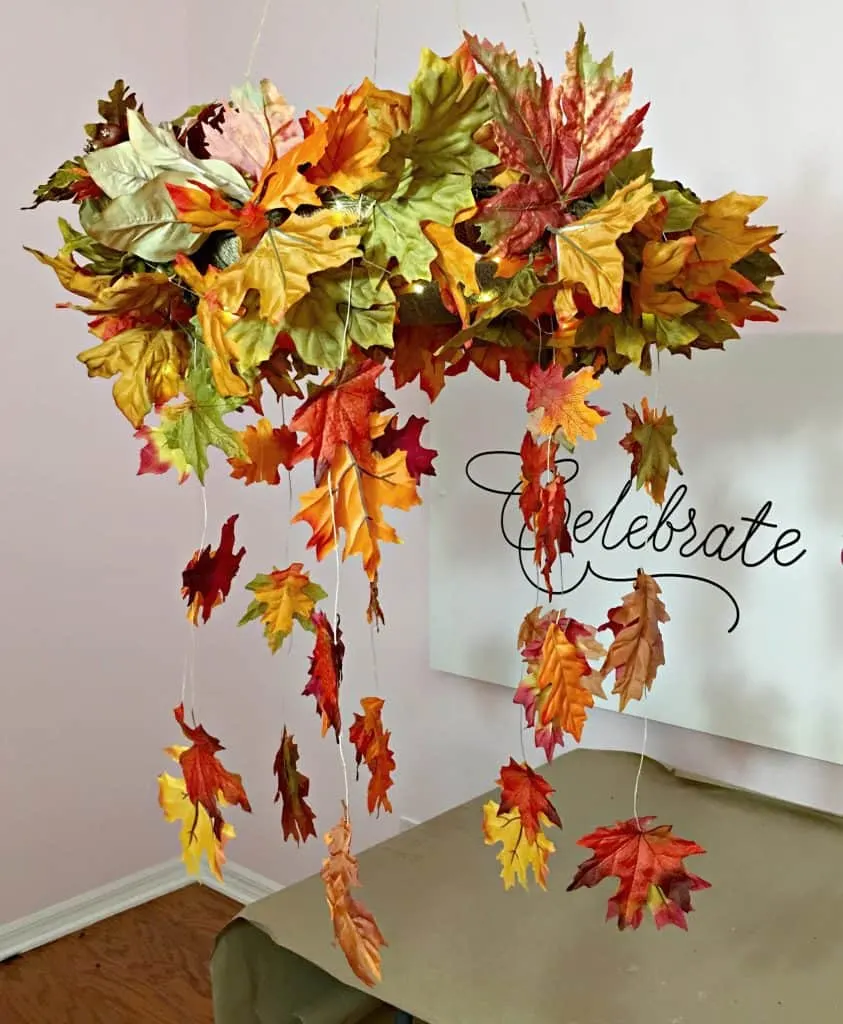 As you step back and admire your creation, you'll be amazed at how the fall foliage transforms your space. The warm hues and natural textures will instantly add a cozy and inviting atmosphere to any room.
6. Decorate your Mantle for Fall
The mantle is often considered the centerpiece of a living room or family room, and what better way to make it stand out than with a stunning fall leaf garland?
Whether you have a traditional fireplace or a simple shelf, adorning it with a garland made of vibrant autumn leaves will instantly bring warmth and charm to the space.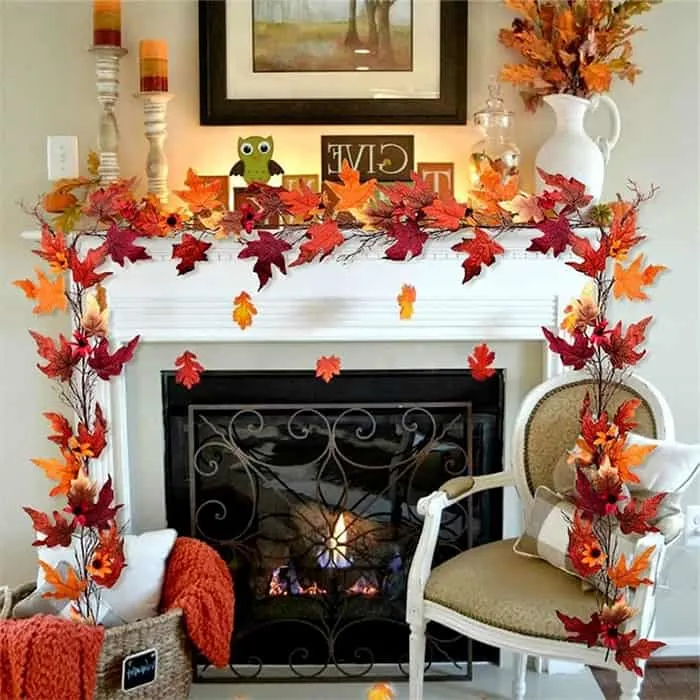 In conclusion, your fall leaf garland has the potential to be so much more than just traditional decor. By exploring the five creative ideas we've shared, you can transform this seasonal decoration into versatile accents that will leave your guests in awe.
From enhancing table centerpieces to crafting unique napkin rings and designing a festive fall chandelier, the possibilities are endless. So don't hold back—unleash your creativity and make this fall truly memorable.
Remember, it's not just about the decor, but the unique accents that make your space truly unforgettable. So go ahead, let your imagination run wild, and make every corner of your home a showcase of fall's natural beauty.
RELATED: DIY paper Palm Leaf
RELATED: DIY Holly Christmas Garland
Want to remember it? Save these 6 Creative Ways to Use Fall Leaf Garland on your favorite Pinterest board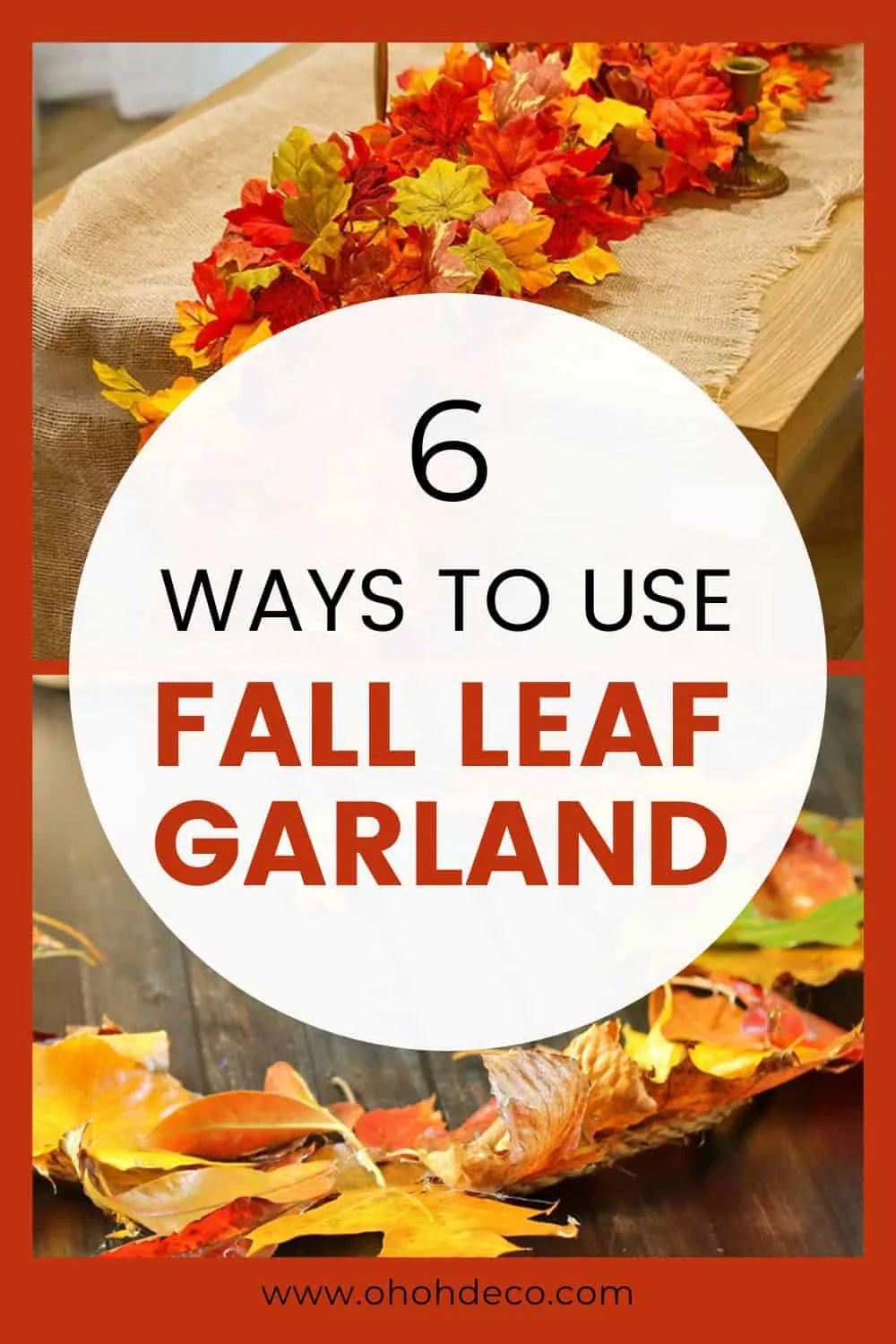 Amaryllis