Dressing up the windows is an important part of room decor. Between the drapery, rods and curtain panels, thinks can quickly go out of control and out of budget.
[ This post probably contains affiliates links, our full disclosure policy is really boring, but you can read it HERE ]
If you have some basic sewing skills it's very simple to turn a piece of fabric into curtain panels (or into some roman blinds, look how I did). If you prefer a faster option, you can also find already made curtains at an affordable price in a lot of stores. And, to hang them, noting better and cheaper than homemade curtain rods.
Hereafter, you will find a great selection of tutorials to make your own rods. With just a little imagination you can turn a pipe, a piece of rope, or even a tree branch into a stunning option to hang curtains. I'm sure you will find the perfect curtain rod to complete your room decor.
RELATED: How to make relaxed roman shades
RELATED: How to make roman blinds
* * *
Vestir las ventanas es una parte importante de la decoración de una habitación. Entre los cortinas, las varillas y los paneles de cortina, las cosas pueden rápidamente salir de control y de presupuesto.
Si tiene algunas nociones de costura, es muy simple convertir una pieza de tela en una cortina. Si prefiere una opción más rápida, también puedes encontrar cortinas hechas en muchas tiendas y a un precio muy asequible. Para colgarlos, nada mejor y más barato que unas barras de cortina DIY.
A continuación, encontrarás una selección de pasos a pasos para hacer tus barras. Con solo un poco de imaginación, puedes convertir una pipa, un trozo de cuerda o incluso una rama de árbol en un deslumbrante accesorio para colgar tus cortinas.
Estoy segura de que encontrarás la barra de cortina perfecta para completar la decoración de tu habitación.
DIY curtain rods
The first material you can use to make your own curtain rods are pipes. You can easily find them in any hardware store. It's very strong and affordable and it comes in several materials, from copper to steel.
You can use the material in it's natural shade for an industial look or choose to spary paint it to fit your decor. You can also add some nice rod ends if you like fancy details.
* * *
El primer material que puedes usar para hacer sus propias barras de cortina son tuberías. Puedes encontrarlas fácilmente en cualquier ferretería. Es un material muy resistente y de precio asequible. Existe de varios materiales, desde cobre hasta acero.
Puede usar el material en su tono natural para un look industrial o elegir pintarlo para que se adapte a tu decoración. También puedes agregar algunos adornos a los extremos de la barra si le gustan los detalles elegantes.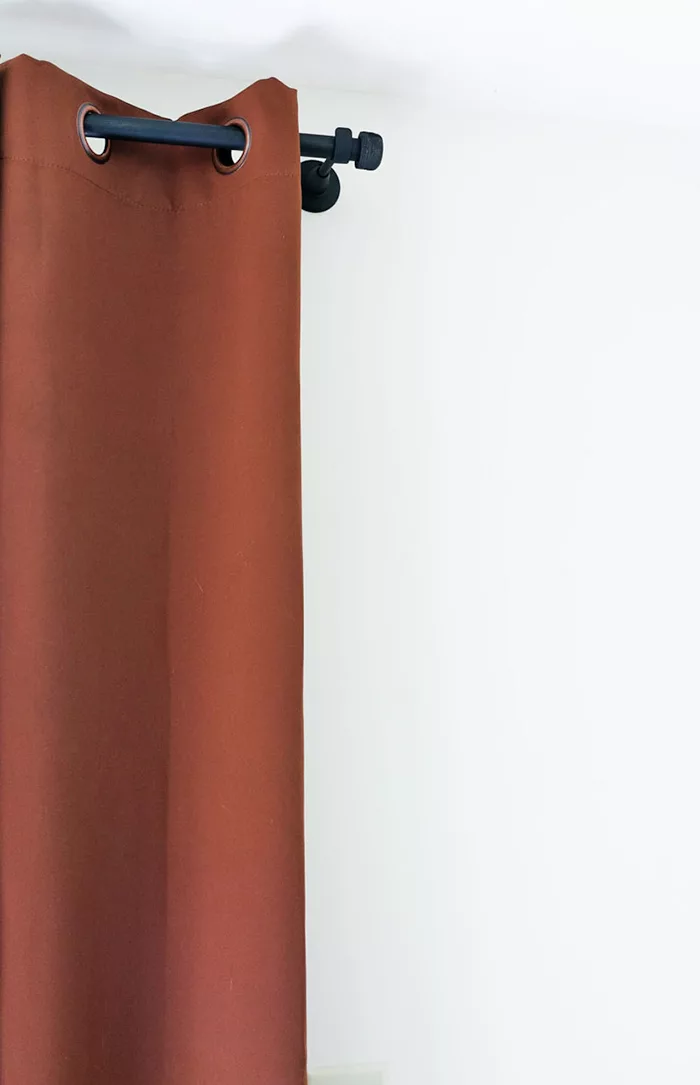 How to make an industrial conduit pipe curtain rod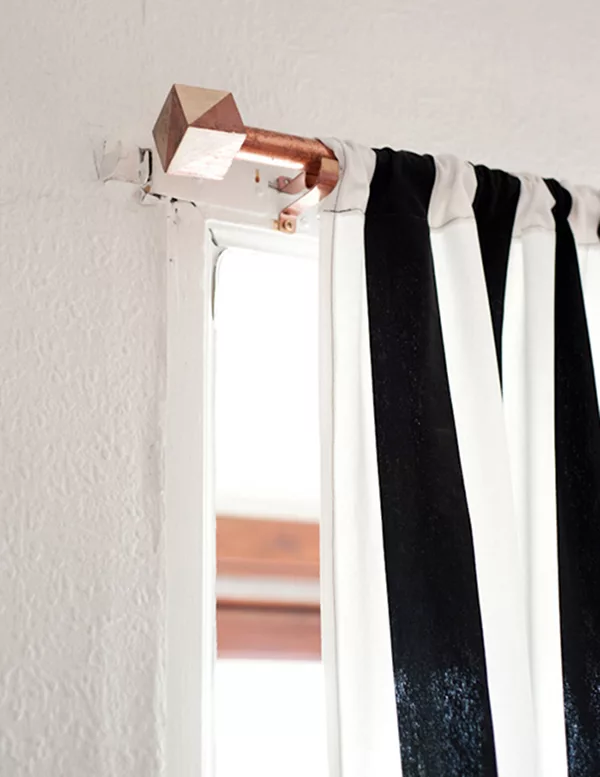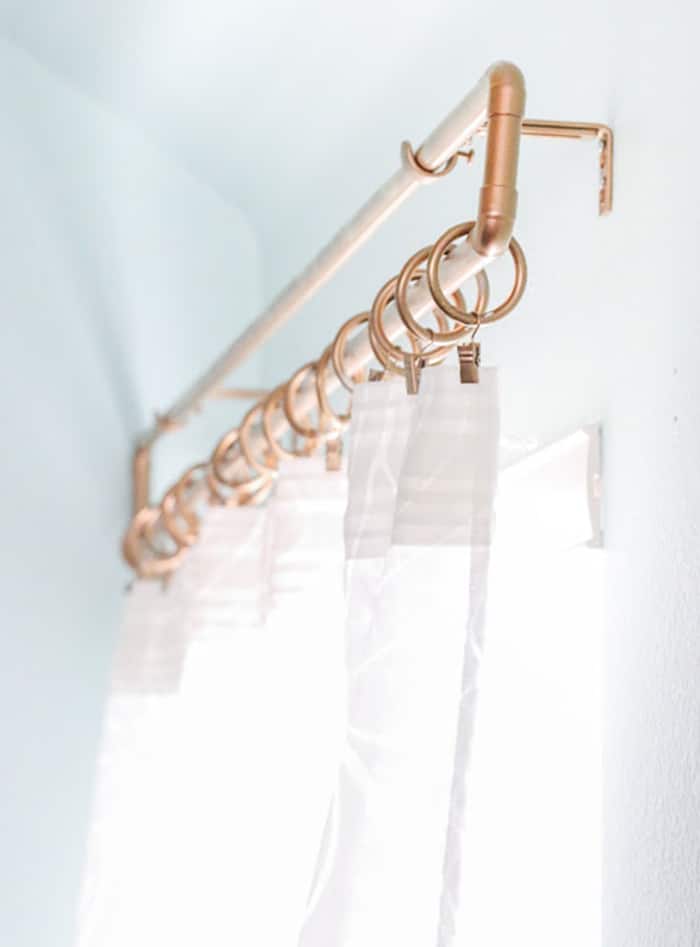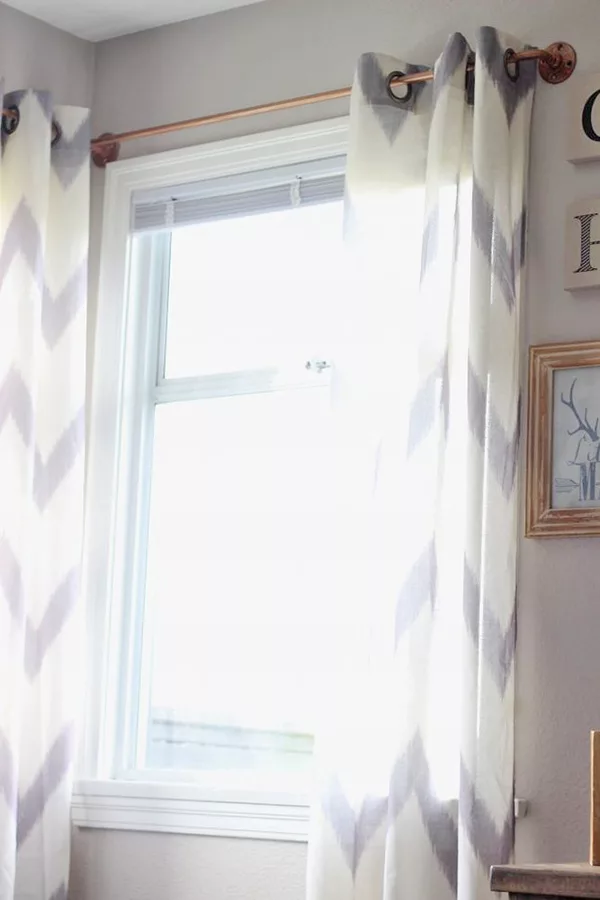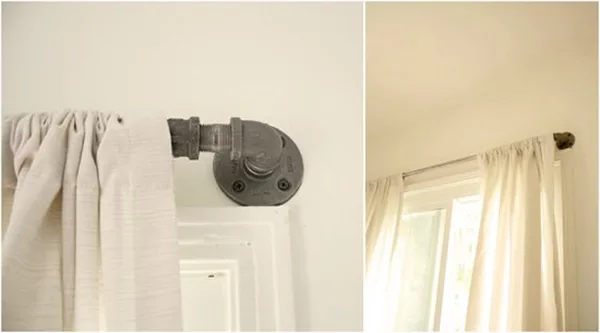 The second material you can make curtain rods with are branches. It's free and it will give a great natural and boho touch to your decor. You can use the branch as rod and also as a support, even a twisted branch can be used to hang some veils.
* * *
El segundo material que puedes usar para hacer tus propias barras de cortina son ramas. Es gratis y le dará un toque natural y boho a tu decoración. Puedes usar la rama como varilla y también como soporte, incluso se puede usar una rama retorcida para colgar velos.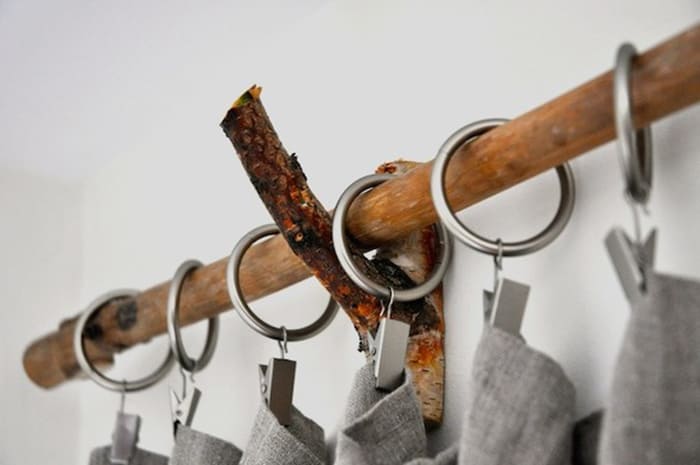 DIY rustic branch curtain rod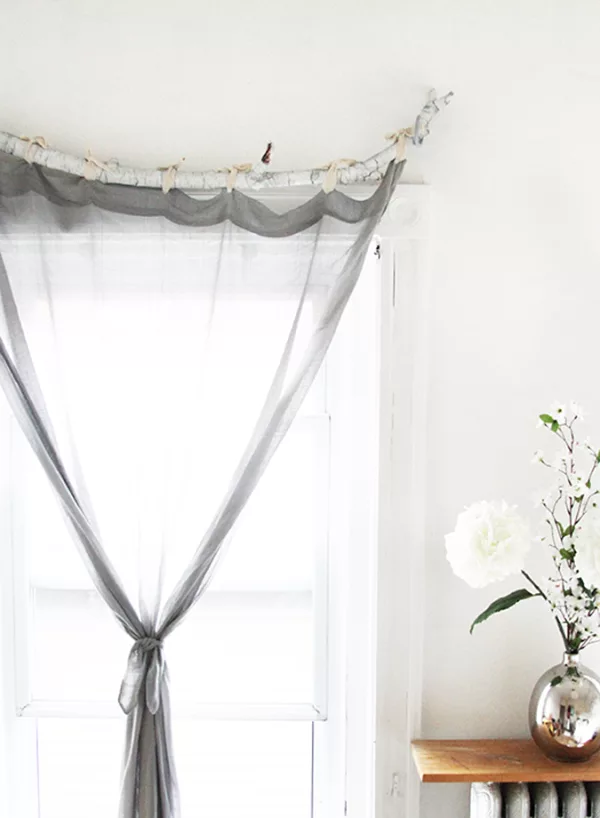 The third material you can use are dowels, of course. Easy to cut, light weight and cheap they are probably the first material you thing about to make your curtain rods. Have a look here under and get inspired by these there dowels hacks, don't you think that hanging the rod with some leather straps is awesome?
* * *
El tercer material que puedes usar son palos de madera, por supuesto. Fáciles de cortar, de peso ligero y baratos, probablemente son el primer material en que pensaste para hacer unas barras de cortina. Echa un vistazo aquí debajo ¿No crees que colga el palo con algunas correas de cuero es genial?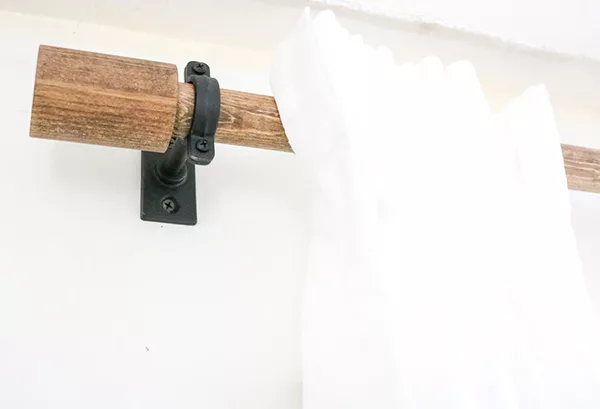 Knockoff West Elm curtain rods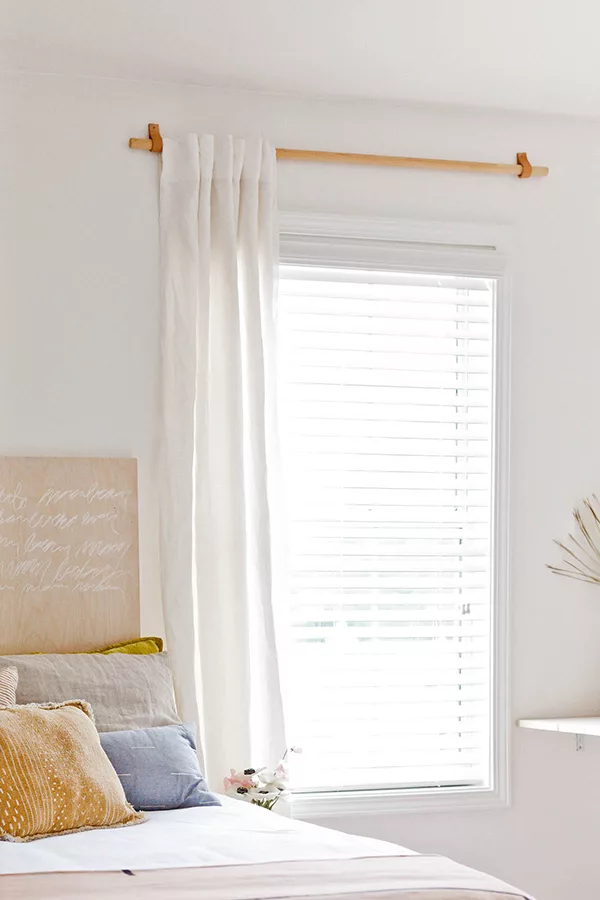 Budget friendly curtain rod DIY
You can have a look at how I used this idea to make towel hangers…One of my easiest DIY!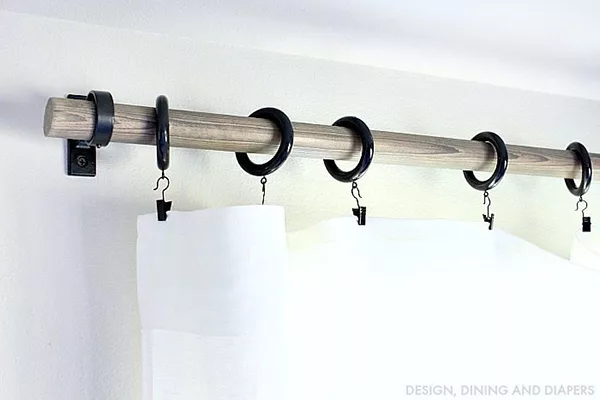 Conclusion, you can use a lot of different materials to make curtain rods: rope, cable, plastic pipes…I even seen some great recycled rods made out of a paddle or a fishing rod. If you are looking for more ideas, you will love to have a look at these 16 DIY curtains rods and hooks
* * *
Conclusión, puedes usar una gran variedad de materiales para hacer una barra de cortina: cuerdas, cables, tubos de plástico … Incluso he visto algunos hechos con un remo o una caña de pescar.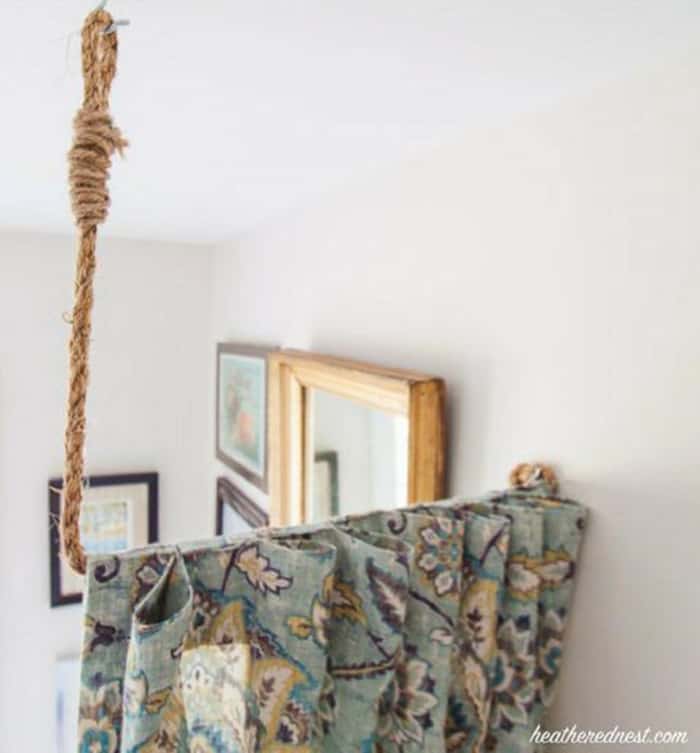 10 minutes curtain rod // The heathered nest
Want to remember this? Pin these DIY curtain rods in your favorite Pinterest board.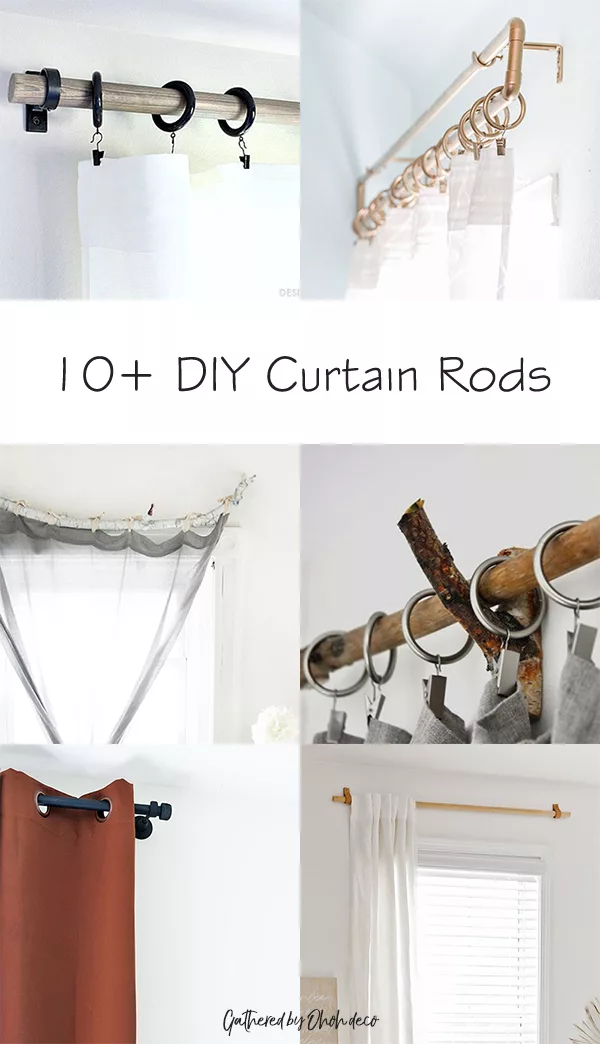 You will find all the tutorials featured in the video on my "Best DIY" page.
Amaryllis