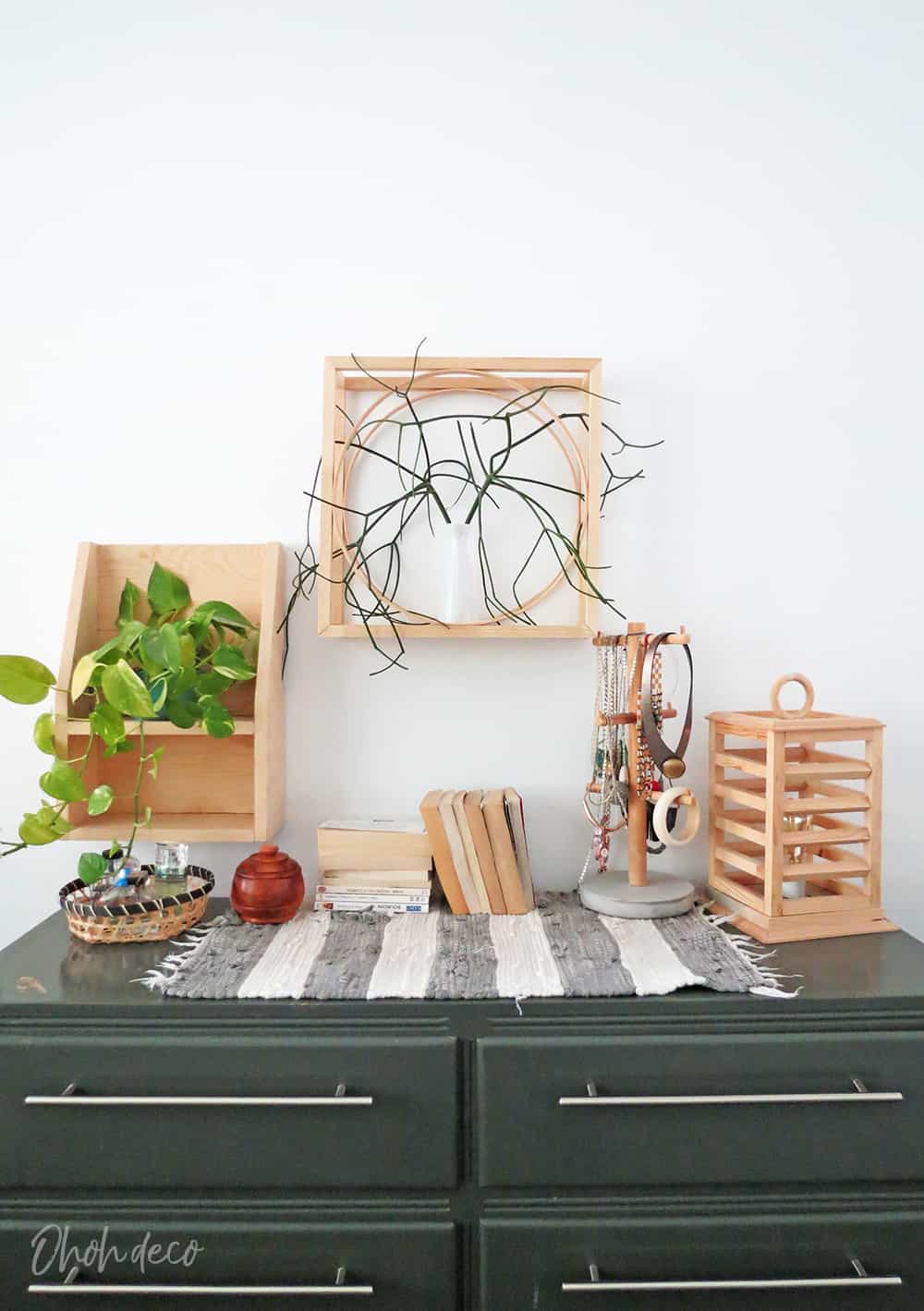 My first plan when I made this DIY display shelf was to add some wall storage in the downstairs bathroom, but it turns out the shelf didn't fit in the space at all. So I walk around the house looking for a place to hang it…and I end up flipping the bedroom wall decor to hang it above the drawer. I place it along with the floating nightstand shelf I made awhile ago. It's nice to have decorative shelves to display plants and pretty items. I still feel that something is missing to complete the decor…maybe a few nice baskets? What do you think?
If you like to make this geometric shelf , follow the steps here under. And don't forget to share your make, I love to see what you build with my tutorials.
* * *
Mi primera idea para hacer esta repisa fue para agregar algo de almacenamiento en el baño de la planta baja, pero resulto que este estante no combinaba nada en el espacio. Así que busque en la casa un lugar para colgarlo … y termine volteando toda la decoración del dormitorio para poner la repisa arriba de la cajonera. La puse junta con el estante "mesita de noche flotante" que hice hace un tiempo. Es bonito tener repisas decorativas para exhibir plantas y artículos de decoración. Aunque la verdad, sintiendo que falta algo para completar la decoración … ¿Quizás unas bonitas canastas? ¿Qué piensas?
Si quieres hacer este estante geométrico, puedes sigue los pasos a continuación. Y no olvides compartir tu repisa, me encanta ver lo que creas con mis paso a paso.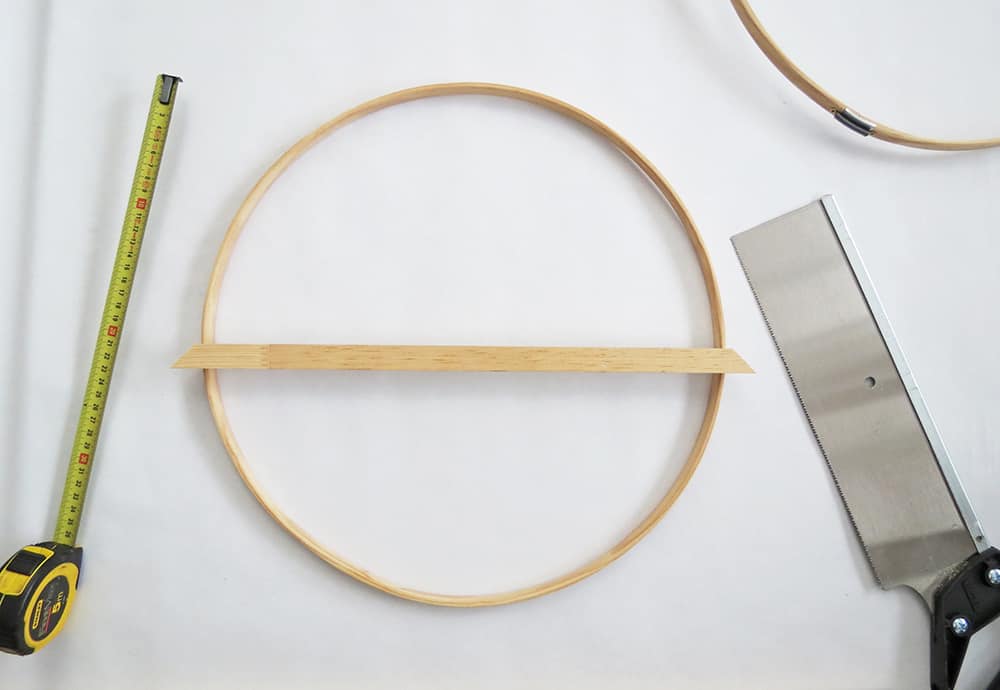 Material you will need:
2 embroidery hoops of 16 in. diameter
Wood trim of 3/4 square section
A small piece of plank of 4 in. width
2 saw-tooth hangers
Wood glue
Stapler
Ruler
Hand saw and

a miter box

90 degree corner clamp (optional)
Clamps
You will only use the inner circle of the embroidery hoop. Place it on a flat surface and build a wood frame around it. To do so, you need to cut 4 identical pieces of wood trim. The end of each trim are cut at inverted 45 degree angles. The smaller side of the trim is equal at the wood circle dimension. I give you the measurement with my dimension, but you can build your shelf with the embroidery hoop size you want. The hoop I have has a diameter of 16 in. I reported that measure on the trim and trace two 45 degree angles at each end. The angles goes in opposite direction , like this >>> / 16in. \ (or see the picture above).
It helps if you use a miter box to make perfect 45 degree angles.
* * *
Material que necesitarás:
2 bastidores de madera de 41 cm de diámetro

Bastón de madera de sección cuadrada de 2cm

Una pequeña pieza de tablón de 9 cm de ancho

2 perchas en dientes de sierra

Grapadora

Regla

Pegamento para madera

Segueta de mano y una caja de inglete

Una abrazadera de esquina de 90 grados (opcional)

Abrazaderas
Solo utilizarás el círculo interior del bastidor. Colócalo sobre una superficie plana y construyes un marco de madera al su alrededor. Para eso, es necesario cortar 4 piezas idénticas en los bastones de madera. El extremo de cada bastón se corta con ángulos de 45 grados invertidos. El lado más pequeño del bastón es igual a la dimensión del círculo de madera. Te doy la medida con mi dimensión, pero puedes construir tu estante con el tamaño de bastidor que desee. El circulo que tengo tiene un diámetro de 41 cm. Reporta esa medida en el bastón y traza dos ángulos de 45 grados en cada extremo. Los ángulos van en dirección opuesta, como esta >>> / 41cm \ (o puedes ver la imagen de arriba).
Ayuda si usas una caja de inglete para hacer ángulos perfectos de 45 grados.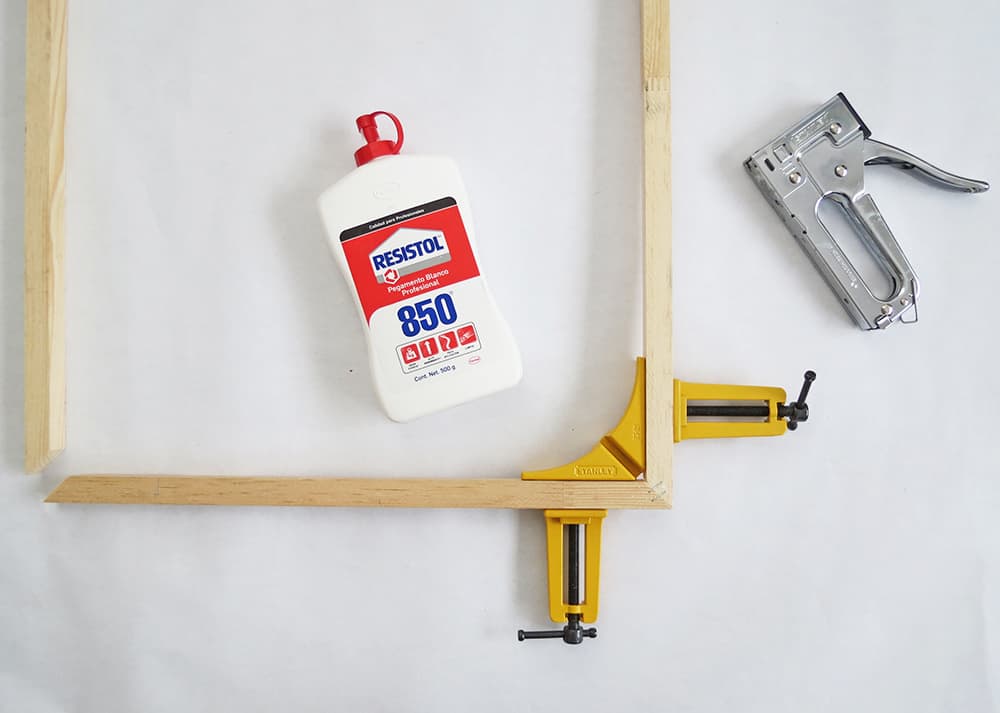 Once you have your 4 trim pieces cut, sand the edges and you are ready to assemble the frame. Glue the edges together and staple them to strengthen the assembly. It really helps if you can use a 90 degree corner clamp to hold the wood trims while the glue dries. Repeat moving the corner clamp until the fourths side of the frame are build together.
* * *
Una vez que hayas cortado los 4 trozos, lijas los bordes y estarás lista para ensamblar el marco. Pegues los bastones juntos y pones unas cuantas grapas para sostener el ensamblaje. Realmente ayuda si puede usar una abrazadera de esquina de 90 grados para sujetar los bastones mientras se seca el pegamento. Repites el procesos para cada bastón, moviendo la abrazadera en cada esquina hasta que terminas de construir los cuatro lados del marco.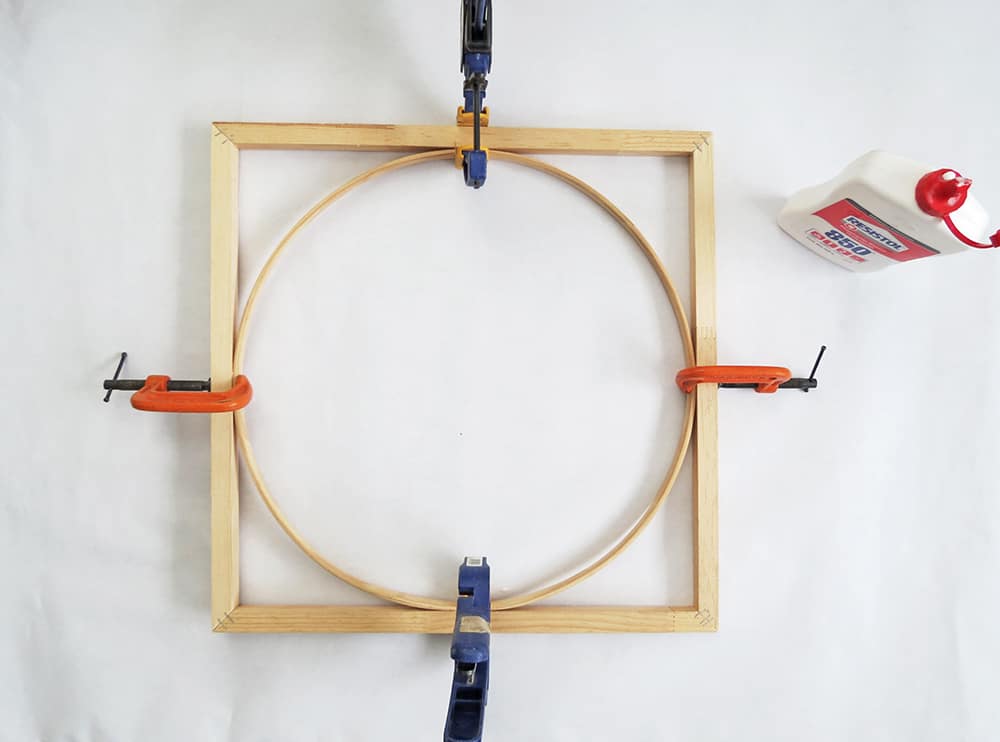 Slide the embroidery hoop inside the frame, add 4 glue dots to fix it into the frame and hold with clamps while the glue dries. Then repeat these first steps to build a second identical frame with the other embroidery hoop.
* * *
Deslices el bastidor dentro del cuadro, agregues 4 puntos de pegamento para fijarlo dentro del marco y manténgalo con abrazaderas mientras se seca el pegamento. Luego repitas estos primeros pasos para construir un segundo marco idéntico con el otro bastidor.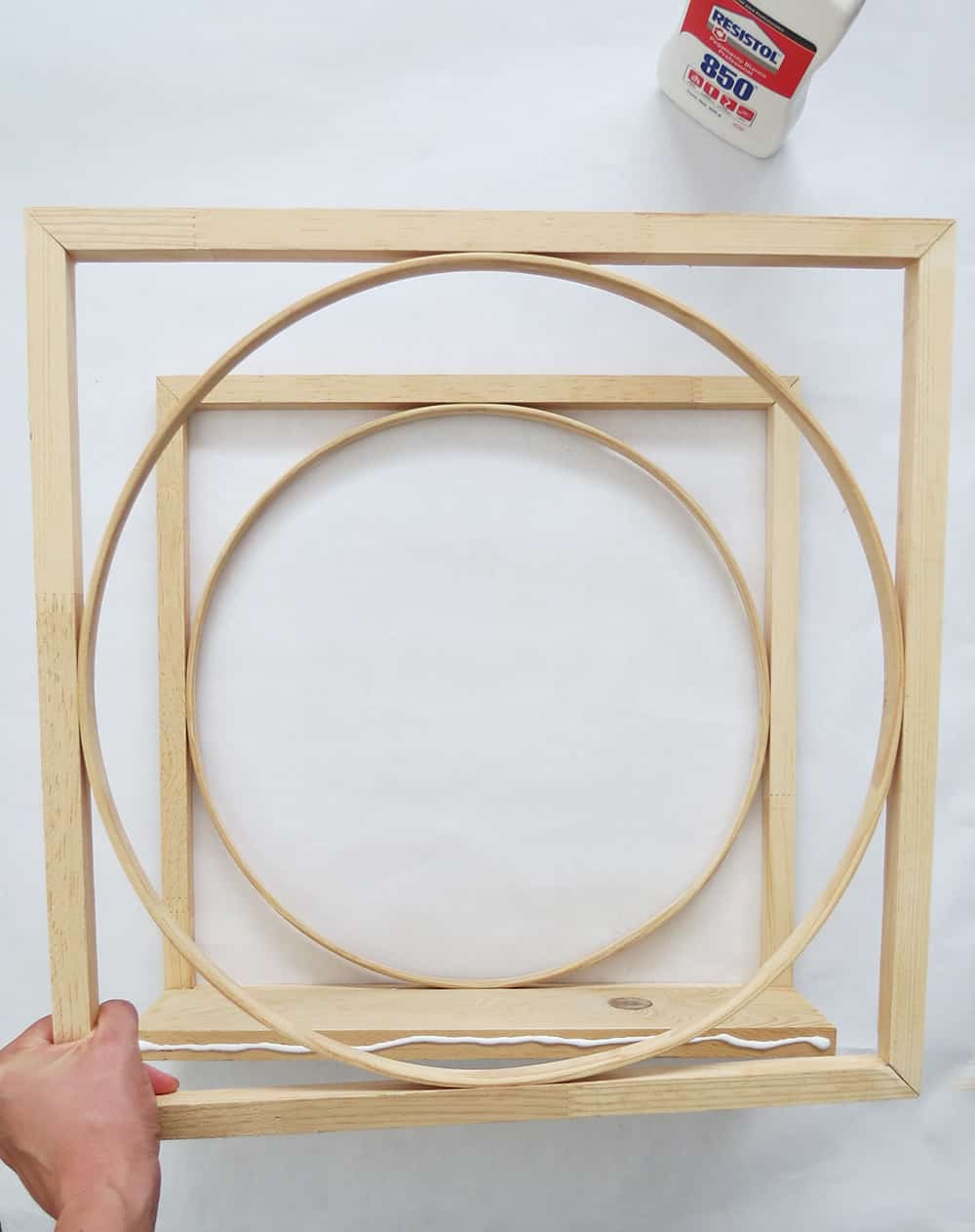 Cut a piece of 4 in. width plank to make the shelf base, and glue a frame on each side. Hold with clamps. The glue is strong enough to hold the shelf together but the wood pieces have to be press together while the glue is drying.
* * *
Cortas un pedazo de tablón de 9 cm de ancho para hacer la base del estante y pegues un marco en cada lado. Sujeta con abrazaderas. El pegamento es lo suficientemente fuerte para mantener el estante unido, pero las piezas de madera deben estar presionadas juntas mientras el pegamento se está secando.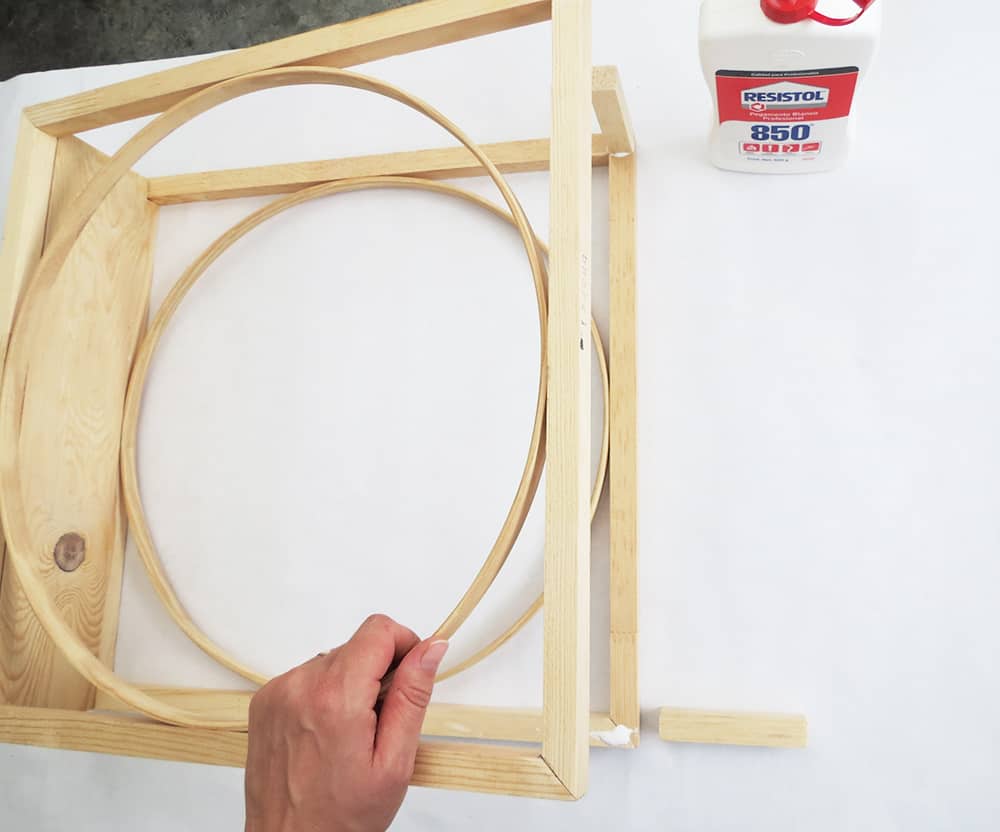 Cut two small trim pieces of 4 in. length and glue them to hold the upper part of the frames together. Again, hold the assembly with clamps while the glue dries.
* * *
Cortas dos piezas pequeñas de bastón de 9cm de largo y las pegas para mantener junta la parte superior de tu repisa. De nuevo, sostenga el ensamblaje con abrazaderas mientras el pegamento seca.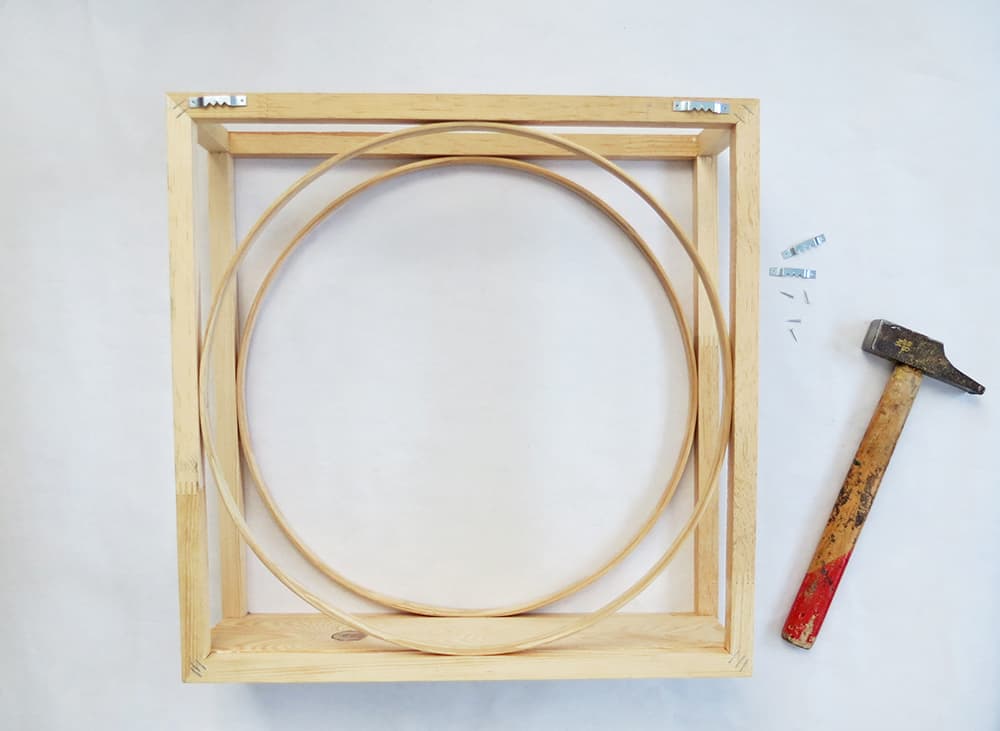 To hang the shelf on the wall, I nailed 2 saw-tooth hangers on the back. It works in my case because I will only display lightweight decorative items in it. If you want to use your shelf to put planters or any other heavy item, I suggest you to add some metal brackets under the shelf for more safety.
* * *
Para colgar el estante en la pared, clavé 2 perchas en diente de sierra en la parte posterior. Funciona en mi caso porque solo la usare para poner artículos decorativos ligeros. Si deseas utilizar tu estante para colocar maceteros o cualquier otro objeto pesado, te sugiero que agregue algunos soportes de metal debajo del estante para mayor seguridad.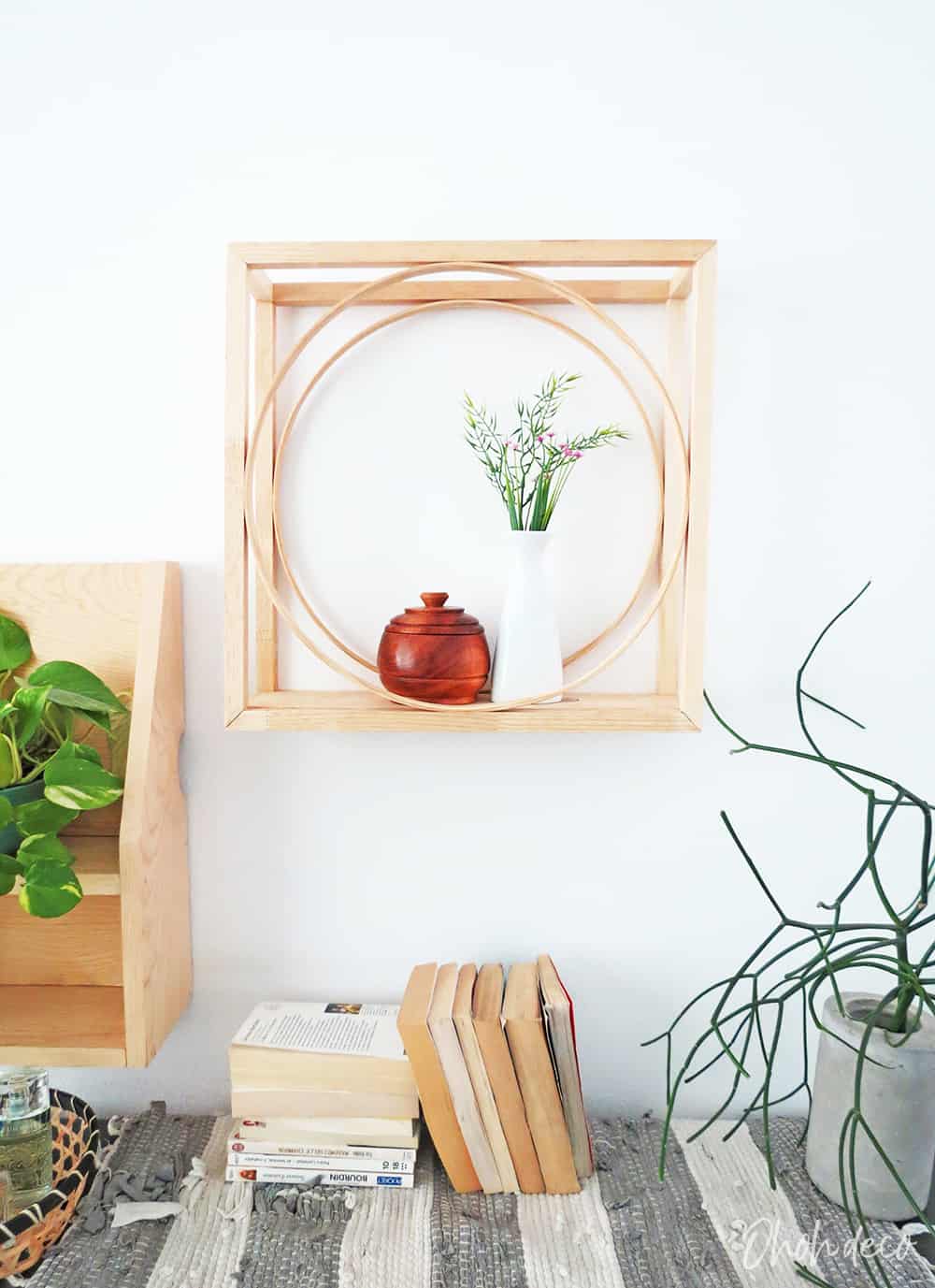 And done! What do you think? I tried to display different items into the shelf to see how I like it the most. For now, I left my wooden Catarina in it (see the picture below). What do you want to place in your DIY display shelf?
* * *
¡Y hecho! ¿Qué piensas? Intente poner diferentes artículos en el estante para ver cómo me gusta más. Por ahora dejé mi Catarina de madera en ella (vea la imagen de abajo). ¿Y tu? ¿Qué quieres mostrar en tu estante geométrico?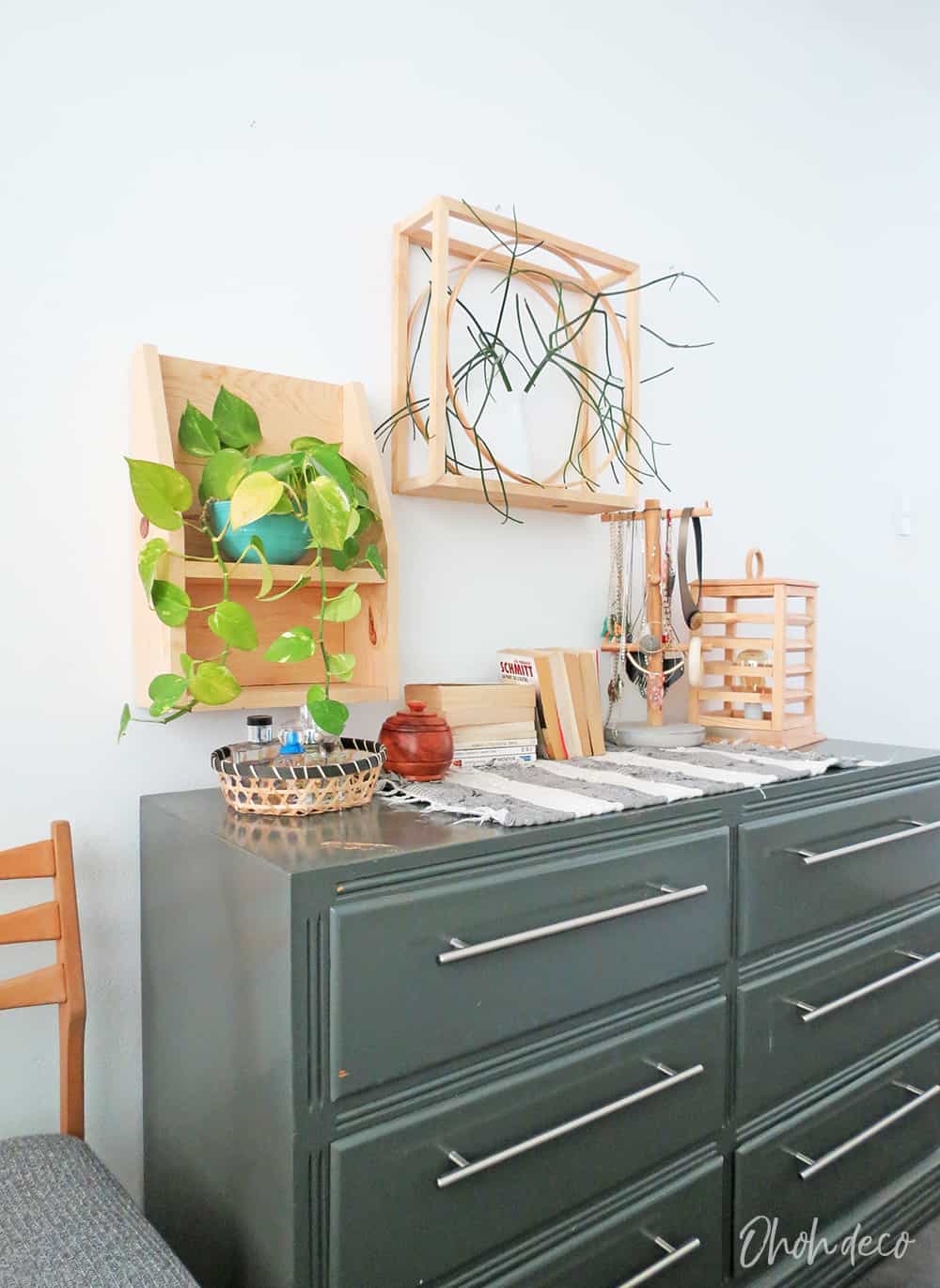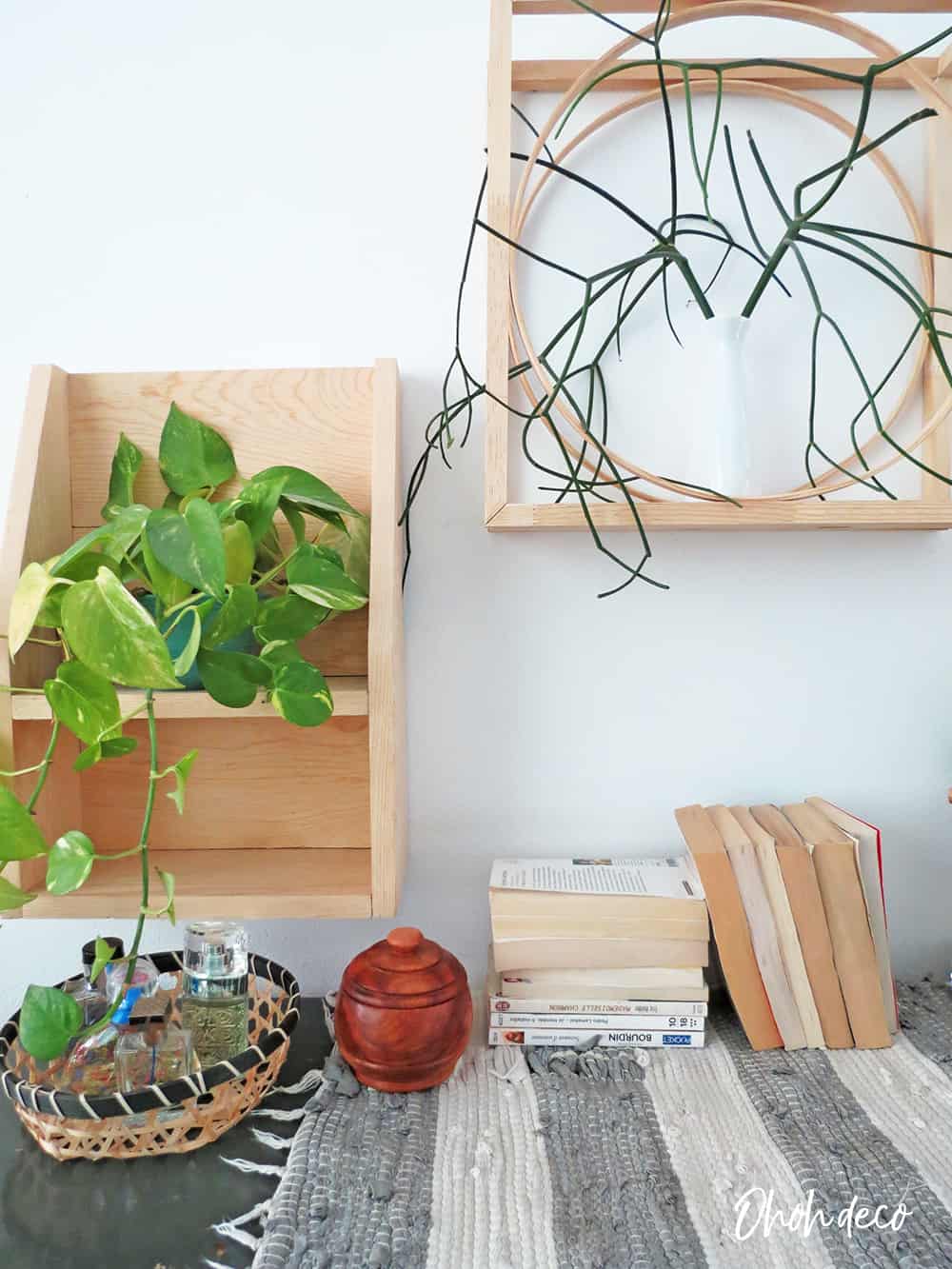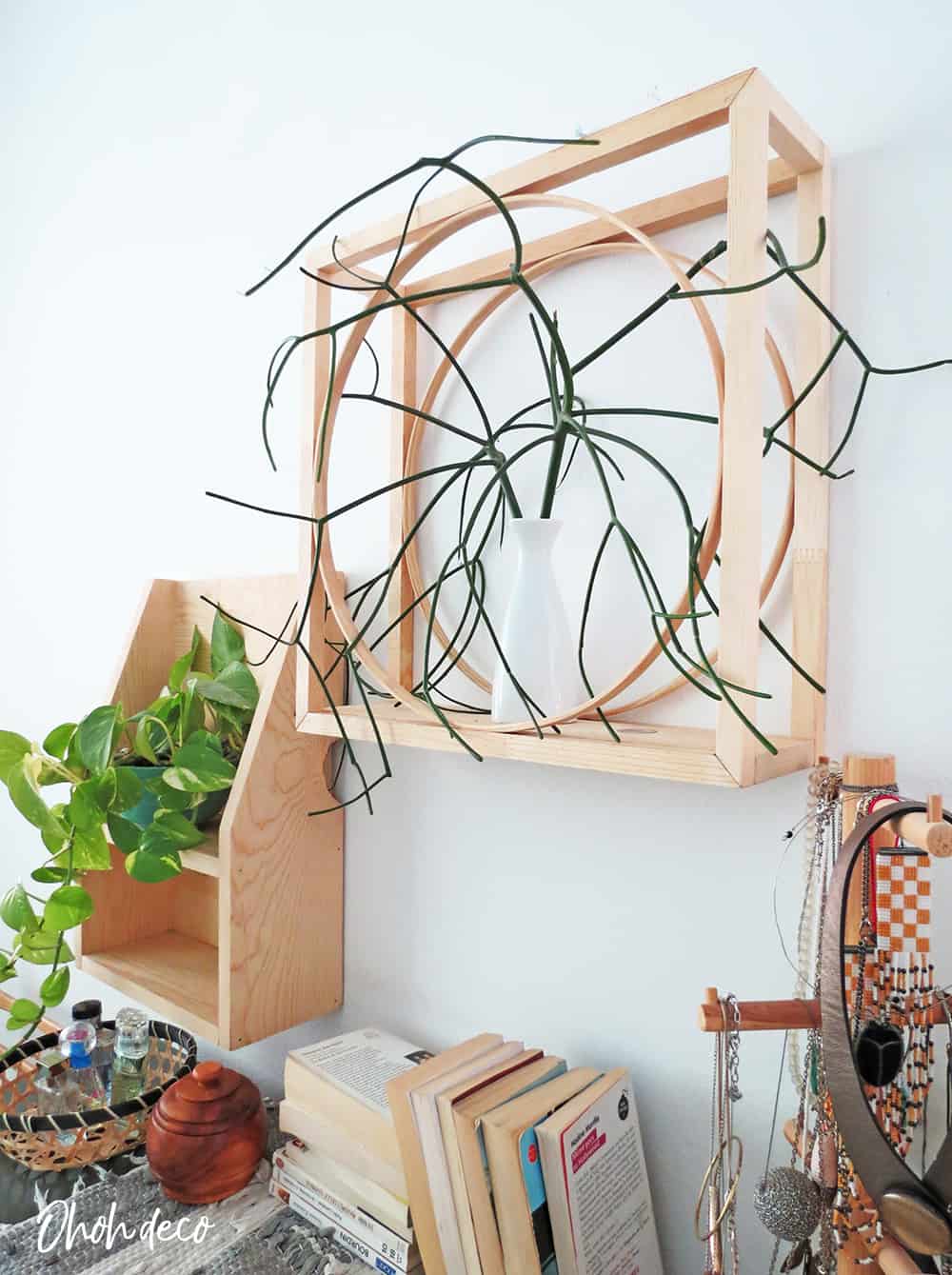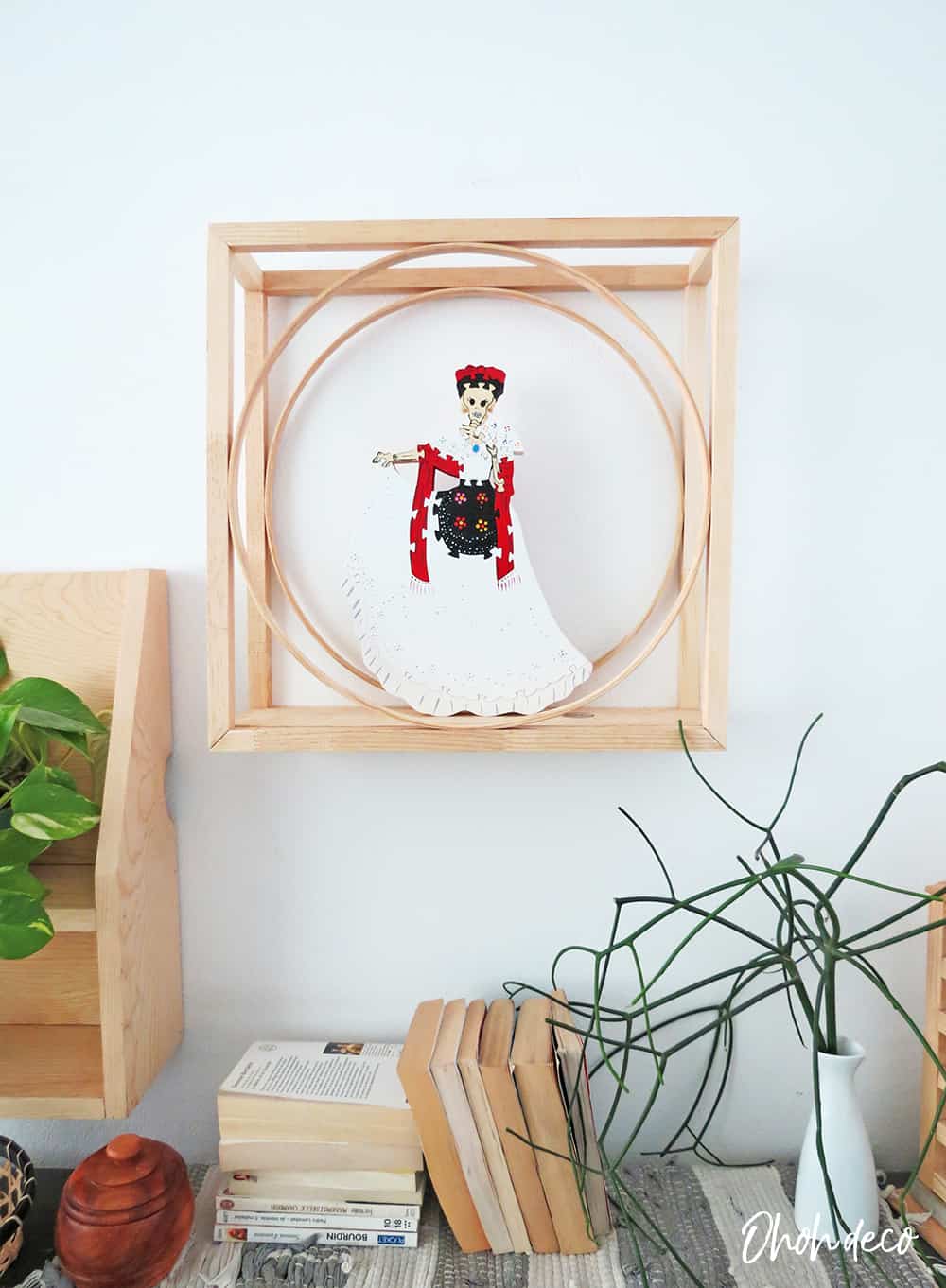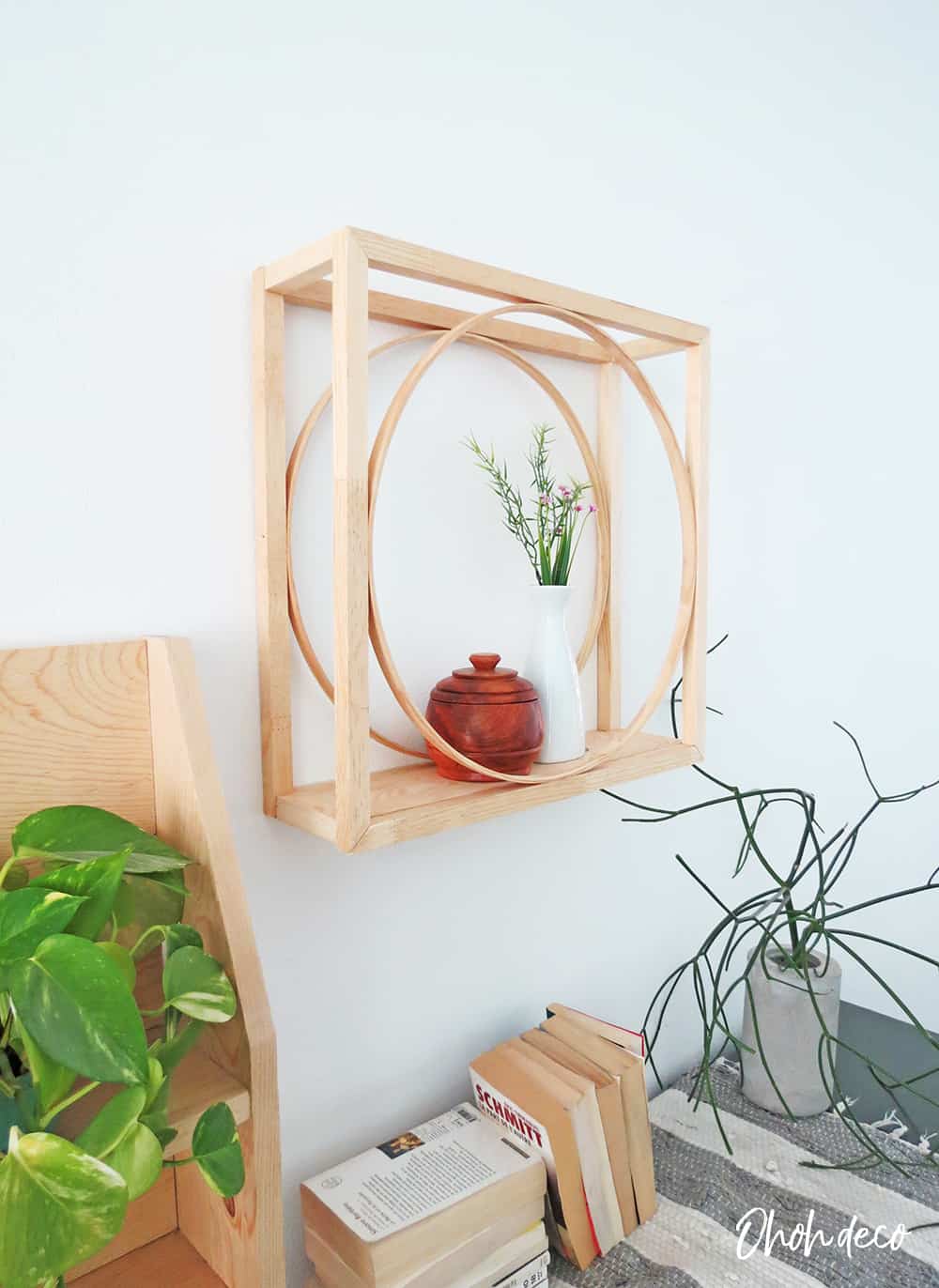 Pin it for later!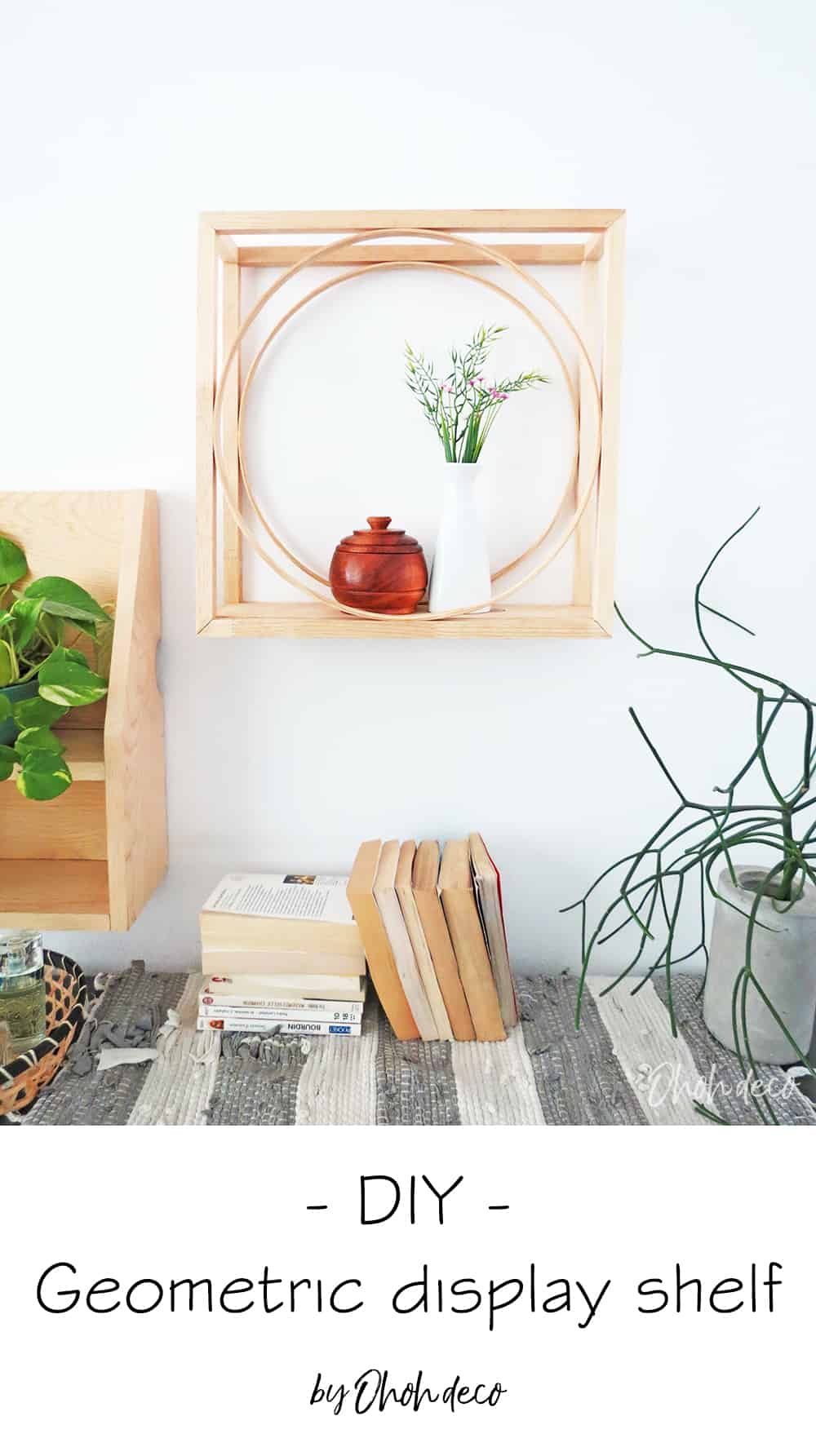 Amaryllis