I love having flowers in the house. It's cute and adds a pop of color. As it's almost Easter, I think that the idea to use eggshells as vases is very wise. It's pretty, cheap and perfect for a spring decoration.
Instead of using eggshells vases as a table center or to display them on a cupboard, I show you how to make a wall hanging decor.
You can fill the little eggs vases with any flower you like. It works great with wildflowers.
It's a super simple and fun craft to make with only a few supplies. You can watch the video and read the tutorial below for all the details.
Materials to make a Seasonal DIY Wall Hanging
Rope
Wooden beads
Dowel
Wooden rings
scissors
eggshells (or any other small decorative item you want to display)
To have clean eggshell, first wash them with water and little soap. Then crack them, try to open them leaving the bottom part a little bigger than the top. Clean the inside with clear water and let it dry. Once the egg is dry you can peel off the membrane inside. That's it, your eggshell is ready to be used for crafting. Don't forget to bake something yummy with the eggs!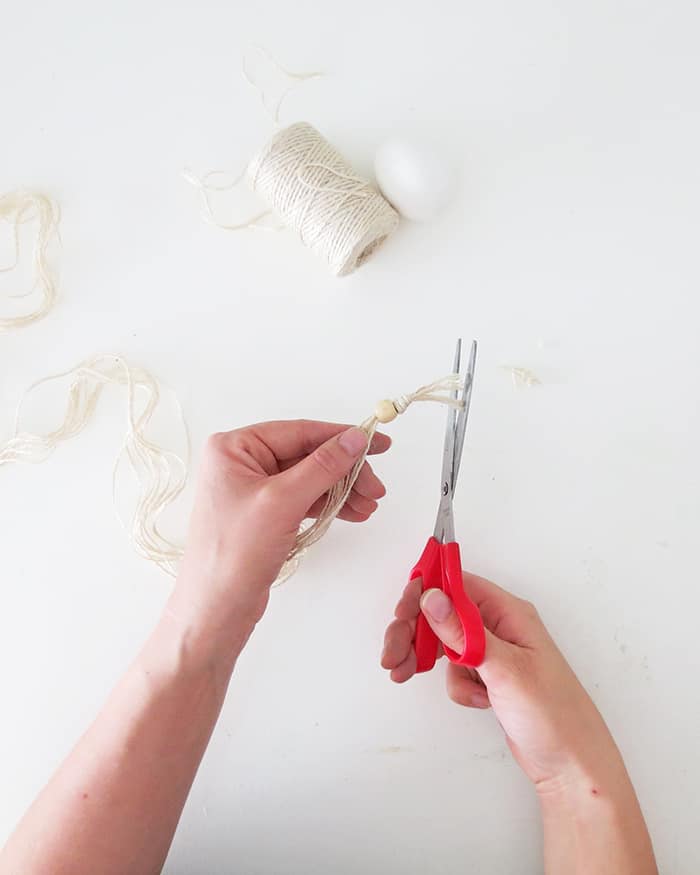 Cut 8 strands of rope, pass a bead at one end and make a knot to hold the rope together.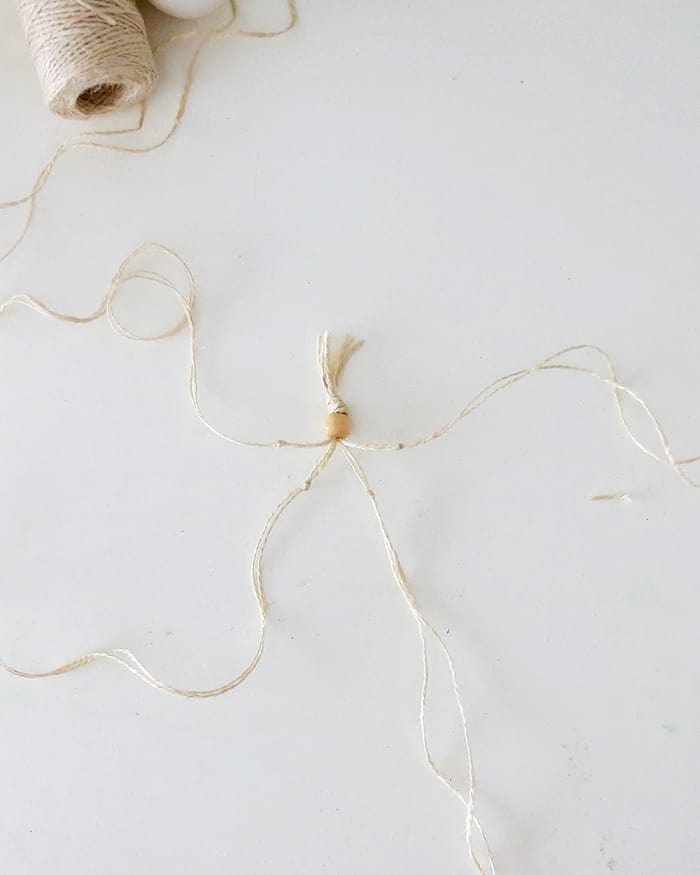 To create the little basket where you will put the eggshell, divide the strands into groups of 2. Attach rope two by two with a knot. Try to make all the knots at 1-inch distance from the bead.
Then take one rope from one set of ropes and then one of the ropes from the neighboring set and tie a knot with both. Repeat with the other rope strand to have four knots, more or less at 1 inch distance from the first set of knots.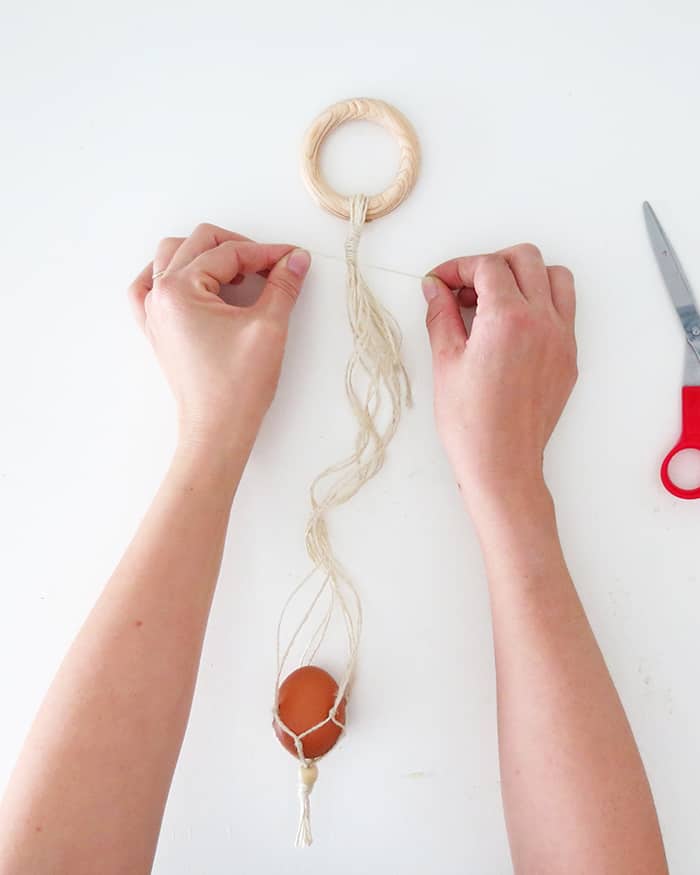 Pass all the rope ends through a wooden ring and tie a knot with another rope strand. To have a nice finish, wrap the rope around and cut the extra rope length.
Next, pass all the egg hanger through the dowel. attach a rope at each dowel end and hang on the wall. Place an eggshell into each rope hanger, fill with little water and decorate with flowers. Don't you think that those fresh flowers make a cute spring decor?
As you can see I set up the egg vases at different highs, I give you the rope lengths I used: 19 in. – 21 in. – 23 in and 25 inches. (48, 53, 58 et 63 cm). Feel free to adapt the dimensions if you want.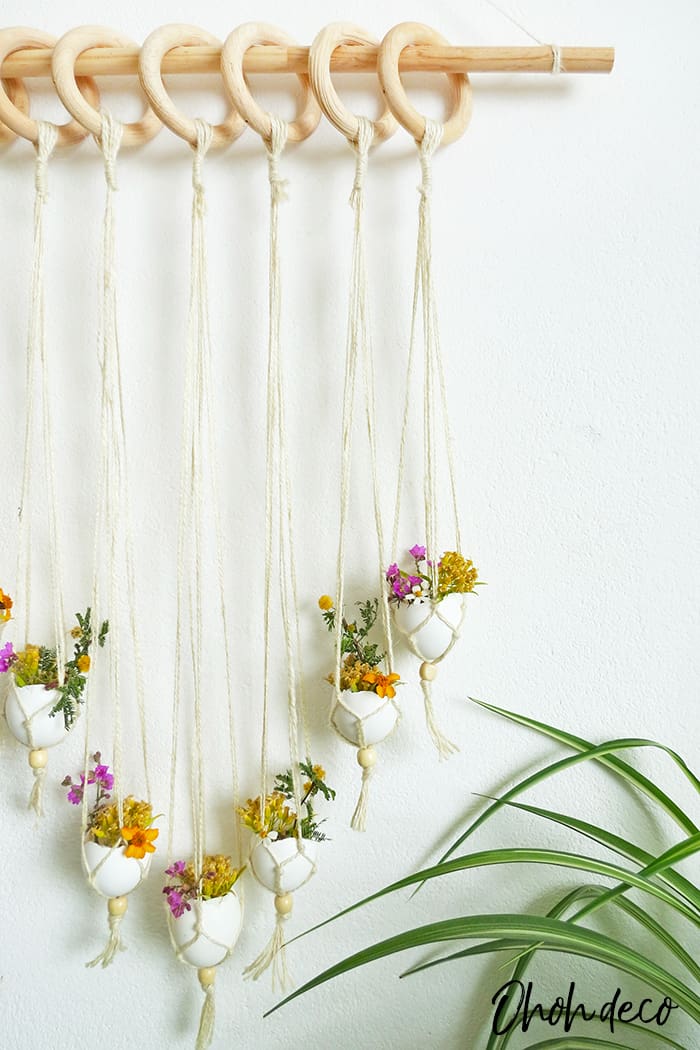 Watch the video tutorial of the DIY Seasonal Wall Hanging Decor
You can display natural flowers, in this case, choose small ones and cut the stem short. I found that wildflowers look really cute in the wall hanger. You can also display dry or artificial flowers if you prefer.
This seasonal DIY wall hanger is very versatile and you can display all range of small items like colored eggs or pretty pebbles. Don't hesitate to be creative and share your ideas on what to display in comments.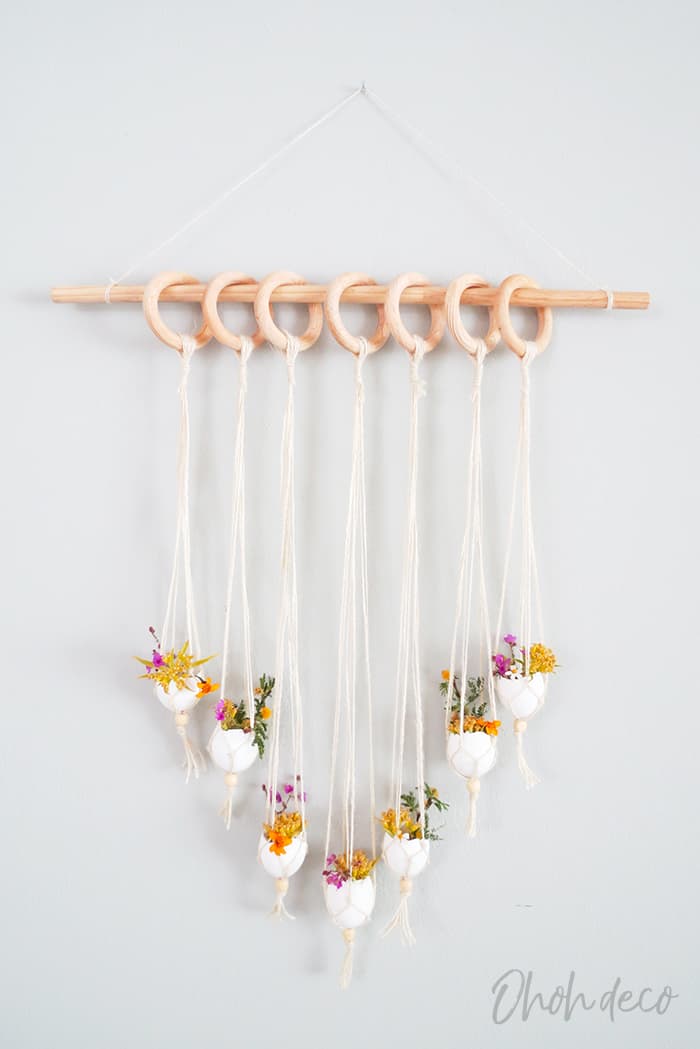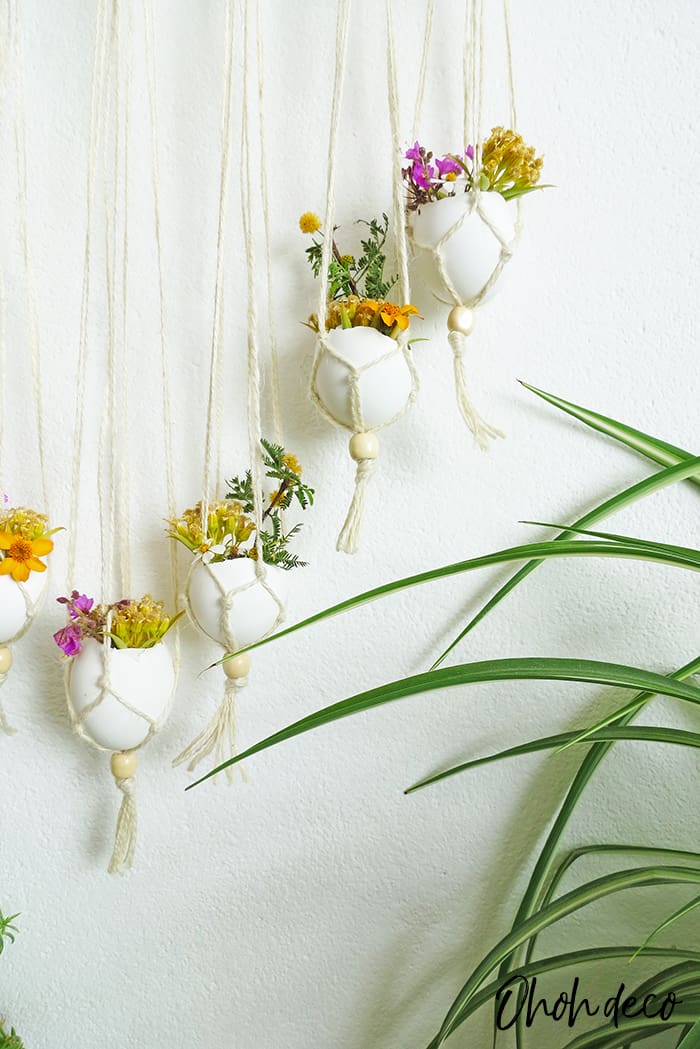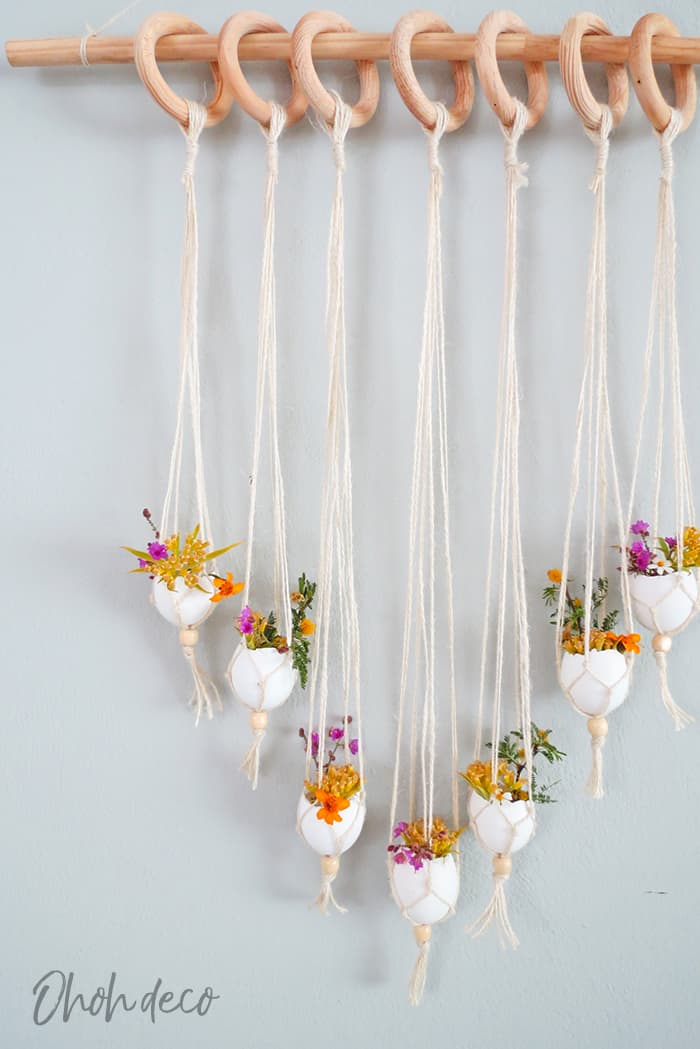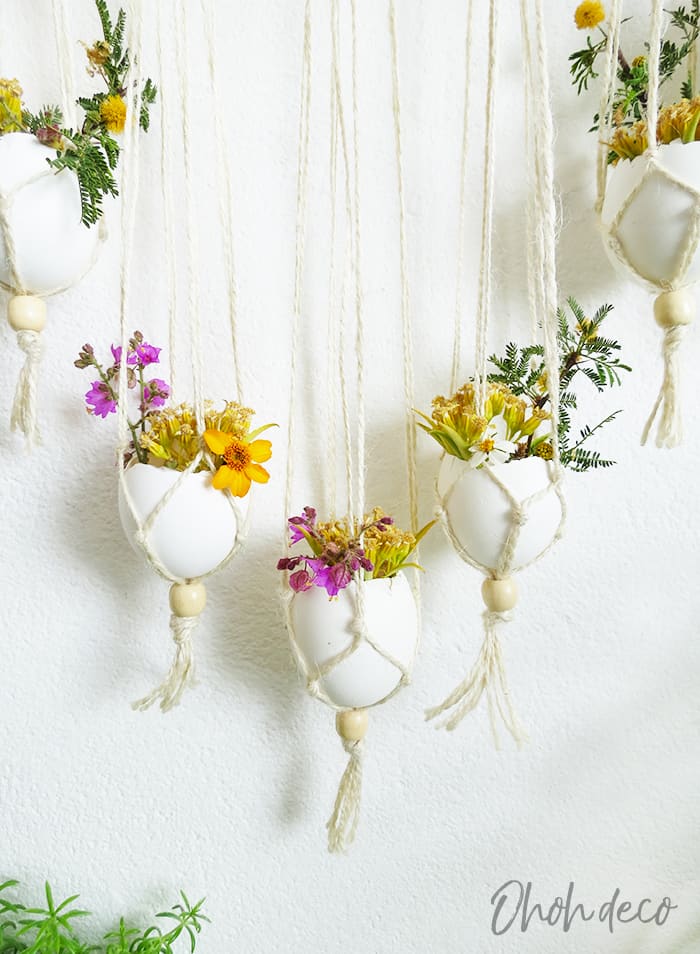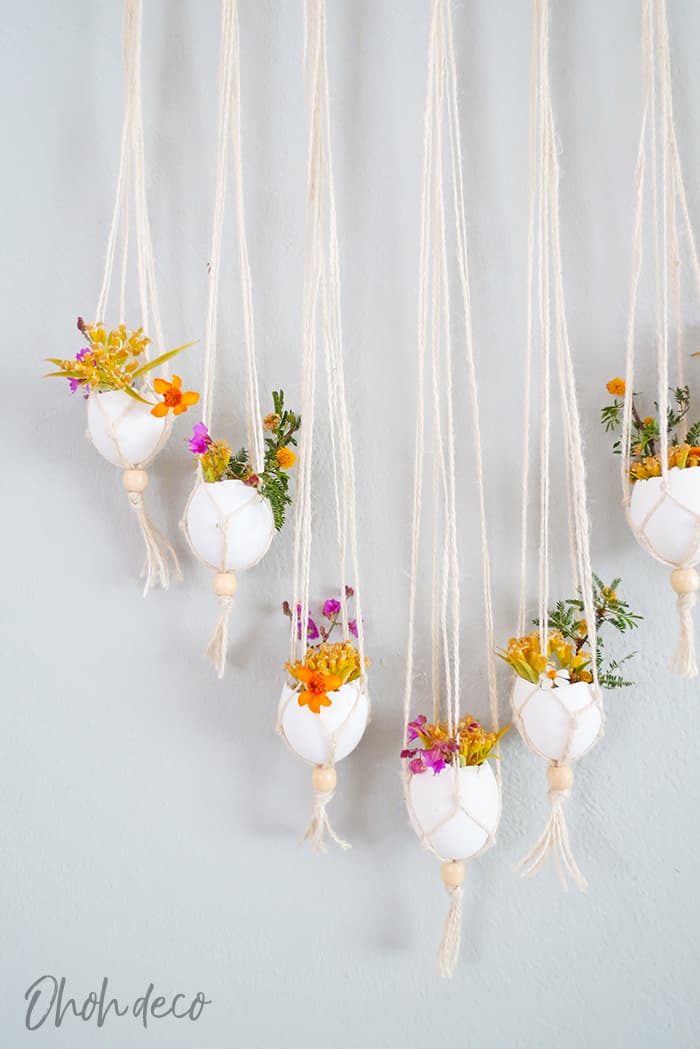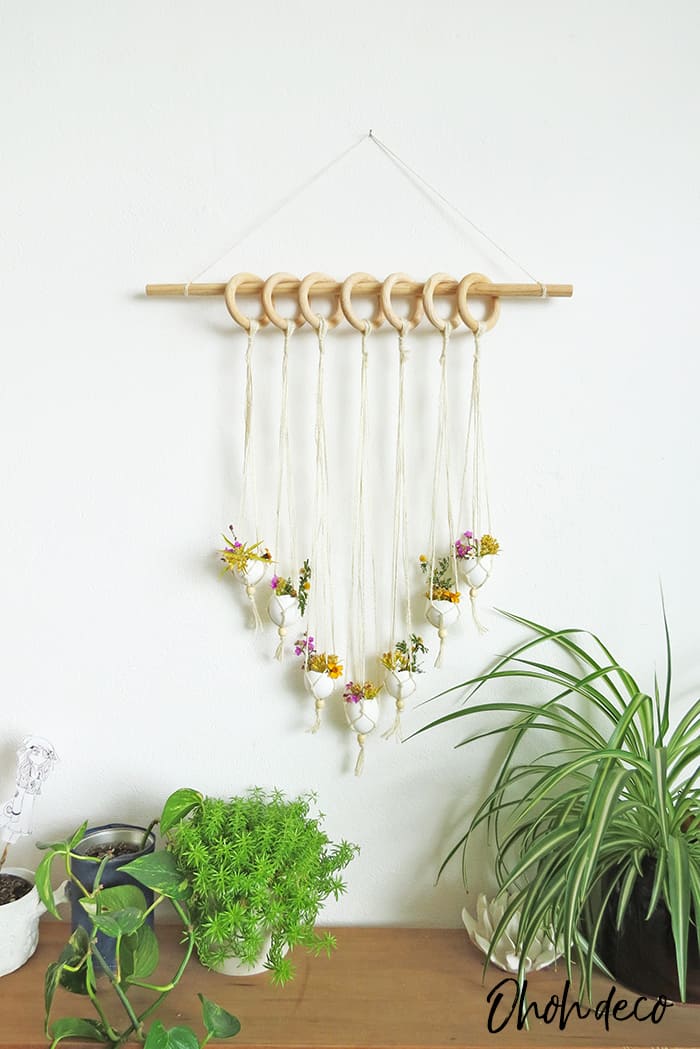 Want to remember it? Save this Seasonal DIY wall hanging in your favorite Pinterest board.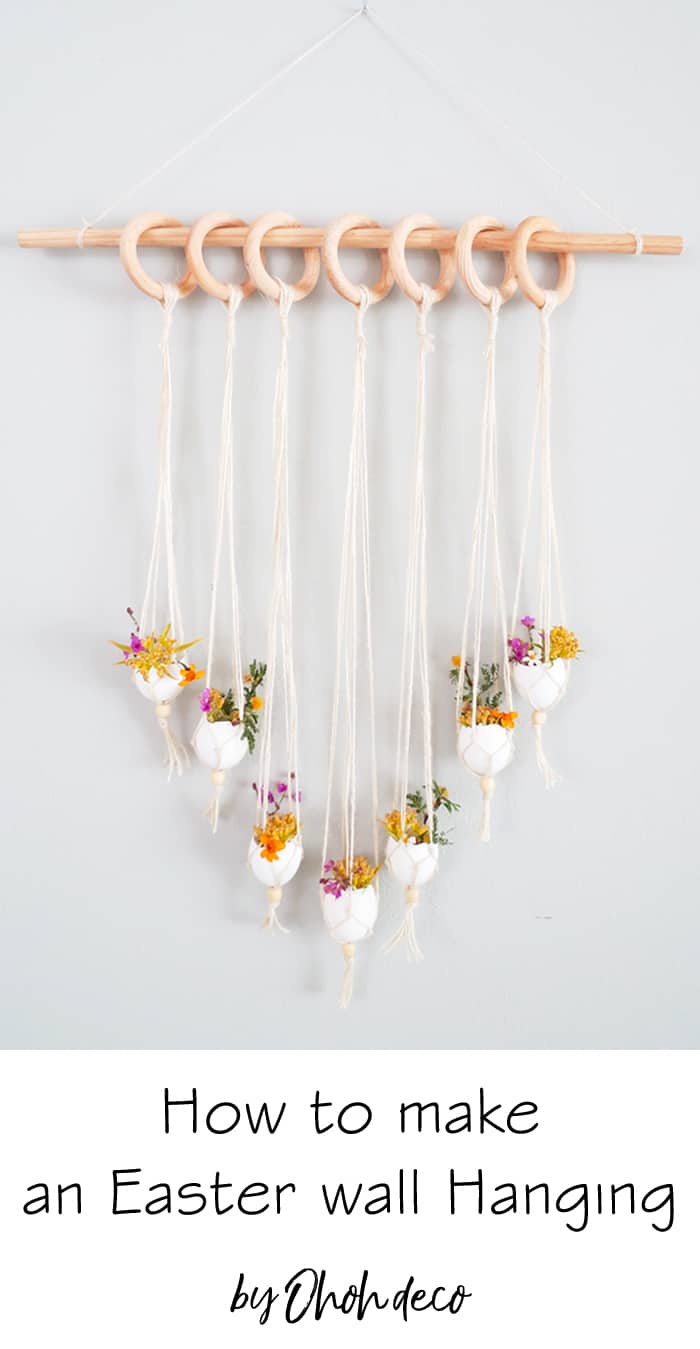 You will find all the tutorials featured in the video on my "Best DIY" page.
Amaryllis