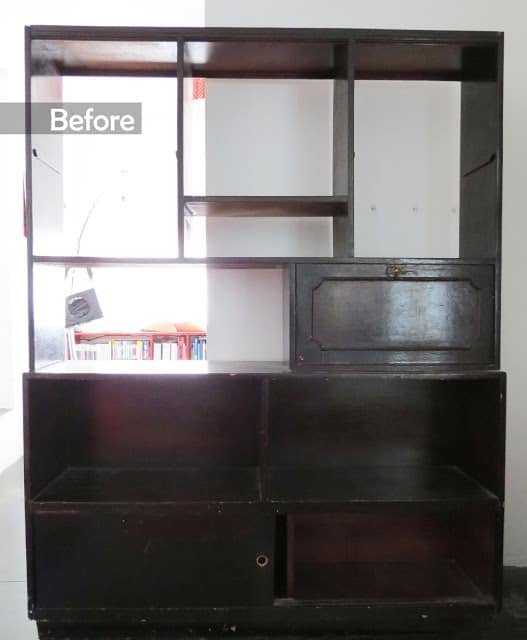 I bought this piece of furniture on a garage sale a year ago and have left it all this time in the game room without knowing exactly what I wanted to do with it. Until, a few weeks ago, I realized it would be perfect in the dining room … it was about time!
Compré esta pieza en una venta de garaje hace un año y la he dejado en la sala de juego sin saber exactamente lo que quería hacer. Hasta hace unas semanas me di cuenta de que sería perfecto en el comedor … ya era hora!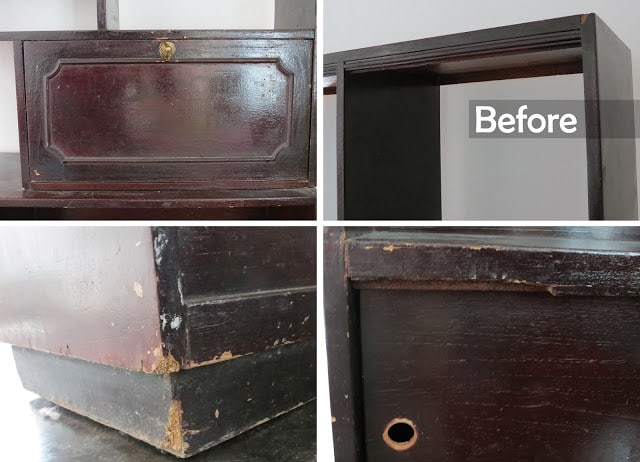 I like the general shape of the cabinet, it size, the sliding doors which kinda of look vintage.
What I do not like at all: it's veneer and not wood (I realized that after purchase it of course!), handles and moldings are weird and do not match with the style of the furniture (in my opinion), and there are many scratches and blows. So a lot of work to do to make it look nice!
Me gusta la forma general del gabinete, su tamaño, tambien las puertas corredizas que le dan un toque vintage.
Lo que no me gusta en absoluto: es chapa y no madera ( Me di cuenta despues de comprar lo, obviamente), las manijas y molduras son raras y no van con el estilo del mueble (en mi opinión), y hay muchas rayaduras y golpes. Así que un montón de trabajo para que se vea bonito!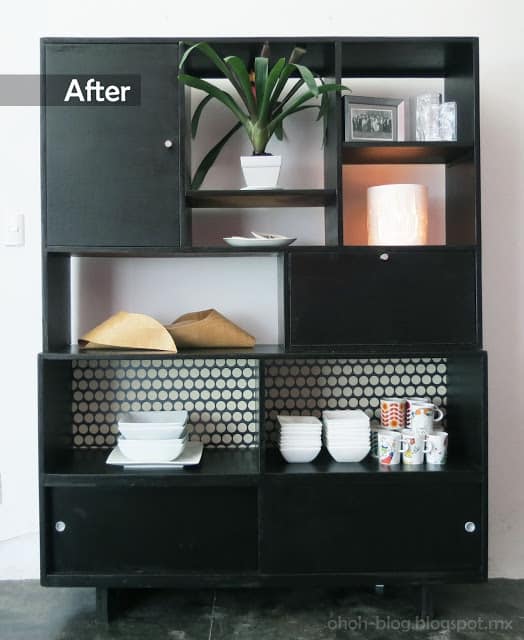 Here is the after! What do you think?
I removed all the moldings (door and above), I also removed the base and put new feet.
After, I sanded lightly and dyed dark brown, then I finished with an acrylic varnish.
I added the missing shelves, made a door, changed the handles and put a nice paper as background.
Aquí está el después! ¿qué te parece?
He quitado todas las molduras (puerta y arriba), también le quité la base y puse pies nuevos.
Después, lo lije ligeramente y lo teñí de color marrón oscuro (chocolate), he terminado con barniz acrílico. He añadido los estantes desaparecidos, hice una puerta, cambie as manijas y puse un papel bonito como fondo.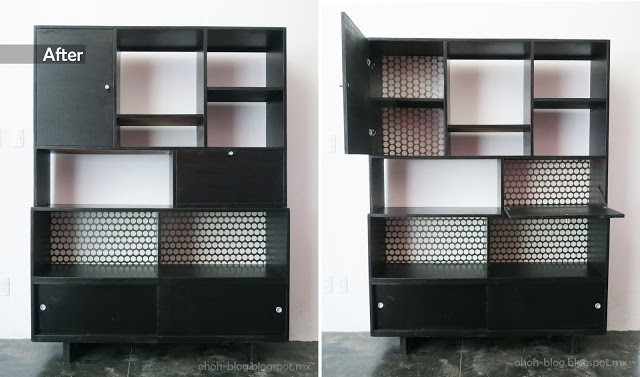 A little tip if you want to change the background of a piece of furniture. Cut a thin cardboard to the right size, cover it with the selected paper and then stick it on the cabinet with double sided tape. It is much easier to do and also to change thereafter.
Un pequeño consejo si quieren cambiar el fondo de un mueble. Corte un cartón fino del tamaño adecuado, cubre lo con el papel seleccionado y luego pegan lo en el armario con cinta adhesiva doble cara. Es mucho más fácil de hacer y también a cambiar después.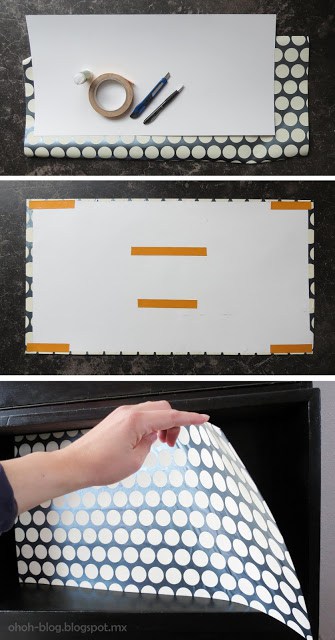 Some details: Mugs Arzberg and mugs flowers found in the supermarket, vintage plates received from my grandmother, homemade wooden basket.
Algunos detalles: Tazas Arzberg y tazas flores que encontré en el supermercado, platos vintage recibidos de mi abuelita, cesta de madera hecho en casa.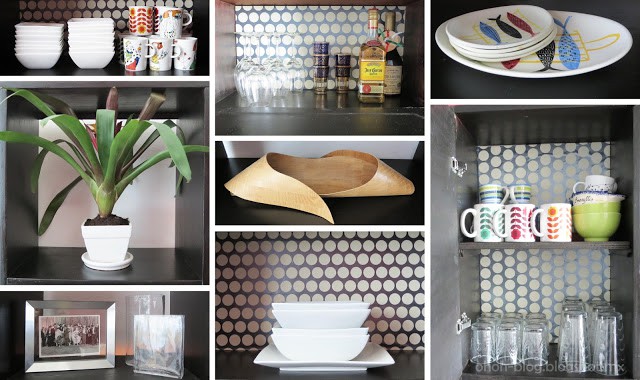 Thanks for reading through this long post! Gracias por leer este largo post!
Amaryllis