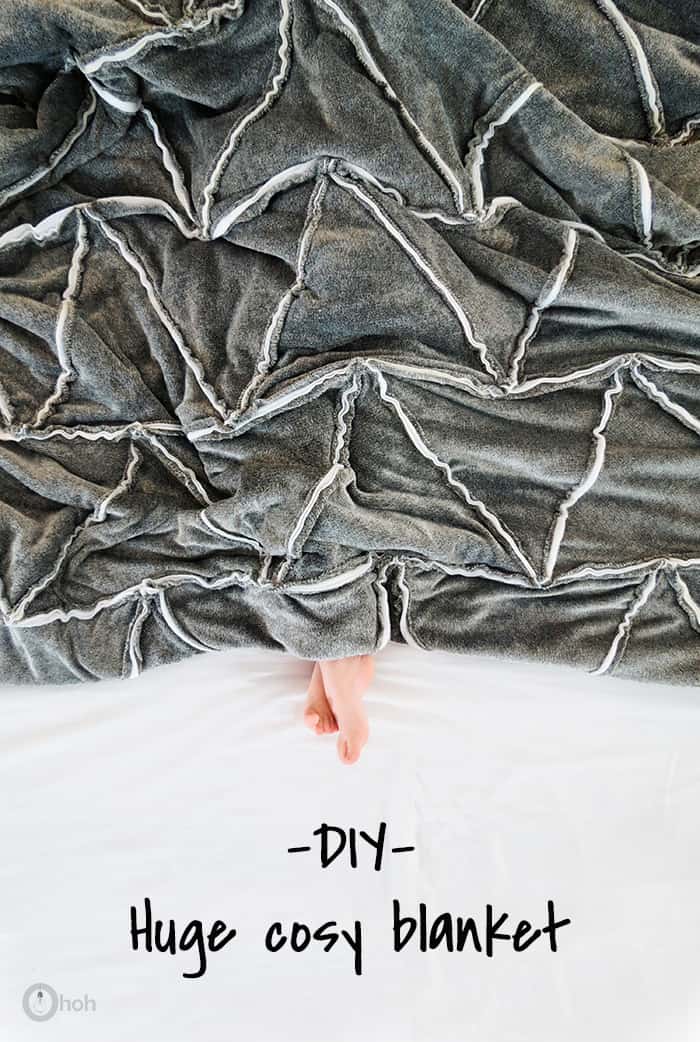 Weather is kind of freezing right now…yep even here in Mexico!!! So a huge, fluffy and comfy bedcover sounds like heaven! Maybe it will make it even harder to wake up in the morning…
The blanket is quite easy to sew, but does take a lot of time! It's a simple design, perfect if you're a novice sewer. Basically you have to cut a bunch of triangles a sew them together to make rows and then sew the rows together.
Cutting the fleece into triangles allow you to create the blanket the size you need, you are not limited by the fabric width. And instead of having a plain boring blanket you will have a nice textured cover.
Lay the blanket on your bed, add a few cushions and your bedroom will instantly be transformed into the most comfortable place in the house.
How to sew a huge fleece blanket
The materials you will need:
7 yards of fleece fabric for the top side
7 yards of fleece fabric for the liner
Matching thread
Scissors
Sewing machine
A ruler and a pencil to make the template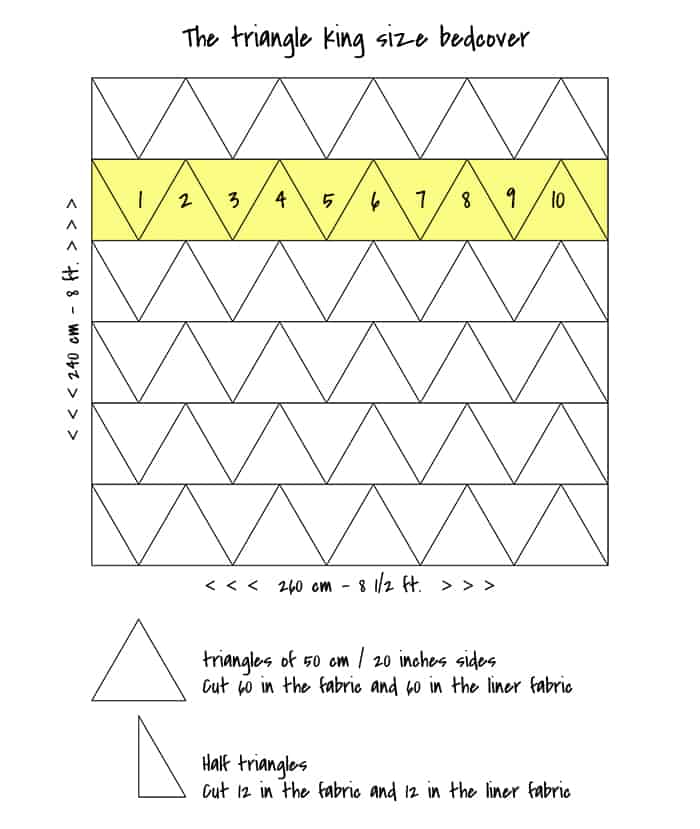 The blanket dimensions are made for a king-size bed. You have to choose two fabric, one for the outside and one for the liner. I picked a grey fluffy fleece and a white polar fleece as a liner. You will need 7 yard / 6 meters of each fabric (for 5 ft. / 1.5 meter wide fabric).
The first big job is cutting all the triangles, which means 120 pieces! Trace a 20 inches side equilateral triangle on a cardboard piece and use it as a template to report the shape on the fabric.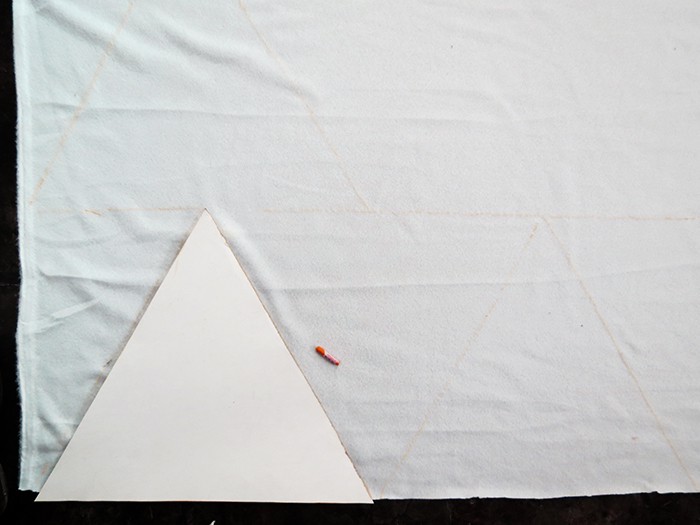 Cut out all your triangles. You will need 60 triangles and 10 half triangles in both fabrics. It's time consuming and quite messy but don't give up it totally worth it!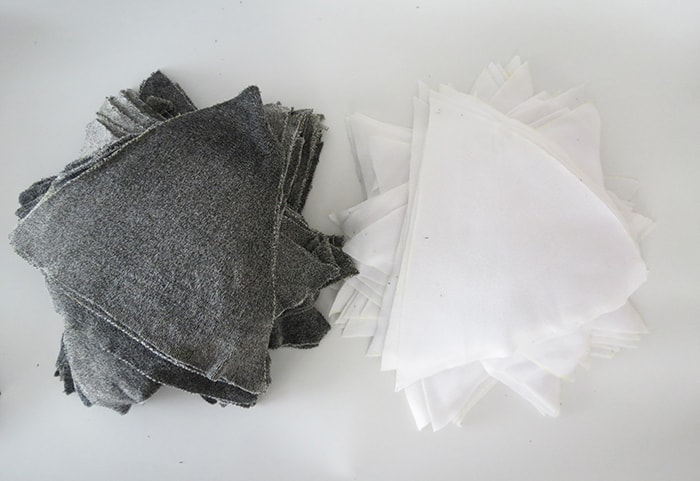 Start sewing the triangles together to make a row (like the yellow shape on the sketch). Place a fabric triangle right side down, and on top a liner triangle right side up. Then put a second liner triangle wrong side up and finish with a fabric triangle right side up. Pin and sew one side.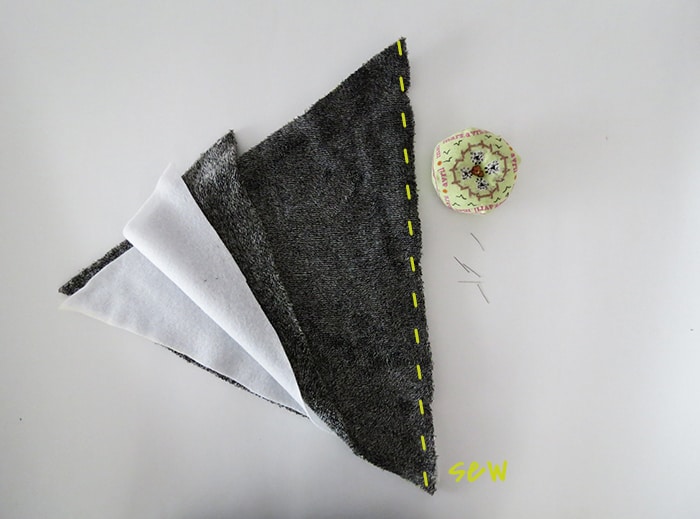 Open the triangles and sew the next ones. A liner triangle right side down and on top a fabric triangle right side up. Pin the edge and sew.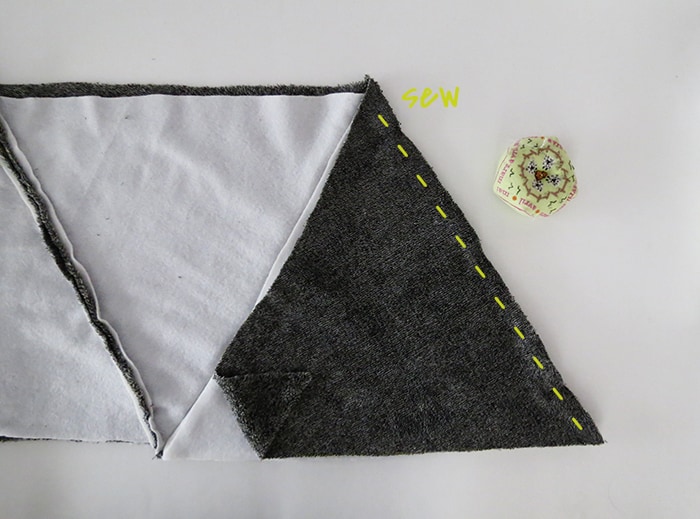 And repeat until you completed a row of 10 triangles (fabric and liner). Finish the row with half triangles on each side to have straight edges.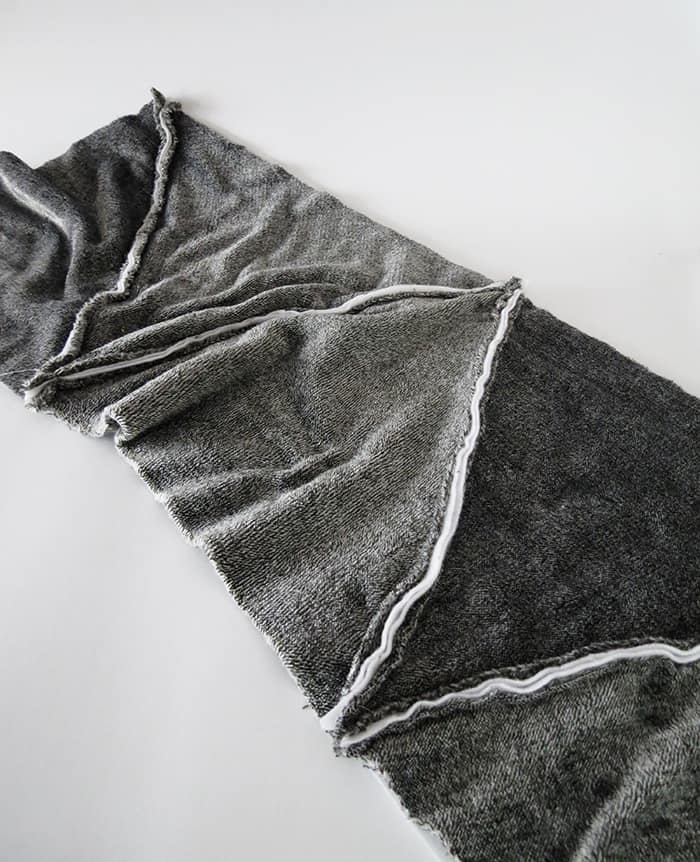 From this point, you have to do the same thing to sew the second row of 10 triangles. Once your two first rows are sewn, place them on top of each other with the liner inwards, pin and sew one side lengthwise.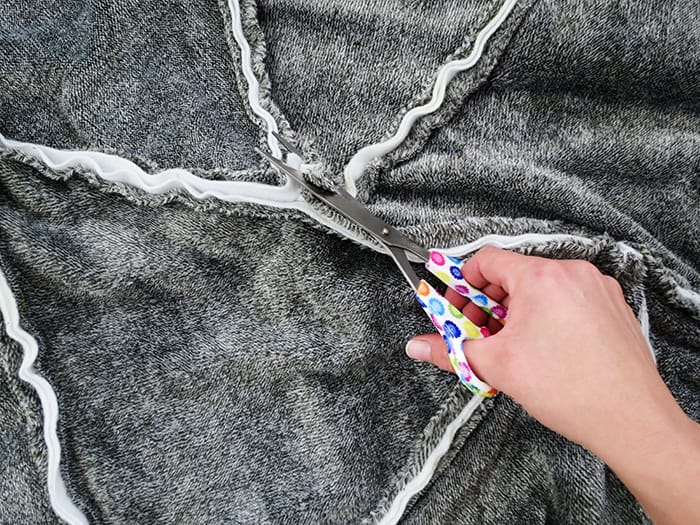 Then sew a third, fourth, fifth and sixth row of 10 triangles (don't forget the half triangles at each end). And sew all the rows side by side to complete your bed cover. Once you are done, you can trim each triangle tip for a nicer finish.
Tadaaaaaam! My giant blanket! You can imagine how warm it is with the two fleeces layers. It's soft, cozy and nice looking. It makes it harder to get out of bed! I share some other pic in the bedroom below.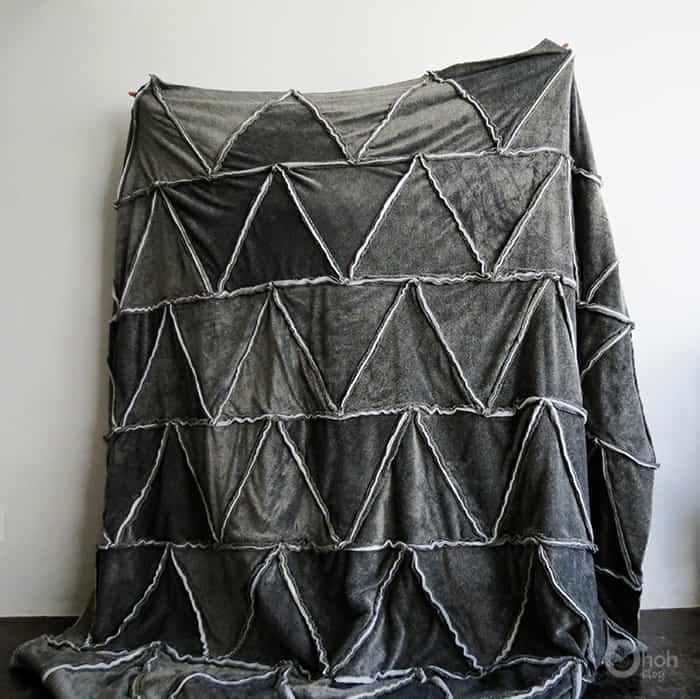 Looking for more sewing ideas?
You will find all the tutorials featured in this video on my Best off-page.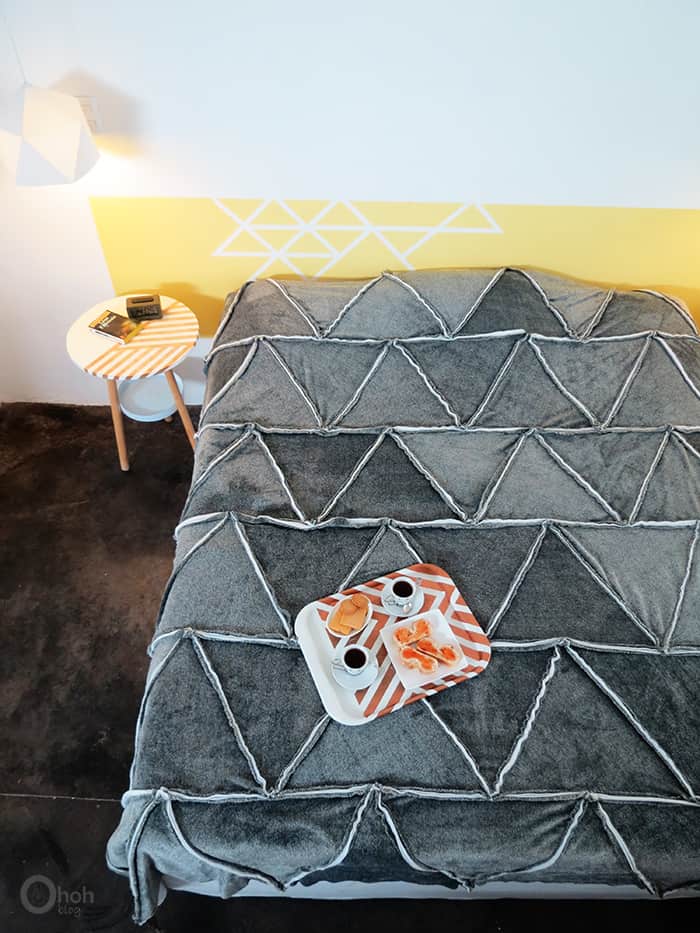 I love it!!! You can find all the DIY from this pic (and more) in the bedroom makeover post.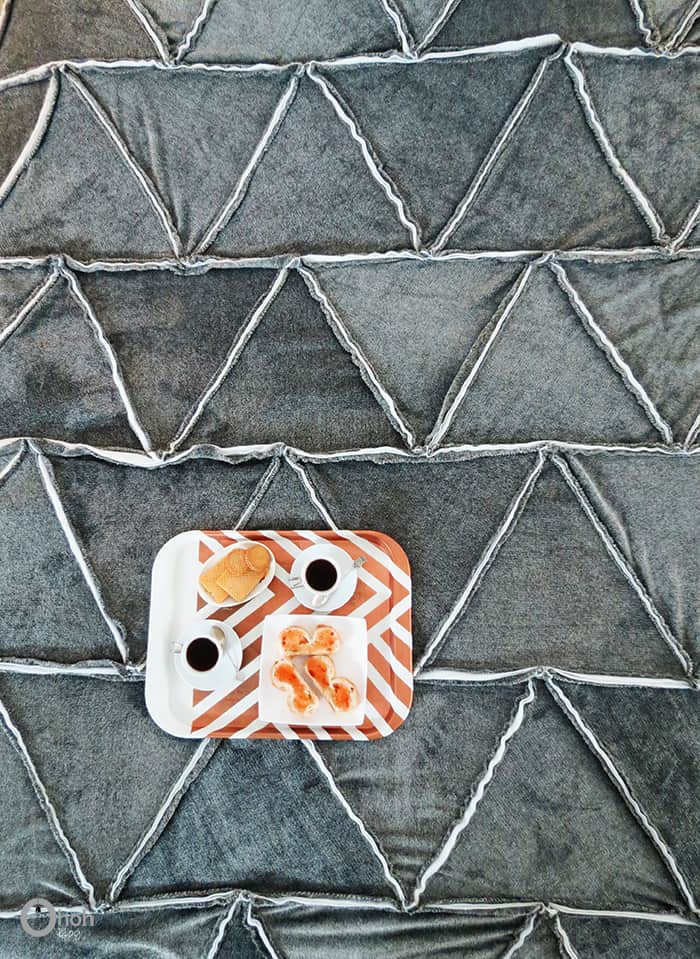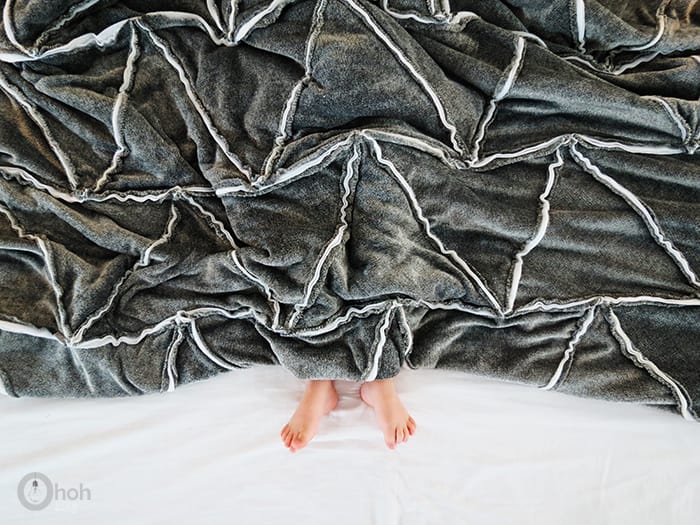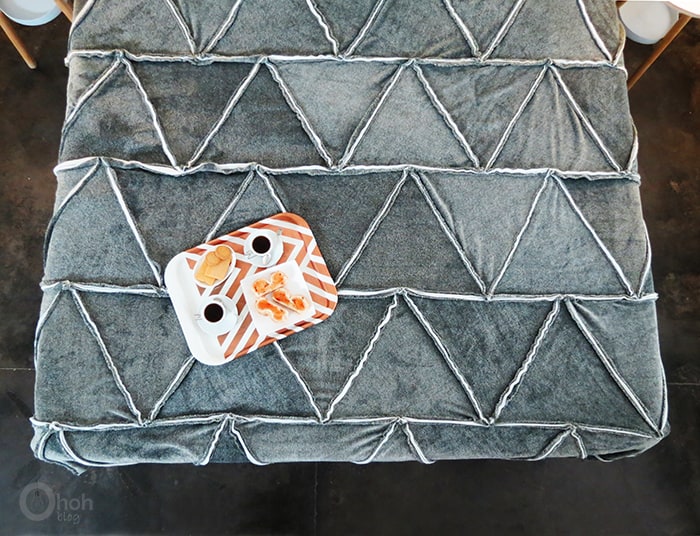 Have fun sewing!

Amaryllis