This Valentine's Day, show your love in a unique and adorable way with this Heart Garland DIY!
Perfect for decorating a wedding, this festive and eye-catching decoration will light up any room with a splash of love.
With just a few simple supplies, you can make a stunning garland of hearts that will be the talk of the party.
[ This post probably contains affiliate links, our full disclosure policy is really boring, but you can read it HERE ]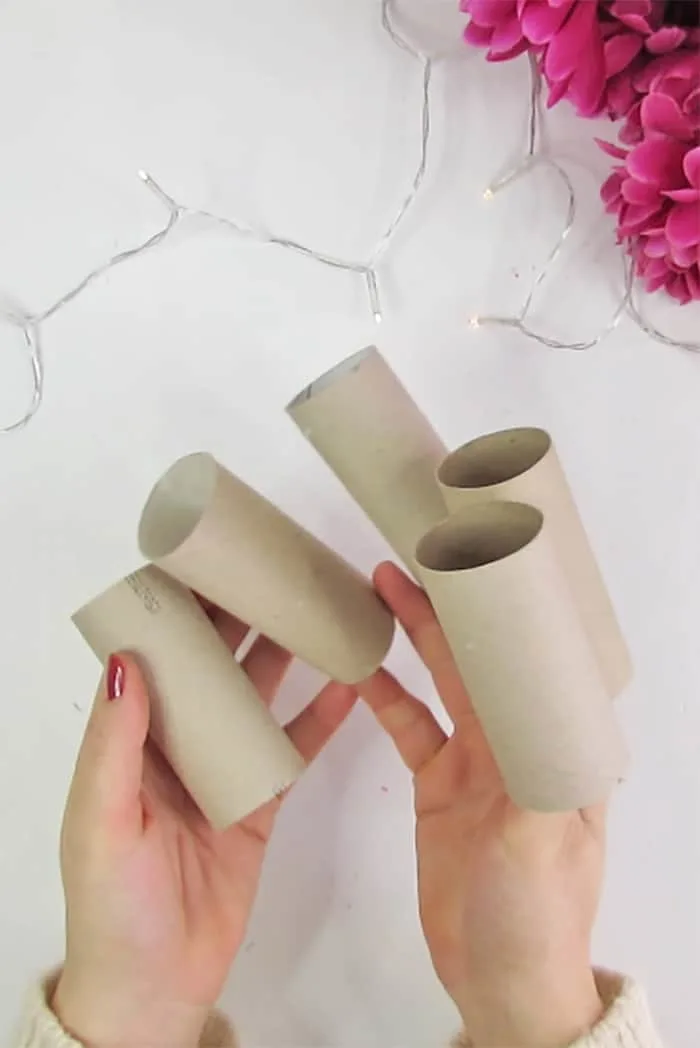 How to make a Heart Garland
Do you want to create a beautiful and affordable way decoration for Valentine´s day? Look no further!
With just a few cardboard rolls and some simple craft supplies, you can create a stunning decor that will brighten up any room.
It's a perfect, no-hassle project for those on a budget and a great way to add a bit of personality to your home. So don't wait any longer, get started on your heart garland DIY!
Supplies you will need to make a cardboard heart garland:
If you don´t have a glue gun, this will work as great.
You can use any acrylic paint you have at home, if you need to purchase some, this set with be perfect for the project.
I will show you how to make cardboard hearts and how to use them to create a garland and some cute heart ornaments. Let's start crafting.
Watch my complete step-by-step tutorial on how to create a DIY heart garland out of cardboard rolls:
RELATED: How to make heart shaped photo frame
RELATED: Heart Wreath DIY
Valentine garland DIY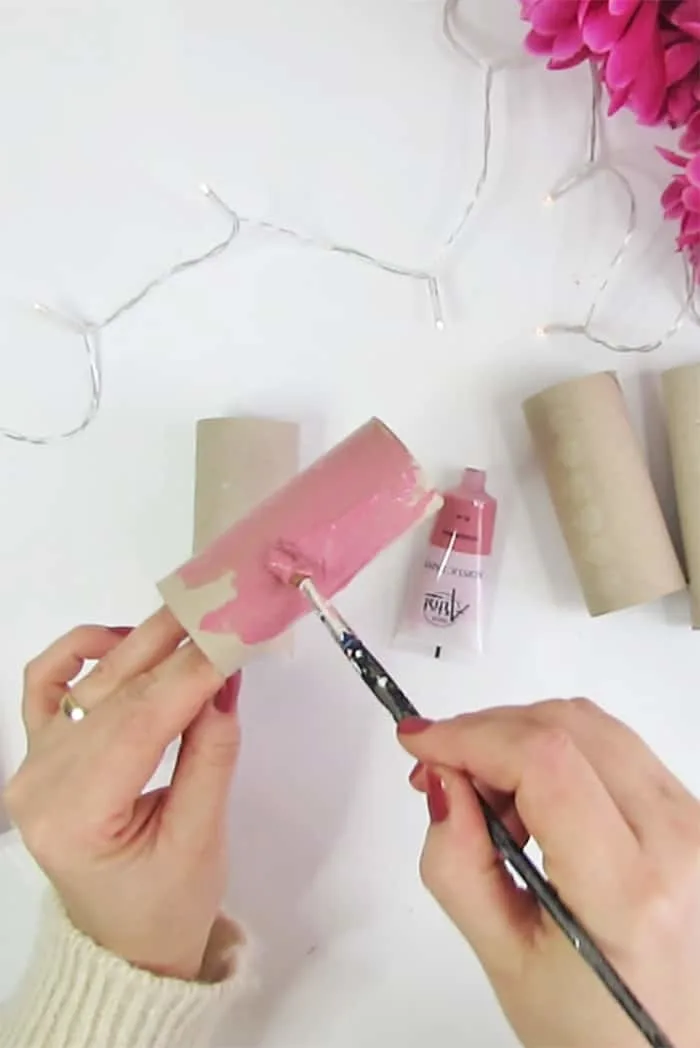 Take a few toilet paper rolls and paint them the color you like. I choose pink, red and purple.
You only need to paint the outside of the cardboard rolls.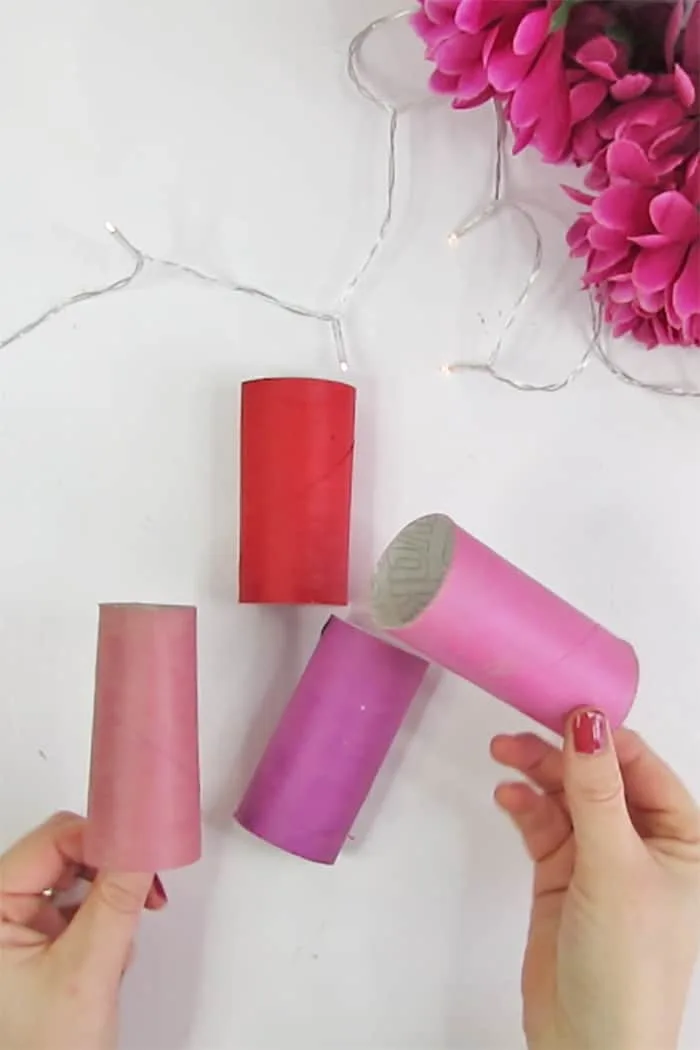 Let the paint dry, and you are ready to keep crafting.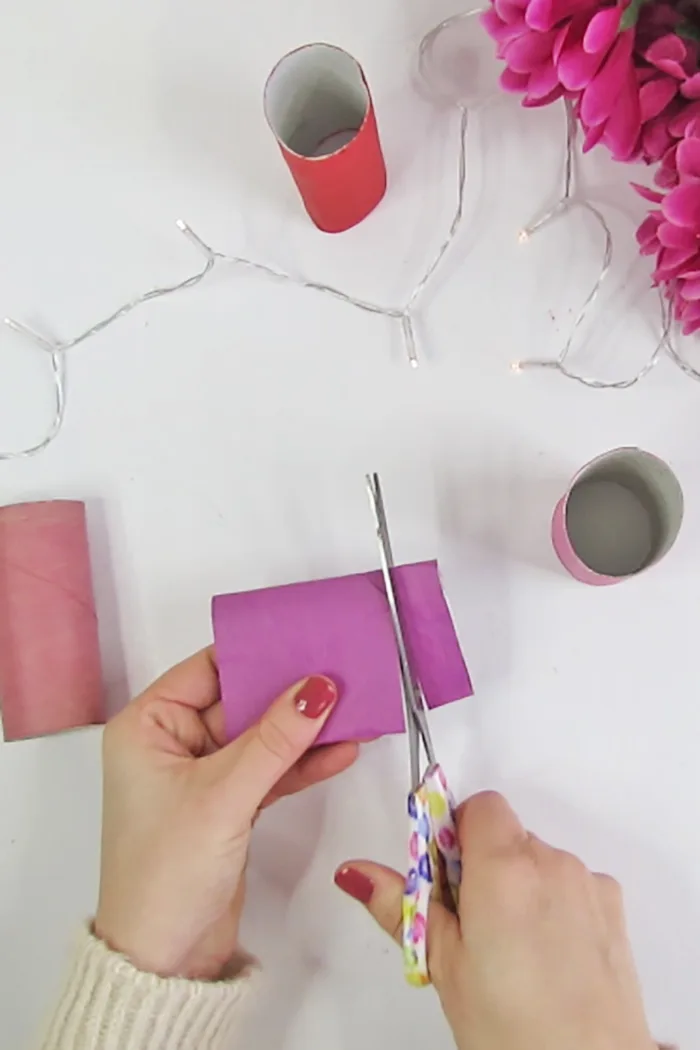 Flatten the cardboard roll and cut it into slices.
You can make 4-5 pieces in each roll.
Try to have the same thickness for each piece.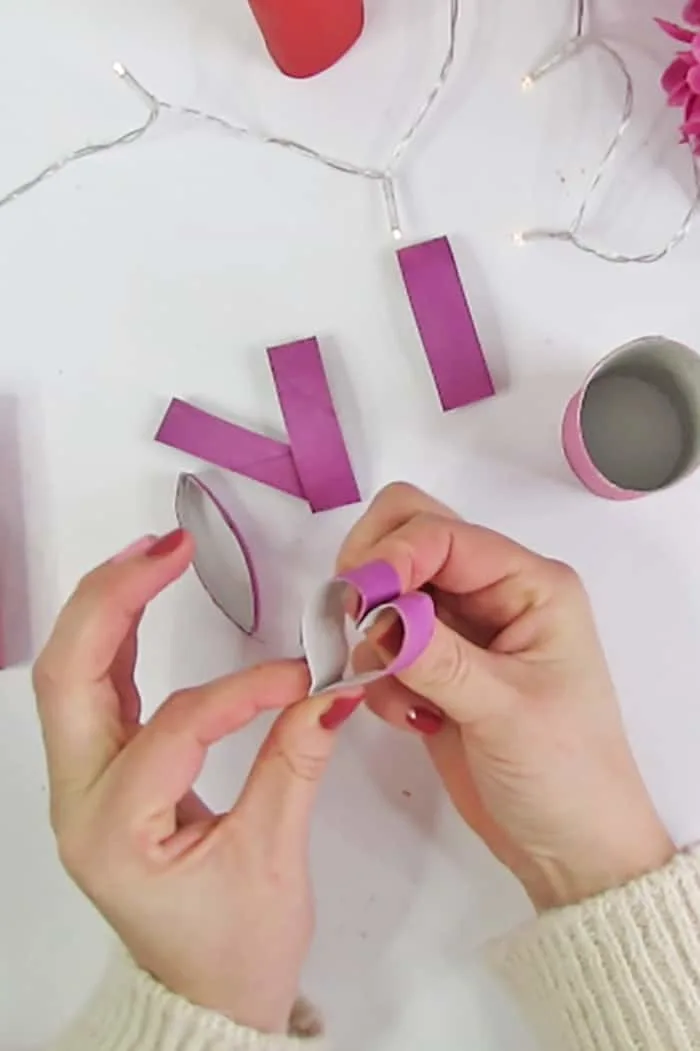 Take a piece of cardboard, and invert one of the fold to create a heart shape.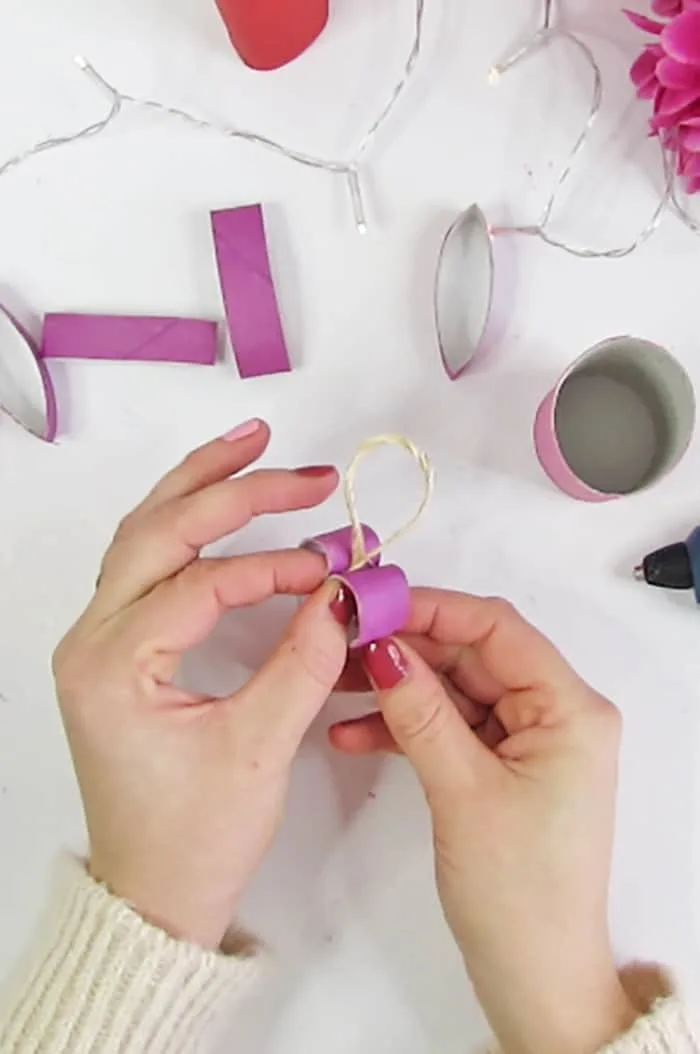 Cut a piece of twine rope of a few inches and fold it to make a loop.
Put a dot of glue on the top of the heart, in the fold. Place the rope ends in the fold and press to glue.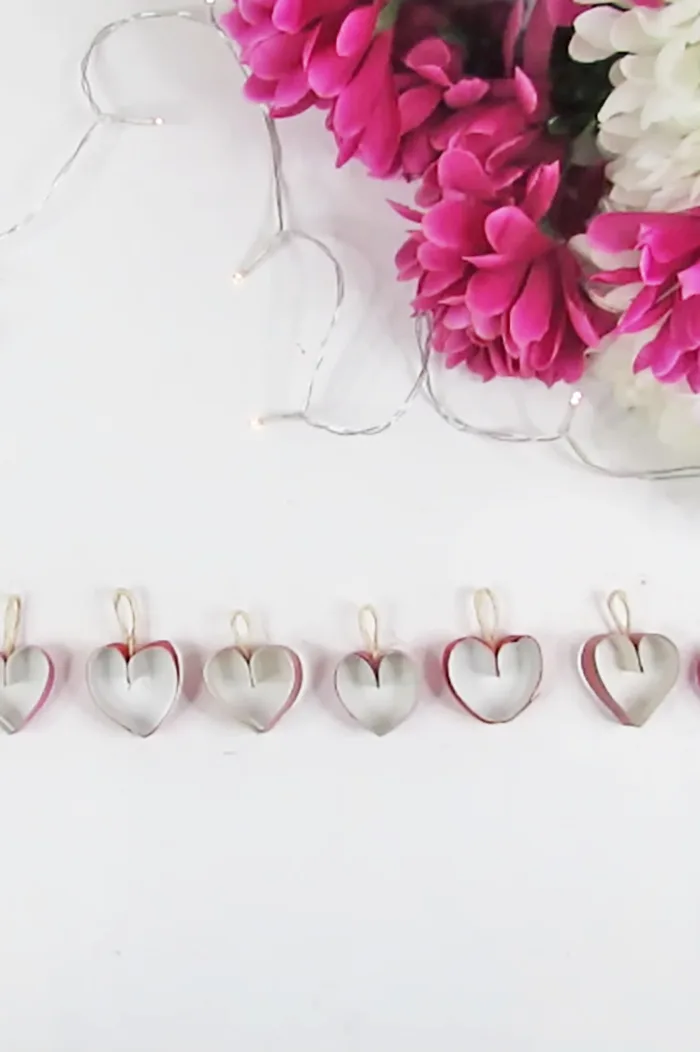 Repeat as many time as you like to create several heart ornaments. You can hang the ornament as it on a branch if you like, or keep crafting to make a garland.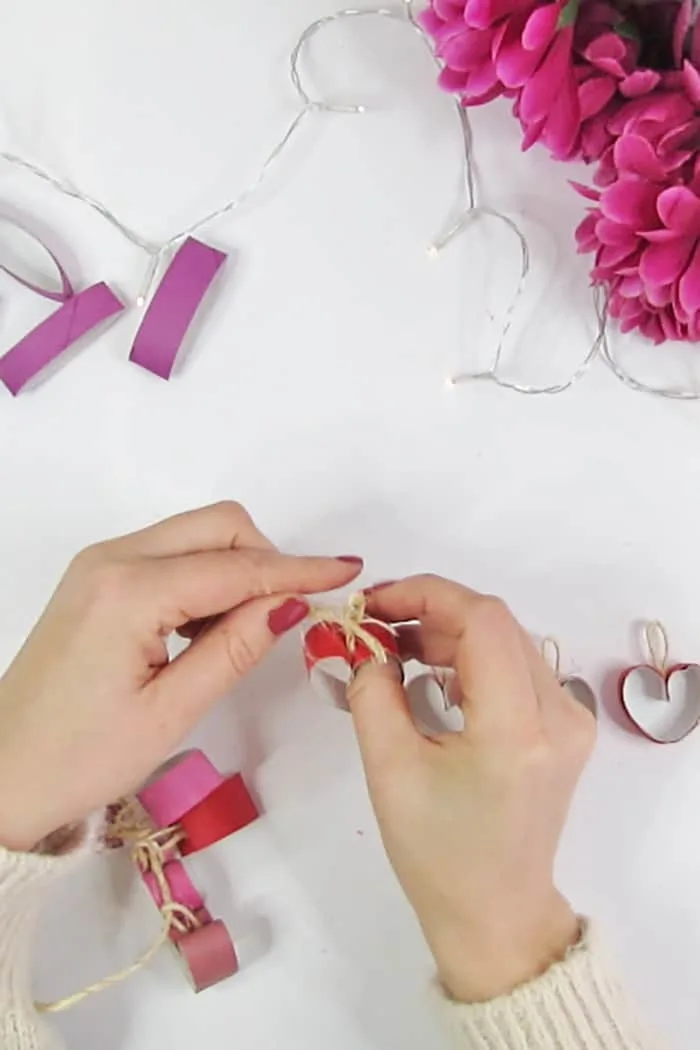 Cut a piece of rope of 2-3 feet and pass the heart ornaments through it.
You can also add a few beads on the rope if you like.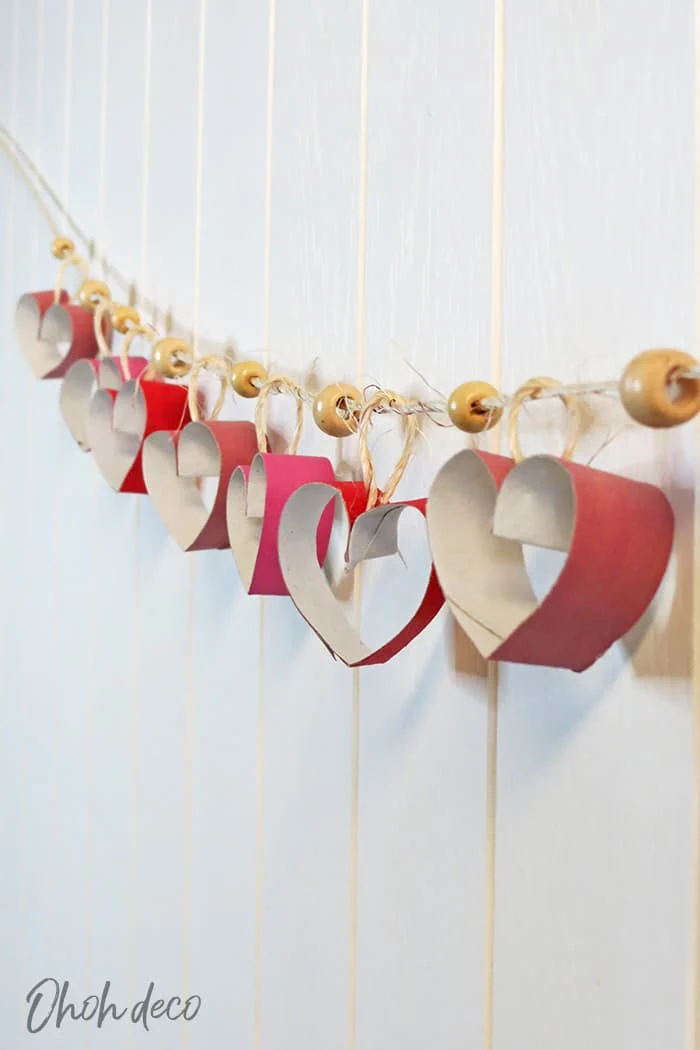 And done, hang your Valentine´s garland where you like.
If you like changing decor at each season, I suggest you use these little things.
It will save your wallpaper and avoid you to struggle with scotch tape pieces on the walls.
RELATED: How to make a fabric garland
RELATED: Easy to make Star Garland
Valentine´s day decor
Another way to use the cardboard hearts is to make some vertical ornaments to hang on windows or door handles.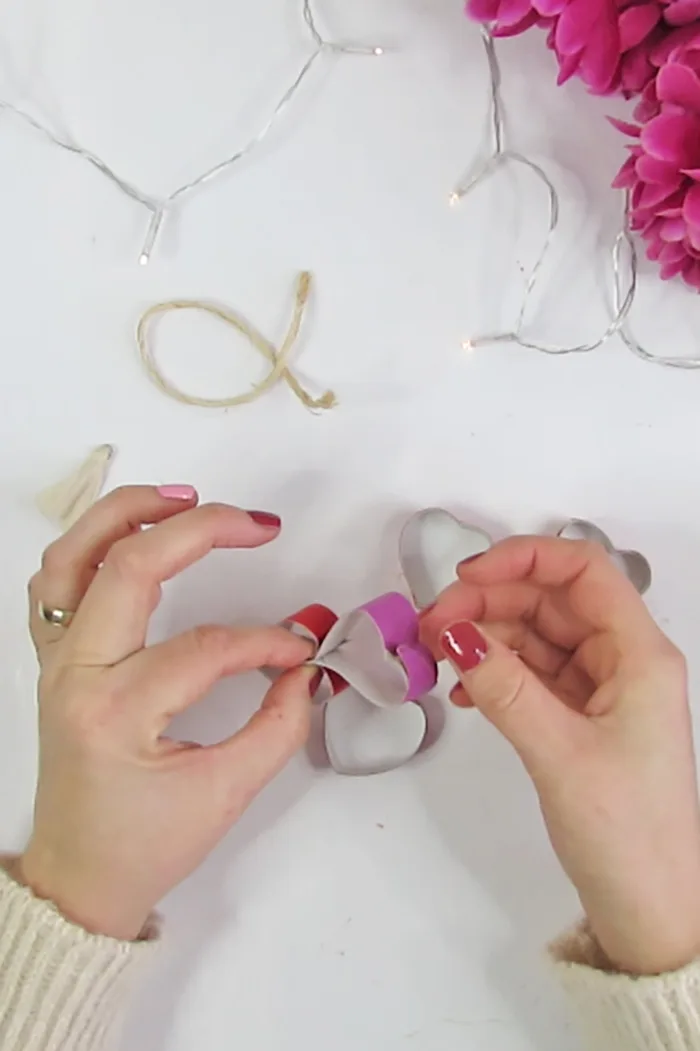 The steps to make the heart shape are the same as above. Once you have a few cardboard heards, glue them on top of easch other to create a heart chain.
Put a dot of glue on the top fold of the first heart. Place the bottom tip of the second heart on that fold and press to glue.
Repeat as many time as you like.
I glue 5 hearts together and I alternate the colors, red and purple.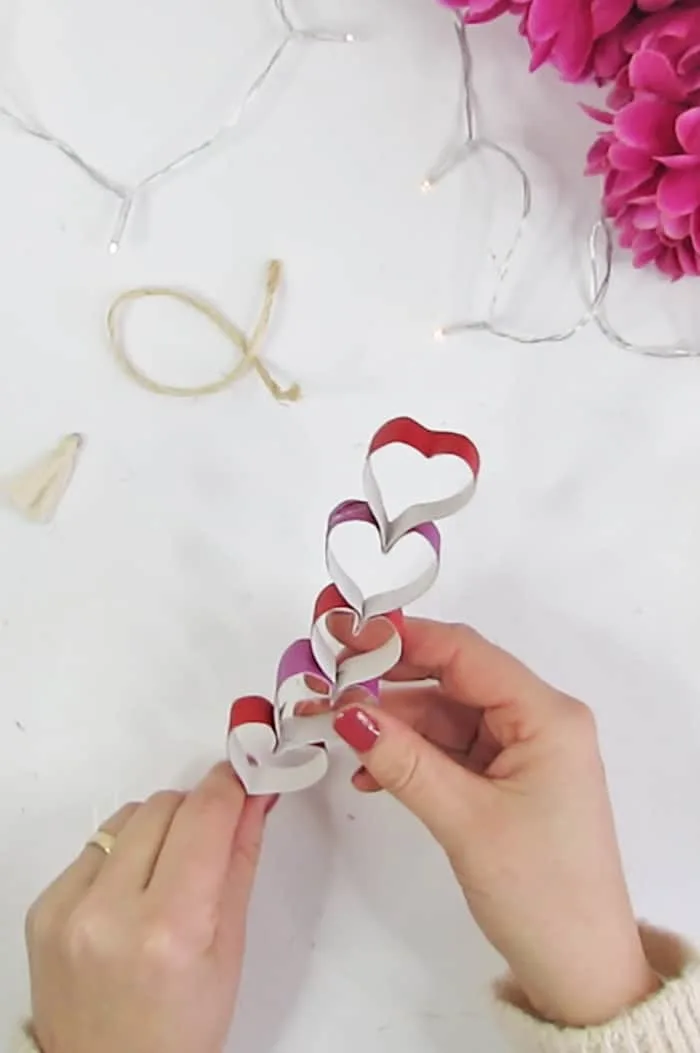 Take a piece of rope, fold it to make a loop and glue the rope ends in the fold of the top heart.
Make the loop large enough to be able to pass it around the door handle.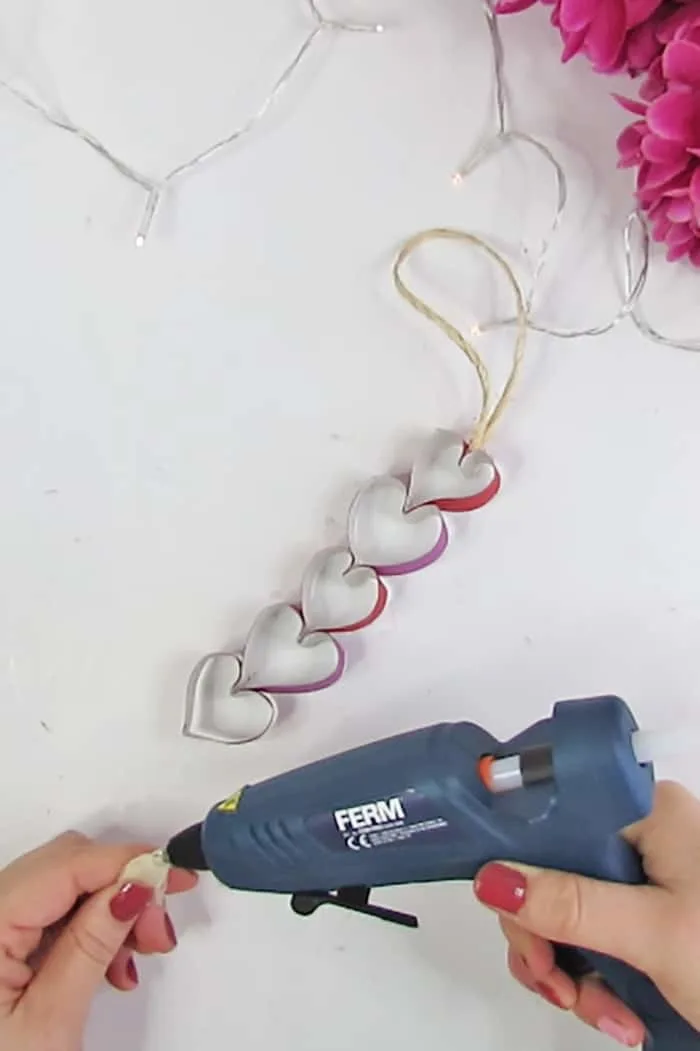 To add a nice finish, you can glue a tassel on the bottom heart.
You can also pass a few beads on the rope if you like too.
And done, you have a nice heart ornament you can hang anywhere in the house.
I hope you enjoyed crafting for Valentine´s day with me.
I love to see your creations, so don't hesitate to leave a comment or tag me on Instagram ohoh.deco.
RELATED: How to embroider a Sweatshirt
RELATED: The best Valentine's Sewing projects ideas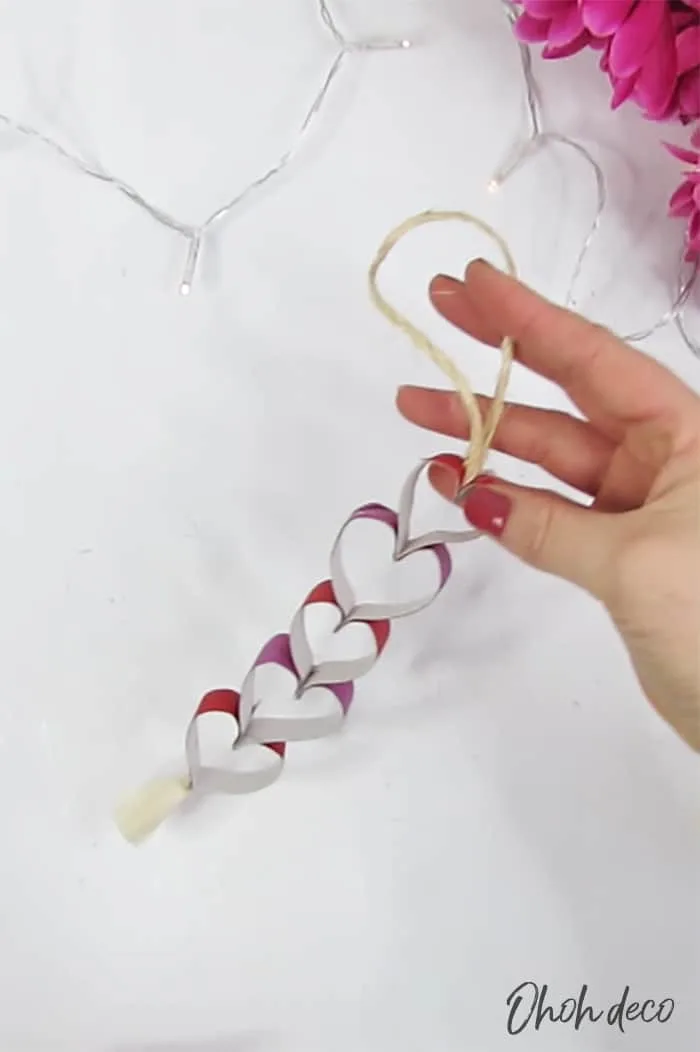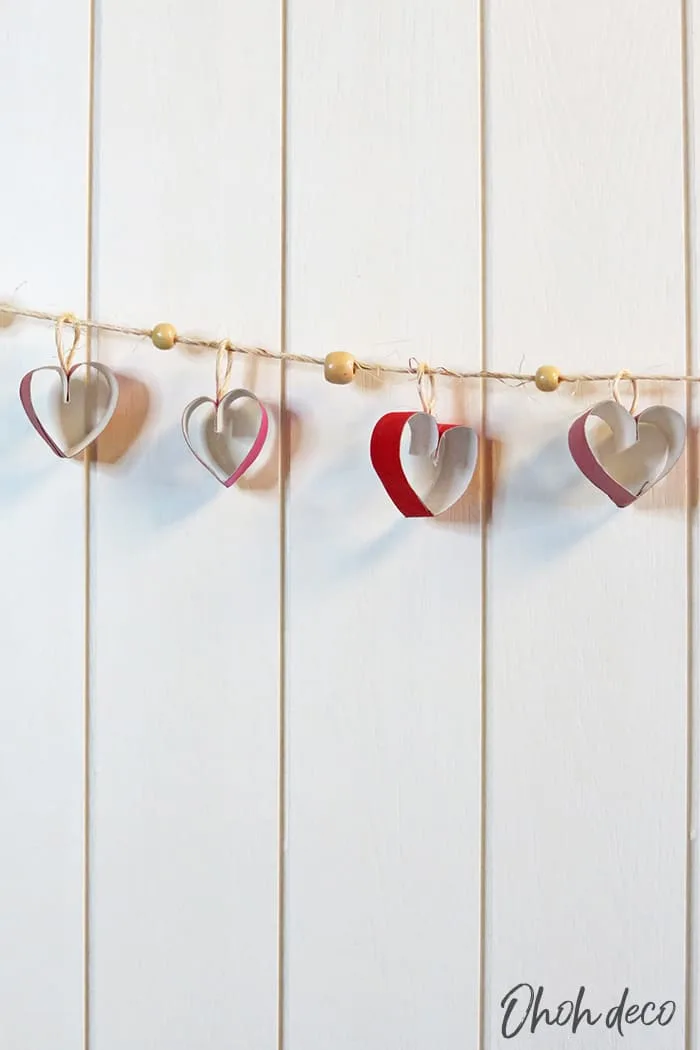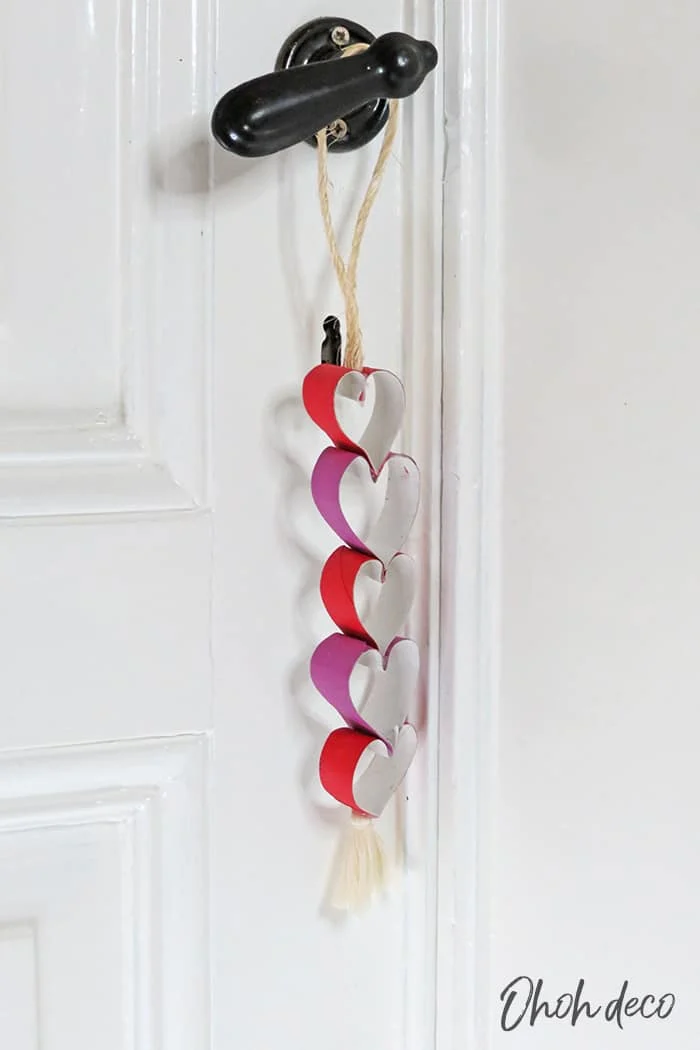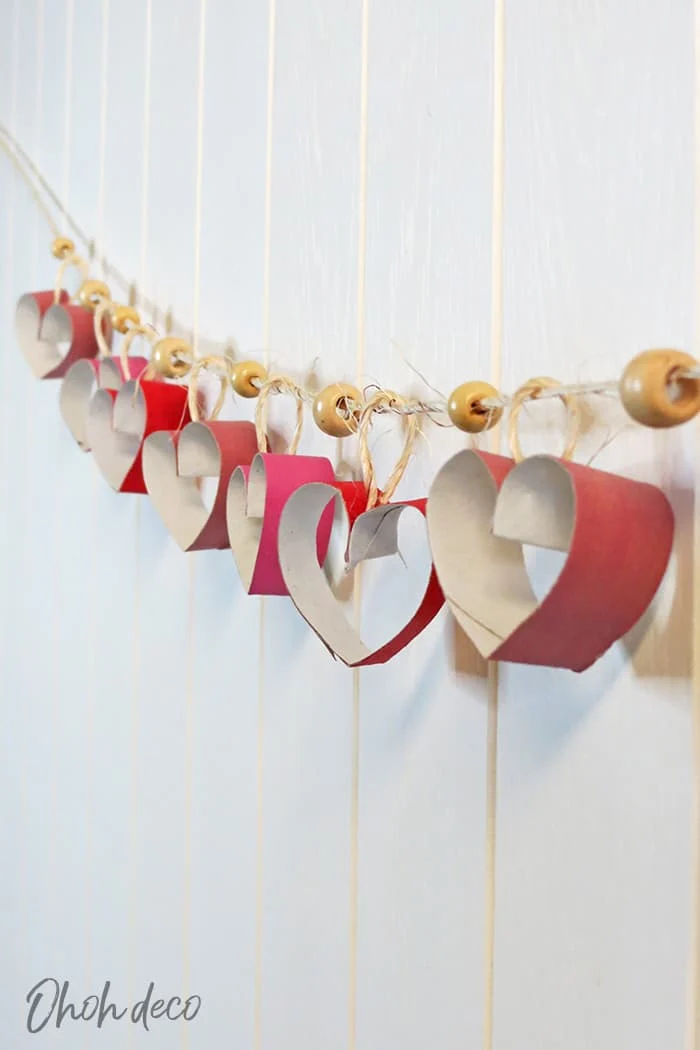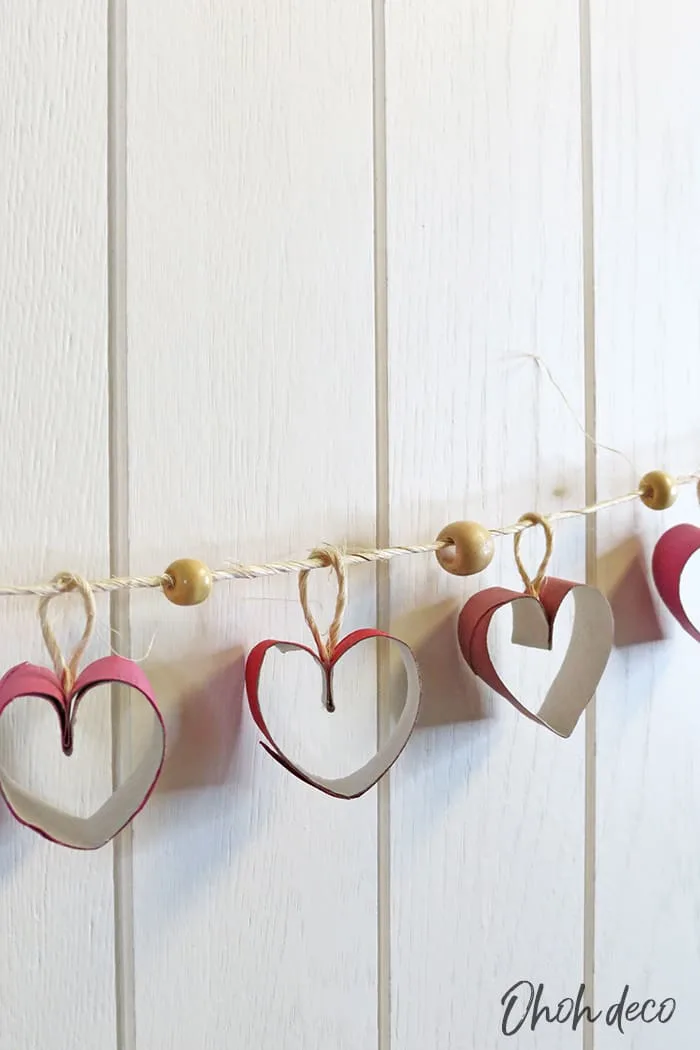 Want to remember it? Save this Heart Garland DIY on your favorite Pinterest board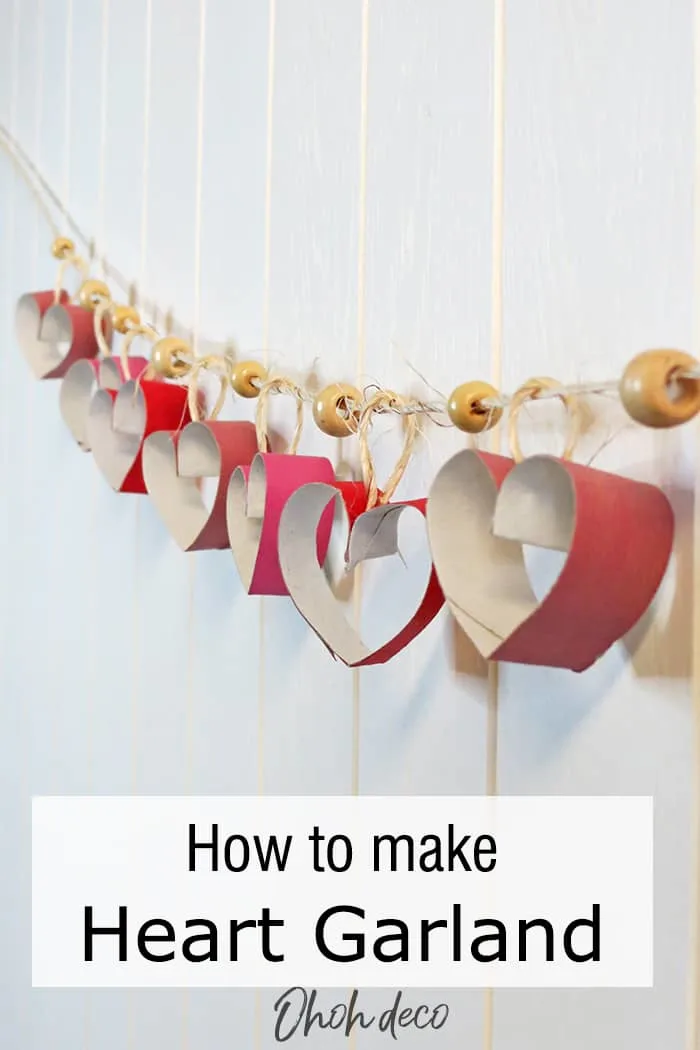 Like to see more ideas? Visit my Best DIY page!
Amaryllis